By Courtney Wood
The Downtown Stockton Alliance has four new ARPA-funded programs to benefit Downtown Stockton businesses and property owners. In the last year, DSA staff have received over $2M in American Rescue Plan Act funding for projects and programs to benefit our Downtown stakeholders.
Learn more about these programs below!
DOWNTOWN BUSINESS FAÇADE IMPROVEMENT PROGRAM
Does your Downtown building or business exterior need a subtle glow-up, or maybe a full-on facelift? Our Business Façade Improvement Program, funded through City of Stockton ARPA money, has no-strings-attached cash for those makeovers. This program offers up to $25,000 of improvements per building for:
New Awnings
New Paint
Window & Door Replacement
Outdoor Dining Enclosures
Façade Repairs of Stucco/Tile/Brick
Other Street-facing, Façade Improvements
To be eligible, your business or property must be located in Downtown Stockton, have an up-to-date business license, have no active code violations, and not be a publicly traded company. For a step-by-step guide on how to apply, click here. Let this program give your downtown space a youthful glow!
DOWNTOWN ENTREPRENEUR SUPPORT PROGRAM
Are you a Downtown business owner who has always been curious about joining a chamber of commerce, but hesitated due to the fees? Or a long-standing chamber member who would jump at the opportunity to have someone cover this year's dues for you? Or maybe there's a Quickbooks class you've been eyeing that would help you up your business's bookkeeping methods, but felt that investing in that course would take away funding from another important aspect of your business? Well, the DSA has the answer to your prayers this year!
Our San Joaquin County ARPA-funded Downtown Stockton Entrepreneur Support Program offers to reimburse Downtown business owners for up to $1,000 per business for EITHER a chamber membership at any of the local chambers, such as the Greater Stockton Chamber of Commerce, the African American Chamber of SJC, the SJC Hispanic Chamber of Commerce, or the Central Valley Asian-American Chamber of Commerce; OR a business development workshop, class, or course that would help you improve your business or train your staff! To learn more about the benefits of joining our local chambers, check out February's Talk to Downtown.
We can reimburse you for memberships or workshops occurring from December 2022 onward through the submission of this form. Let the DSA help you network, up-skill yourself or your staff, and grow your business into the best it can be in 2023.
DOWNTOWN STOCKTON WINDOW REPAIR REIMBURSEMENT PROGRAM
Have you recently had a window broken at your Downtown business, and struggled to find the funds to repair it? You already have enough to worry about as a small business owner. Our new SJC ARPA-funded Downtown Stockton Window Repair Reimbursement Program can help! Through this program, we can reimburse Downtown business owners for up to $800 per window for window repairs. All you need to do is fill out this form, which asks you to upload the window repair invoice and your proof of payment, and the DSA will send your reimbursement check to you within 10 days!
DOWNTOWN STOCKTON WINDOW WRAP PROGRAM
APPLY NOW!
These four programs are all running on a first-come, first-served basis while funding lasts; as of the writing of this article, we still have approximately $44,000 remaining in the Entrepreneur Support Program, $47,000 left in the Window Repair Reimbursement Fund, $47,000 to spend in the Window Wrap Program, and 40 spots left in the Business Façade Improvement Program. Click here to learn more or to apply today, contact [email protected] with any questions, and please share this article with every Downtown Stockton business owner or property owner you know.
Staff here at the DSA are thrilled to be able to offer these one-time programs to our stakeholders, who we know have waded upstream through adversities in the past few years. We hope for this funding to provide support, improvements, enhancements, and momentum which will propel Downtown Stockton toward a steady river of success.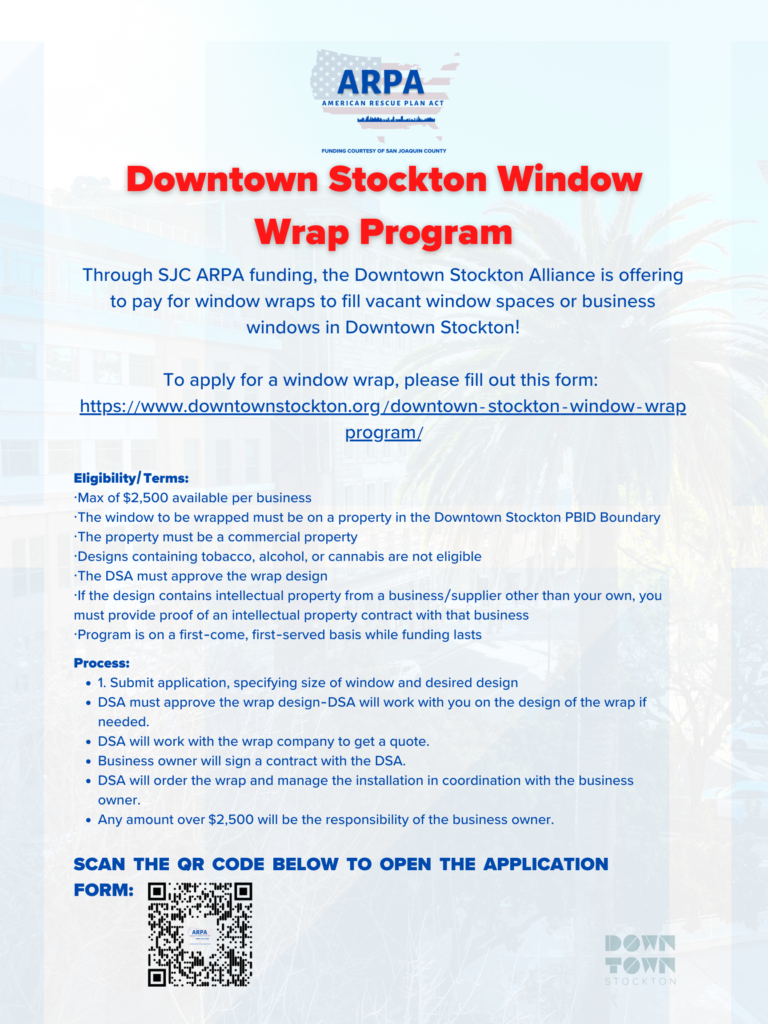 P.S.
In addition to the programs mentioned in this article, we still have funding for the digital media promotion of Downtown Stockton events and job listings through COS ARPA money; if you are hosting an event or have job openings at your Downtown location, send them our way by emailing [email protected]!