FULL MOON RIDERS
Since 2015, DSA has hosted a free, casual bike riding event series – Full Moon Riders – in partnership with community bike groups and bike enthusiasts.
Meet new people, enjoy the downtown area, and be active!
How It Works
Each ride begins at Janet Leigh Plaza (222 N. El Dorado St.) in Downtown Stockton, and ends at a downtown venue or restaurant, where bike racks are monitored, so riders can enjoy themselves worry-free.
Every rider must sign a liability waiver for themselves and any minors accompanying them. All minors must wear helmets.
Registration begins at 5:15 PM; ride starts at 6:00 PM; and event ends at 8:15 PM (unless there is a special event, like a bike-in movie or concert!).
Keep up with ride routes and updates: Full Moon Riders Facebook Event Page
At each ride, there is a free giveaway item for the first 100 riders!
Join us for the 5th season in 2019!
Support locally-operating non-profits
This year, for the first time ever, we are donating $1/rider to a selected Downtown non-profit, so encourage your friends to participate!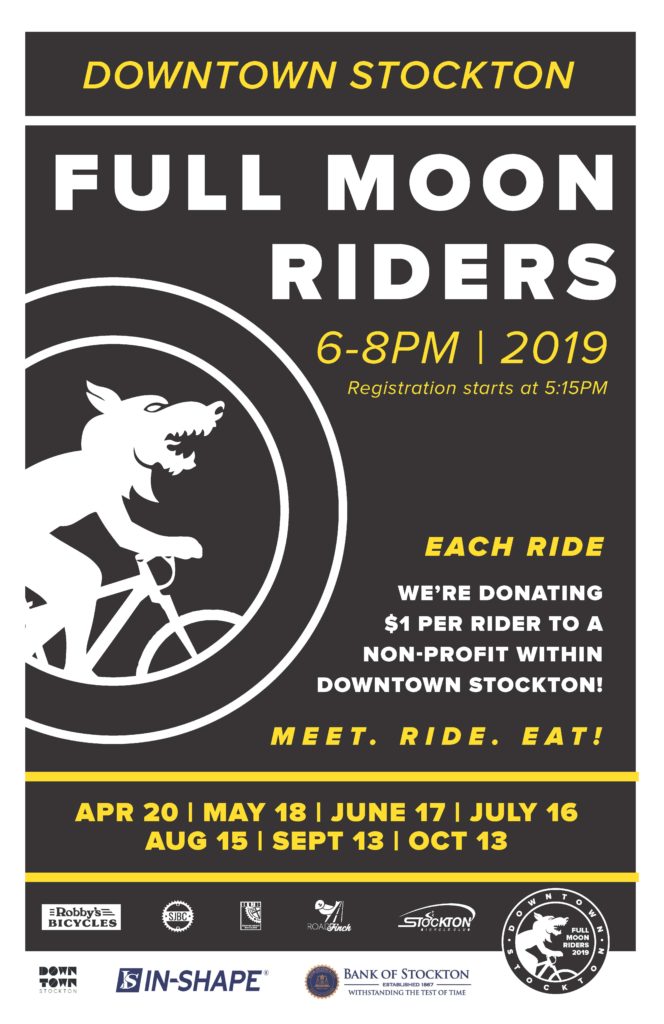 Time: 5:15 PM – 8:15 PM
Ride Leader: Robby's Bicycles
Featured Restaurant: Restaurants in Janet Leigh Plaza

Restaurant Deals:

Nash+Tender – $2.99 White Bread Sliders
Moo Moo's Burger Barn – $1 Root Beer Floats / Italian Sodas
Port City – $1 Shirley Temples / $3 Pints
Misaki –  $1.99 Sake Bombs
Subway – Buy one 6 inch and any size drink, get a 6 inch free
Thai Thai –  Free appetizer with purchase of 3 main dishes (excludes House Combo)

Giveaway: TBD
Non-Profit Supported: Hatch Workshop
In honor of Arts & Humanities Month, DSA will be donating $1/rider this month to downtown non-profit HATCH Workshop!
Feel free to dress up for this October ride!
LEARN MORE