By Jessica Nguyen
Meet Tina McCarty, downtown's Parking and Venue Manager in the City of Stockton's Economic Development Department! She is dedicated to the progress of the downtown community, passionate about Downtown Stockton, and is hopeful for what the future brings to the resilient community. As Parking and Venue Manager, Tina oversees parking operations for all five of downtown's parking garages as well as street parking spaces. Her other duties include but are not limited to managing the operations and policies of the Downtown Marina, Bob Hope Theater, and other large downtown event venues. In addition to her role as Parking and Venue manager for the past four and a half years, Tina also currently serves as an active board member for the Downtown Stockton Alliance. This upcoming March will mark her one year anniversary at the DSA. Why does she do it? Tina enthusiastically shares, "I love it downtown!"
What changes have you seen in downtown over the years?
For the past couple years Tina has worked and spent in Downtown Stockton, there were a couple changes in the area that really stood out to her. For instance, she's noticed more development in the downtown area and enjoys seeing the projects that rehabilitate and repurpose downtown's historic structures while, "still maintaining the historic vibes of the buildings." She notes the Medico-Dental building as an example, as it is being repurposed for future use as Downtown Stockton housing. Tina also mentions the recent changes in downtown's streetscape — for instance, the change from traditional parking meters to the more effective and modern payment machines. These machines were fully implemented onto downtown's streets in May of last year. In addition, Tina adds that the downtown schools, such as Stockton Collegiate International Schools and the TEAM Charter School, are great features of downtown Stockton, as it is, "very nice to see the liveliness of the kids."
What are you most excited to see in downtown's future?
Currently, Tina is excited about "so much change and development in our midst," as she is proud of the current efforts to revitalize Downtown Stockton. In the future, she would love to witness the continued evolvement of downtown buildings and the addition of new retail businesses to the area that will help to draw more people and positive attention to the downtown area. One day (hopefully in the near future), she hopes Downtown Stockton will be a vibrant space and favored destination, even after 4 or 5pm! Downtown's nightlife scene has definitely improved in recent times, as new businesses have worked to draw more business during later hours of the day.
---
Quick Three!
Where is your favorite spot to have lunch downtown? Favorite place to grab a coffee?
After some slight contemplation, Tina ultimately decided that she couldn't pick just one go-to lunch destination (I mean, you can't blame her- there are so many tasty eateries downtown!), so she revealed her top three: Cast Iron Trading Co., the Downtowner, and Nena's Mexican Restaurant — yum! Have you been to all three yet?
In terms of her preferred spot to grab a cup of joe, Tina explains that she isn't much of a coffee drinker. However, she does love tea! She shares that luckily, there are also spots to pick up tea downtown. For instance, Trail Coffee makes great tea and is very conveniently located for her to make trips whenever she needs a refreshing cup!
What is downtown's spirit animal?
"A tiger, because there is so much to be excited about and the rest of the area will hear Stockton roar!"
How would you describe Downtown in one word?
With no hesitation, Tina chooses,"Evolving."
---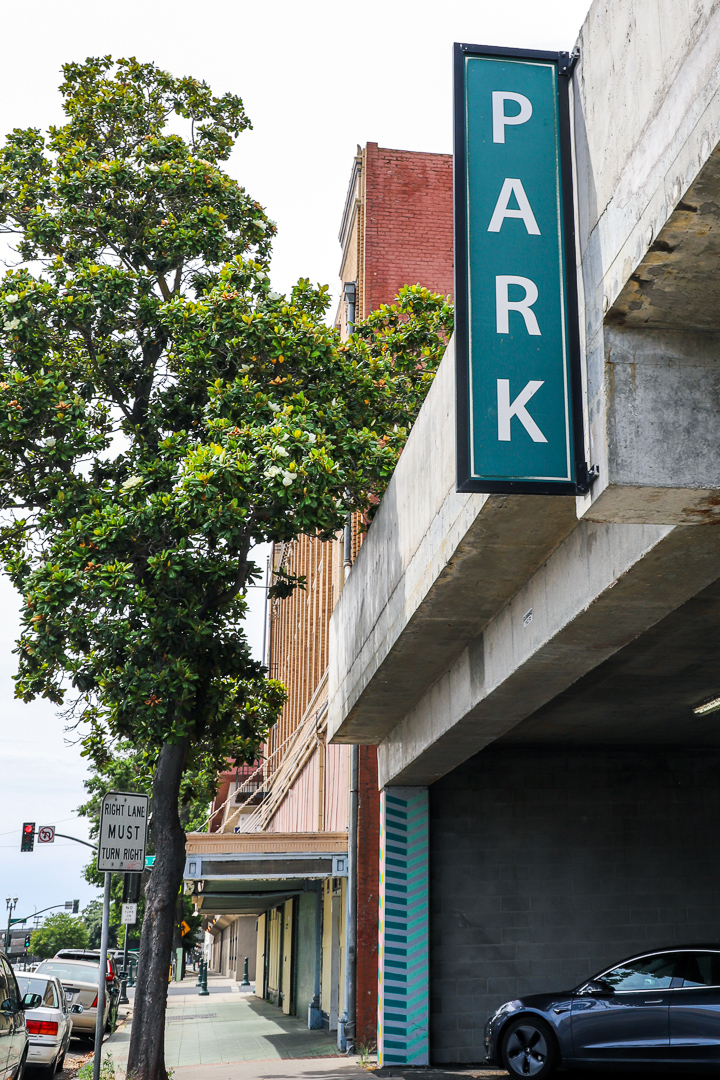 Join us for our Talk with Tina on where we will be sharing all things Parking in #DowntownStockton!
January 8th at 10 AM, Facebook live (click here)
---