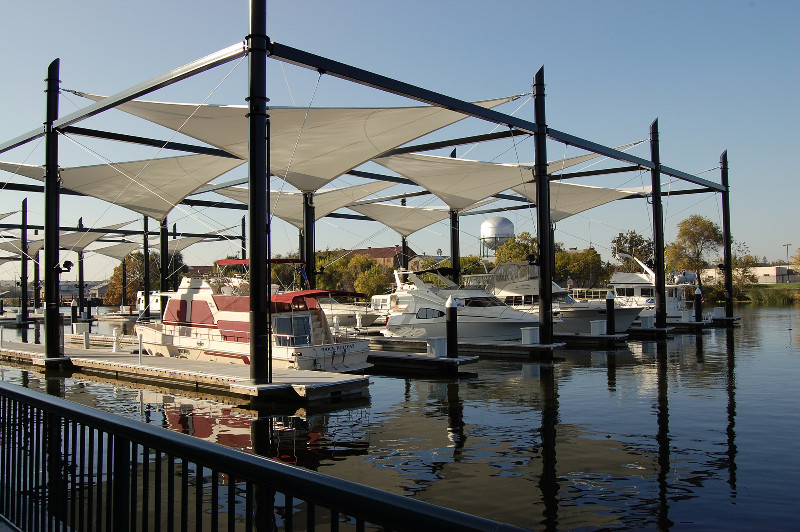 445 West Weber Avenue, Stockton, CA 95202
209.462.4200
http://www.stocktondtmarina.com/home.html
[email protected]
City-owned and managed, a full service marina with long-term berths and guest docks. The adjacent Joan Darrah pedestrian promenade provides a continuous walking pathway along the water leading to the center of Downtown Stockton full of restaurants and entertainment venues.
Downtown Stockton Marina includes restrooms and showers, and 48 covered slips: Six 80-foot berths; Twelve 60-foot berths; and Forty-eight 50-foot berths. Per boat daily rates are listed below. Guest docks are free for day use up to 2 hours on the Waterfront Warehouse side docks.  Special event and group rates may vary. Call or email for more details.
Winter Rates (November – March)
All Day Parking: $20
Special Events: $25-$45
Summer Rates (April – Oct)
All Day Parking: $25
Special Events: $25-$45
Long Term Berthing:
80-foot Slip: $600/month
60-foot Slip: $500/month
50-foot Slip: $400/month
Guest Docks:
– North Shore with access to the Banner Island Ballpark, Stockton Arena, and University Plaza Waterfront Hotel; Two guest docks which include a combined 878 linear feet of dock
– South Shore with access to the Waterfront Warehouse, Children's Museum, and Joan Darrah Promenade; One guest dock which includes 520 linear feet of dock
– Restrooms and showers are available for Marina guests
– Food, beverages, ice and Visitor Information are available inside the Waterfront Warehouse at 445 W. Weber Avenue.