By Laura Garcia, Terra Coffee
& Sylwia Lipiec-Qualls,
Communications Manager, Downtown Stockton Alliance
Efrain and Laura Garcia have always loved coffee. Efrain moved here in 2014 while Laura was born and raised in Stockton. A small counter top roaster was always in their kitchen until in 2016 they finally decided to follow their dream and started Terra Coffee Roasters.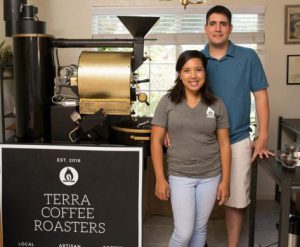 "Terra Coffee was built from the love of coffee and our town – Stockton. Right after we started the business, we knew we wanted to have our first brick and mortar location in Downtown Stockton," reminisces Laura. "The first location to ever serve our signature Cafe de Olla blend was at the Mexican Heritage Center and Gallery in early 2017. We wanted to get down to Efrain's roots and get an honest opinion on our take of the traditional Mexican coffee. We never thought that a year later we would be partnering up with this non-profit to open our cafe."
Terra Coffee Roasters started as a Cottage Food Operation regulated by the California Homemade Food Act which allows certain foods, known as Cottage Foods, to be made in private homes and sold to the public. The Garcias source coffee beans around the world and micro-roast them at home weekly in six-pound batches, making every batch with the utmost care.
At first, Laura and Efrain only catered at local events and venues while keeping a look out for a permanent location. They finally put down their roots in the artsy, colorful space at 111 South Sutter Street where the Mexican Heritage Center and Gallery had been located since 2011.
"It was a long and patient wait to find our downtown location. We knew that we wanted to be part of the downtown revitalization and when the Mexican Heritage Center heard we were looking for a place, they reached out to us and in January 2018 we opened our doors," fondly remembers Laura.
The cafe is open from 7 am to 4 pm on weekdays and for special events at the Gallery. Terra's freshly roasted artisan coffee, hand-crafted drinks and locally sourced pastries have already earned them a strong following. The Garcias take pride in their business and product and it shows!
Asked for a piece of advise for other small businesses, Laura offered: "While our story is definitely a unique one, we hope to inspire our community to follow their dreams and to be a part of their town, Stockton. Whether it's buying from a local business or starting their own."