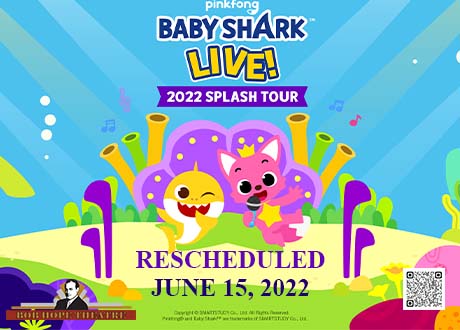 Due to the increasing spread of COVID-19 and out of an abundance of caution, the performance of Baby Shark Live!: 2022 Splash Tour at The Bob Hope Theatre has been postponed. The performance has been rescheduled forJune 15, 2022. All tickets will be honored on this date.
Splash along with Baby Shark and Pinkfong as they journey into the sea to sing and dance through some of your favorite songs in Baby Shark Live!
This one-of-a-kind immersive experience will have fans of all ages dancing in the aisles as they join Baby Shark and friends for exciting adventures into the jungle and under the sea to explore shapes, colors, numbers and so much more! Some of the hit songs in this dazzling kids spectacular include "Baby Shark," "Five Little Monkeys," "Wheels On The Bus," "Jungle Boogie," and "Monkey Banana Dance"!
Please Note:The state of Californiarequiresall persons attending anevent, including at the Stockton Arena,toprovide proofoffullvaccination, or anegativeCOVID-19 test result taken within48hoursof the event start. All persons 18 or older arerequiredto provide proof of identity, which is defined by the persons first/last name and photo ID.Unvaccinated persons are strongly encouraged to wear a mask. Persons not compliant with these state requirements will bedeniedentry. Allscheduled events are subject to the existing state of California, County and City Health Mandates regarding venue capacity and safety protocols for implementation of safety in response to the COVID-19 pandemic. Theshowreserves the right to cancel or postpone any event in conformance with any health mandate in effect on the date of the event or for operational needs to safely comply with public health orders.
TICKETS$28-$38-$48-$68
Special Photo Experience Available
Website
Location
Bob Hope Theatre

242 E. Main Street ... Stockton CA US