By Nissi Guiao
As fun as it is to enjoy live music, it's also quite thrilling to be the one jamming and performing on stage. Recently, we shared the best live, local spots downtown to listen to great music (click here for all the juicy "deets" in our previous blog!). This time around, we're covering how to book some of these places if you're an aspiring musician. In addition to venues, we're sharing other special resources and opportunities you'll want to take advantage of downtown, along with a few stories to leave you inspired.
EMPRESSO COFFEEHOUSE
For years, Empresso has struck the right chords within our community. They've always harmonized with the music scene, naturally creating "vibey" atmospheres whenever they host local musicians/artists. Continuing this tradition, they hold open mics every other Thursday at their El Dorado location (pending holidays, of course). This is a great location to begin branching out, especially if you're just wanting to get your feet wet and test the waters. What are you waiting for? Share your music; don't be shy. Pop in and talk to Juan Espino or any other manager, or call (209) 451-0788, to get something set up for the next open mic. The line-up won't be complete without you.
TERRA COFFEE
Speaking of open mics, Terra holds their own on the last Friday of each month! Mark your calendars because this is a growing scene you want to be a part of. There's such a strong and steady heartbeat for the artist community here. Evidently, their desire to highlight and support local artists sings a resounding "welcome." They eagerly invite artists and musicians of all kinds to sign up. All you have to do is show up and perform! Stepping out also gets you inadvertently plugged in to the realm of other artists that decide to show up, too. Don't hesitate—add to the hustle and buzz under Terra's creative umbrella by making yourself known. Do it for the people, but most importantly, do it for your soul. Show up, sign up, and sing an original or two!
CAST IRON TRADING CO.
Home of the eye-catching (super aesthetic), mouth-watering eats and great pairing brews and drinks is Cast Iron Trading Co., where local artists are welcome to perform live on a consistent basis. Really, we've got nothing but great things to say about this downtown fave! They really know what they're doing, and the momentum keeps building. That should encourage you to get plugged into their steady stream in the local music scene. With a great variety of live performances every month, they don't skip a beat. Be part of their tribe and grow yourself as a musician/artist. Call (209) 227-8585 for more details on booking.
CHANNEL BREWING CO.
Channel is the place to be, with great vibes guaranteed! Their brews are next level; and what takes them over the top is the way that they support the music scene downtown. You can tell they take pride in showcasing local artists. So if that's you, pick a good sample to send over (preferably via SoundCloud or YouTube) and reach out to Brandon at (209) 373-6483.
DELIBERATION ROOM
Known for more than good eats and great drinks, Deliberation Room creates the kind of atmosphere you want to settle into, especially on the nights they showcase local bands and musicians. Check their IG page: @deliberationroom; there's always something happening at this local favorite. If you want to add to the excitement with your live music, call (209) 910-9477 to contact Melanie for booking opportunities.
STOCKMARKET (+ GOODSTOCKCA)
Stockmarket is the talk of the town, every time Weber Ave. is graced by this highly-anticipated event. Shopping—#supportlocal. Good eats and drinks. Live music! To join in on the fun is a no-brainer, but have you thought about being showcased as one of the local bands/artists? As this event is only growing more and more popular over time, it's an ideal place to share your music with the community that eagerly wants to support you.
They're booked through October, but there are still slots for the holiday market come December. They say, "We keep all applications on file for future opportunities!" and "We are always looking for new talent to highlight at many different types of events. All genres of music are welcome to apply. . .Any artist who is interested in playing Stockmarket or any of our other events can do so by visiting www.stockmarketca.com or goodstockca.com."
THE VIBE WORLDWIDE
The Vibe Worldwide "is for every artist that is passionate about their craft whether they're a celebrity or a first-timer," says founders Brandon "Tiger Owndabea" Wiggins and Andrea "Kitten" Perry. It's truly a powerful movement that promotes artistic growth and unity in the creative community in Stockton, especially around downtown. How do they do that? One of the ways is through the Your Voice Singing Competition they host quarterly. Each one, featuring the talent within the community (hopefully including you next time), is packed thick with high doses of inspiration.
Both Tiger and Kitten share the same passion, as they've "committed [their] time and resources to putting on 40 open mics, competitions, showcases, workshops, and cultural events." "We set out to be for artists the people we would have wanted to be there for us," they share. "When we started The Vibe Worldwide in 2017, our mission was to provide a platform for talented performing. . .artists in Stockton. . .[since then,] The Vibe Worldwide shows have become a melting pot of talent, passion and inspiration…and although we have awakened the arts in the Central Valley, we want Stockton artists to know that their crafts are universal. . ."
TVW as a whole is a tremendous resource in the downtown community. They also provide "other workshops. . .throughout the year [which are geared to] help artists with their creativity, stage performance, breathing techniques, memorization, and creative writing." One of the most powerful workshops they provide (in my opinion) is all about the inner voice. The duo explains "The inner voice is something that we all possess, whether we internally say something as small as 'I'm gonna go fix a sandwich' or something as big as 'I believe I can do it.' We like to focus on how to help people (specifically creators) utilize that inner voice as a benefit.
In doing so, we teach creators to trust their inner voice and to apply daily, positive practices. . .The inner voice is like the master key to the soul, but it will only work when one notices it and uses it." Is your inner voice telling you to jump into the next event? Feed that thought and stay in the loop by following their IG account: @thevibeworldwide. And send them an email to [email protected] to sign up when the next event is posted. An encouraging community, of aspiring artists where you can truly express yourself, awaits.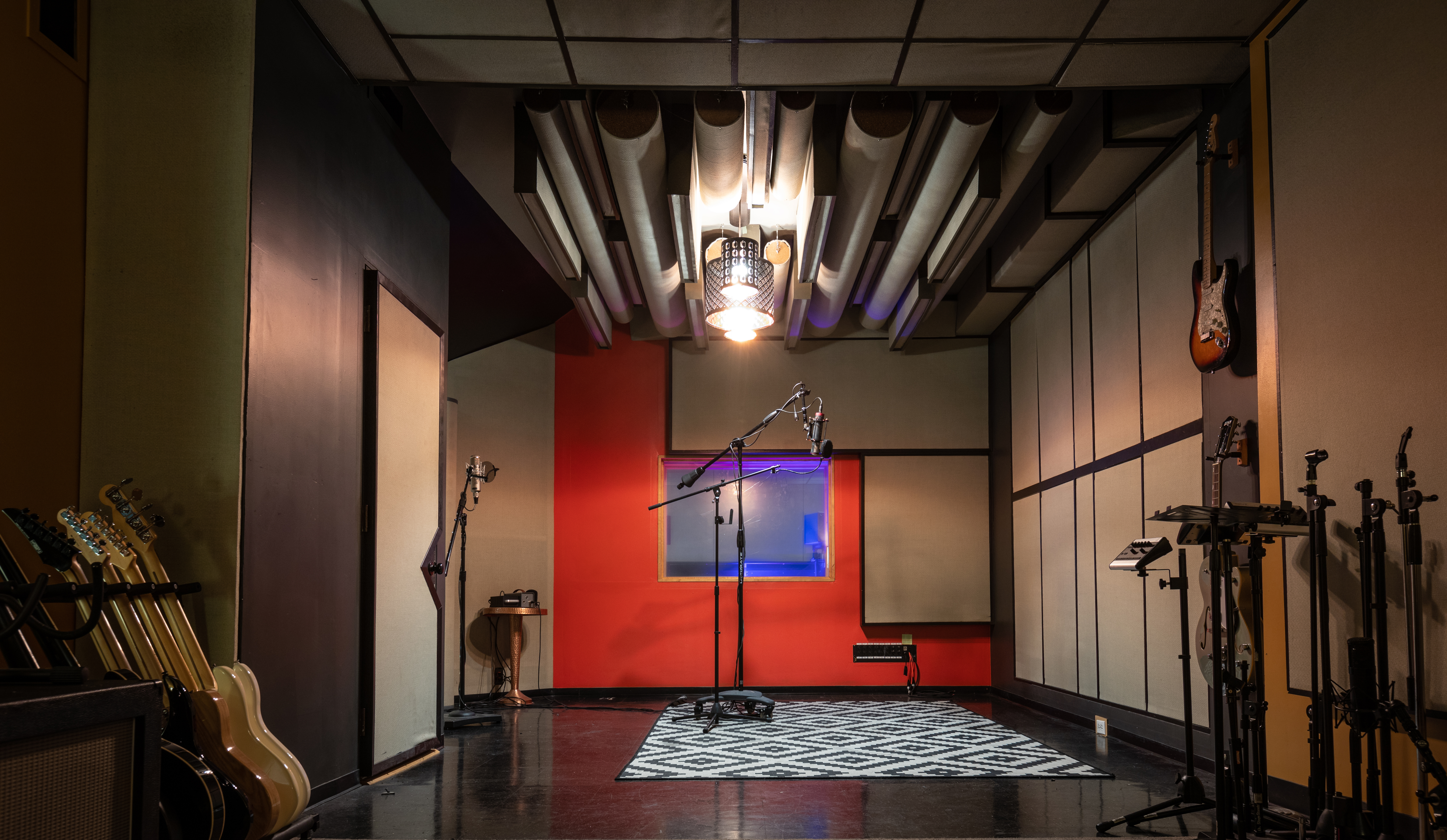 THE PRESS RECORDING STUDIO
It's one thing to create a work of art. It's a whole other beast getting to the stage of recording your music. Thankfully, downtown Stockton is home to The Press Recording Studio. With professionals that seriously care about developing quality sound (out of their own passion for music), you can guarantee you'll be in the best hands every time you book a session with them.
We asked the man himself, Matt Young (The Press owner/engineer) "What words of encouragement would you give to an aspiring musician/singer/songwriter who's maybe nervous about the recording process?"
He says, "Don't be! When opening the studio, one of my biggest goals was to make sure people feel comfortable and inspired when recording at The Press. (I had some bad experiences when I was coming up as a musician and working in other recording studios.) When you're here, you will not encounter any ego, negativity, judgement, etc. All of the engineers working at the studio are easy to work with and will help make the recording process as smooth as possible. Our goal is the same goal as yours: making awesome music! We will help (or just push buttons and keep our mouths shut if that's what you want) you get an awesome product even if you come in a little unsure because you're new to recording. Everybody has to start somewhere and we are the perfect place for that."
And he's right—you've gotta start somewhere. If recording your music is a dream you've been hanging onto, we encourage you to not give it up before you even give it a try. Book a session at The Press; feel things out. Let them walk you through the process and help you create the sound you're hoping to achieve.
GRACE NOTES MUSIC PROJECT (@ THE PRESS)
Next is a golden nugget for all of our young, aspiring artists. Grace Notes, founded by Brandon James and made possible by Matt Young, is a phenomenal program aimed towards the fresh batch of creative youth in Stockton. "But what is it exactly?"
We asked Matt, "Can you please share how Grace Notes has helped young artists spread their wings a bit? In other words, have you seen their confidence in their own music build because of the opportunity you're giving them at Press?"
He shares, "First of all, I'm so lucky to be in a position that allows me to give back to my community. Shoutout to Brandon James (Piasecki) for creating Grace Notes. I love being able to inspire younger artists and help the local music scene thrive in any way I can. To answer your question… Most of the young artists we have given studio time to, have been high school age.  This is a good time for them to get in the studio because a lot of them will go onto college, or get a job and put music on the back burner. Catching them when they're still young and passionate could literally help them realize a dream. Also, it might not be financially feasible for some and allowing them to get the experience as sort of a trial creates an awesome opportunity. I mean, they get to record on the best equipment in the world for free! But yes, they definitely come in to the studio a little nervous. On one occasion, a young songwriter took about an hour before they were even comfortable enough to play their song. But, after hearing the playback, they were a lot more confident and inspired."
Yes, you read that right! Free! Students get an opportunity of a lifetime to record for free at The Press to give them a real taste of what it's like to create their sound in a high-quality studio. As Matt said, catching them young could make all the difference when it comes to deciding which dreams to hold onto as they finish high school.
According to their website, "Students who apply must fulfill the following requirements:
Be a Stockton resident.
Be a student no older than 18.
Post a video of yourself playing an original song on Instagram and tag @gracenotesmusicproject.
In the caption of your post, answer the following question:

How will you use your music to positively impact the community?"
Just hearing about this project is inspiring, to say the least. If you or someone you know would be a great fit, apply and/or spread the word. Visit www.thepressrecordingstudio.com/gracenotes for more details and to peep the incredible backstory on how it all came to life.
Lastly, we asked Matt, "Is there a Battle of the Bands in the near future?"
He states, "Absolutely. The first Battle of the Bands was a success and I'm anxious to do more of them. It's another way to give back to the music scene and say thank you for all support we've received. I also have contests for rappers and singer/songwriters in the works as well. I don't have dates locked in yet but I'll be sharing them when they're available. Follow @thepressrecordingstudio on IG or join our mailing list at www.thepressrecordingstudio.com to stay in the loop."
Music makes the world go round—we all know this. What's so incredible is that there's room for everyone, and every genre. If you're an aspiring artist in the area, we've given you a mother lode of options to spread your wings and grow your craft. Own your creativity; we hope to see you recording your originals. And keep filling up these restaurants, bars and stages as you take advantage of the booking opportunities that are waiting for you in the heart of downtown.