By Ben Sanchez
Hanging signs emit flickering lights to grab the attention of people passing by on South San Joaquin Street in downtown Stockton. A row of mannequins line up outside a storefront showcasing a unique fashion style to passersby peering inside a large display window. The spinning disco ball glimmers above the historic doorframe architecture, now occupied by a new small business.
Wall 2 Wall Fashion by Santana, is hand-written on the whiteboard sign outside the shop. An arrow points to an old vintage door at the storefront. The large audio speakers emit a soulful sound as I ventured into the space. I noticed the high ceilings and immediately understood why the shop is aptly named Wall 2 Wall. Sante Gayle, owner of Wall 2 Wall Fashion, greets us behind the counter. "Welcome to Wall 2 Wall gentlemen," says Gayle. He reaches for a high-reach garment hook to place clothing along the wall. "I can display all of these unique pieces from wall to wall in this retail space — that's where the business name originated from."
The clothing is vibrant and seasonal with an array of women's designer clothes that customers can view up to about 30 feet. From accessories, shoes, and jewelry, you can "find it all at Wall 2 Wall," says Gayle. Along with men and women's apparel, he does custom orders for clothing designs to accompany the accessories inside the shop. With neo soul beats in rotation playing from his Xbox One, we got to vibe with Gayle on how he started his business, the vision for Wall 2 Wall, and a brand new storefront opening soon in downtown.
Meet Sante Gayle, owner of Wall 2 Wall Fashion.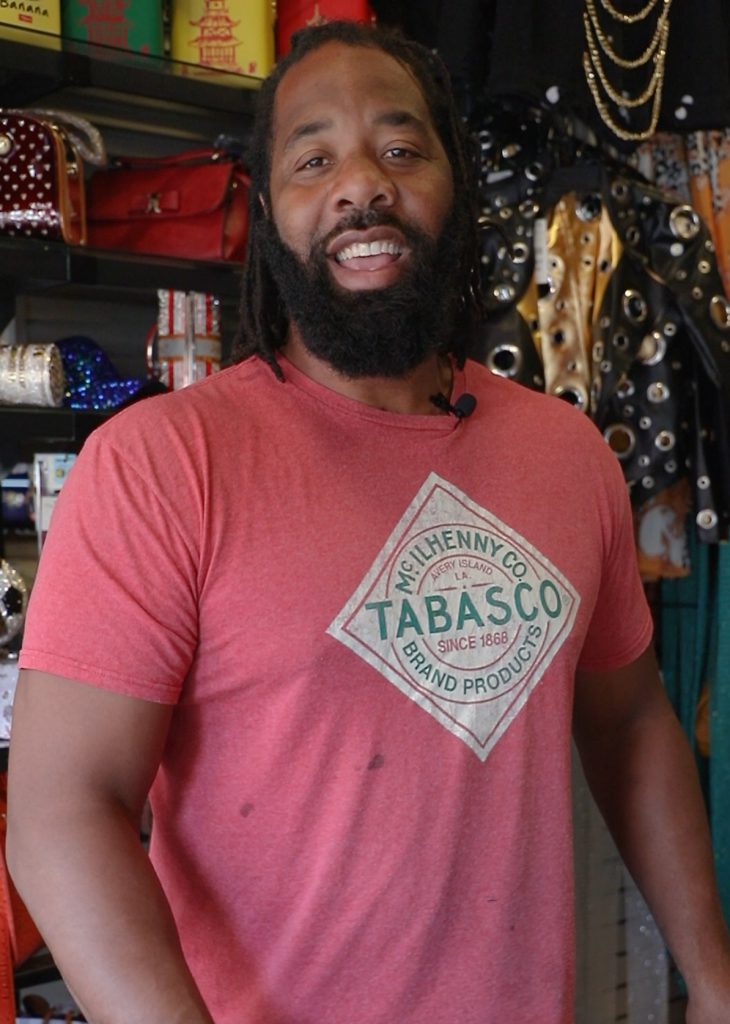 Gayle, born and raised in Stockton, lived off of American Street. He spent a majority of his life in Stockton before he went to college, played basketball, and traveled the world with AND1. While he toured to other countries playing basketball, Gayle had conversations with his uncle about his experience as an entrepreneur.
After completing his basketball journey, he started researching how to build a small business in downtown Stockton. "I decided to take a step toward being an entrepreneur here and building something where I live," says Gayle. "Downtown is nice because of the people — I wanted my store here to help my people and beautify my city."
Design and Inspire.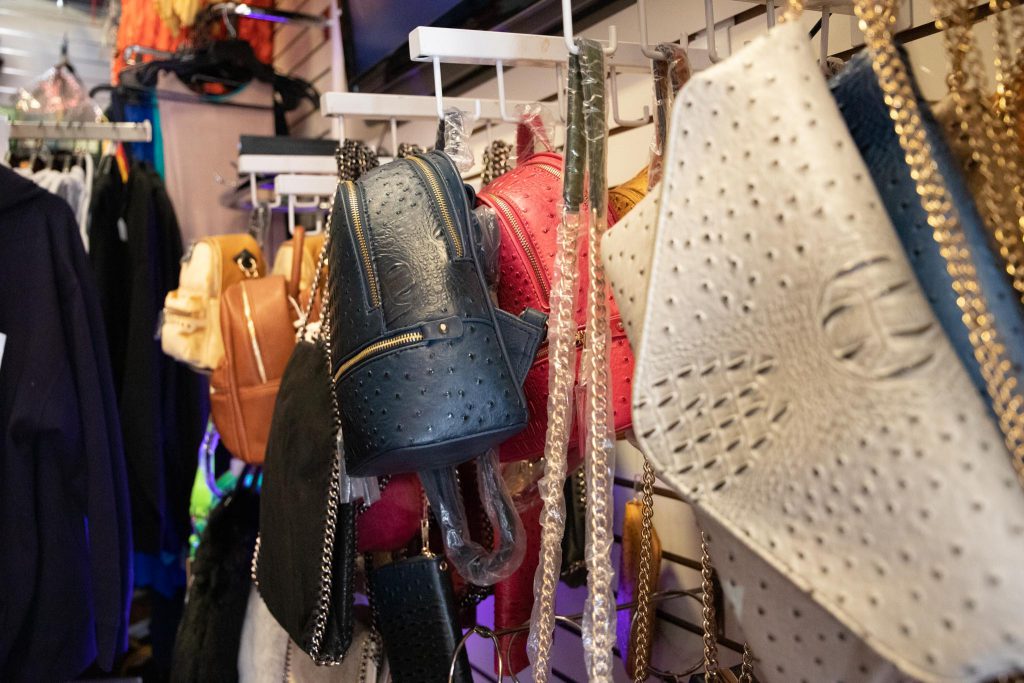 Throughout his experience, Gayle sold a variety of clothing from hats to jerseys. He developed a plan to start his business before launching Wall 2 Wall Fashion last year during the pandemic. With insight and inspiration from his uncle, he continued forward, studying fashion trends and learning what it takes to operate a successful business.
From casual to dress apparel, Gayle originally stocked inventory with a more uniform, work savvy look, specifically for women in business. However, that trend has shifted toward a sexy, sophisticated, and intelligent style. "Women come in for seasonal fashion designs. Lingerie or a swimsuit look during the summer is what they look for when they visit my store," says Gayle. "We give people a personal tour of fashion — they can pick and pull from any kind of idea to design something unique."
Why downtown Stockton?
Downtown is about the people. Beautifying my city is exactly what I want to do.
How can the community support you?
The best way to support us is to come down and experience Wall 2 Wall.
What is different about Wall 2 Wall?
There hasn't been a shop like this in downtown for a long time. Our location, clothing, accessories, and customer service with clients offer a welcoming experience for people who live near the downtown area. We offer women and men's apparel, along with plus size clothing.
Our walls go 30 feet up to give people an optimal view of the designer clothing in our space downtown.

Sante Gayle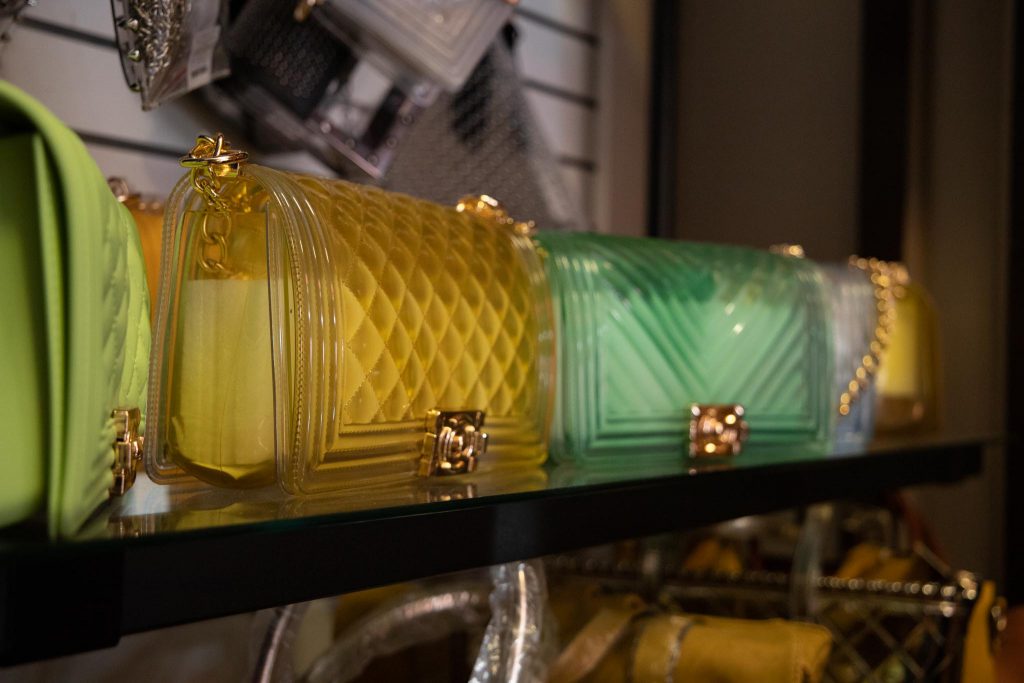 Make it unique.
Did you know Wall 2 Wall Fashion carries limited designer clothes?
Gayle works closely with his clientele to assist in their fashion choices, offering a unique custom look for any season.
While he manages several businesses, Gayle is actively involved in his community coaching at local schools and programs passing on knowledge from his experiences playing basketball around the world.
Address: 31 S. San Joaquin St.
Phone: 209.313.8811
Hours: 9 a.m. – 9 p.m.
Open 7 days a week