By Ben Sanchez
This year, we brought Matt Amen to take part in our vlog series for a unique perspective of life in downtown Stockton. I remember meeting Matt at Huddle x Launch Pad to talk about the direction of the vlog for the new year. We discussed the idea for a few episodes based on someone who lives in the downtown area. Matt was instantly onboard with the idea of highlighting his normal routine in downtown Stockton. Whether he rides his bike or walks to work, he allowed us to film and talk about his life experience in downtown.
"Let's do a walk and talk in downtown!" he says.
Matt Amen.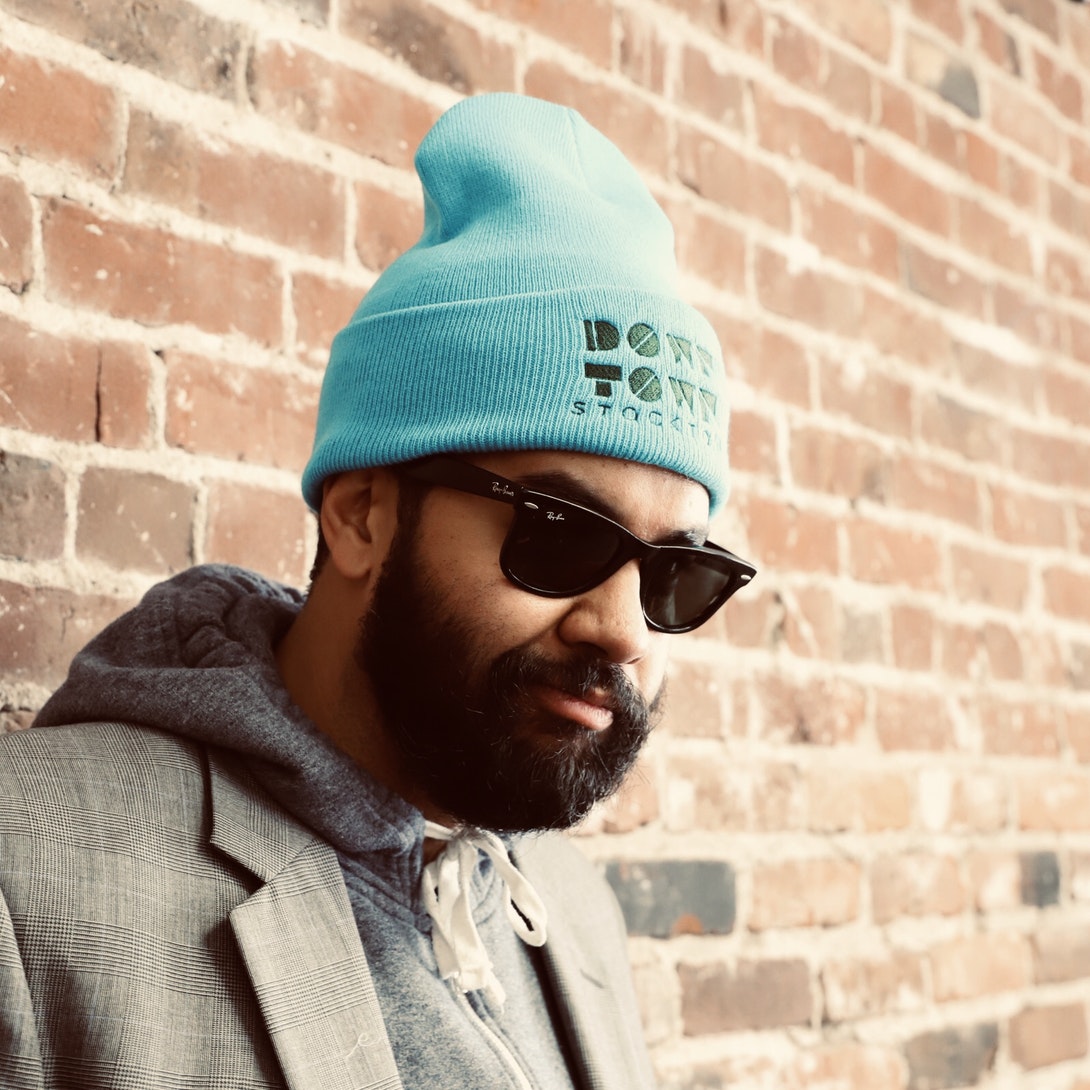 I joined Matt for a "day in the life" on his travels in downtown. Along the way, we dropped by Trail Coffee Roasters for coffee, dropped off laundry at Riteway Cleaners, made an appointment with The Golden Rose Barbershop, and then visited the new popup spot, DryCleaners. I learned a lot about some of the businesses here from Matt and the amount of knowledge he shares about each one.
He loves downtown. He loves Stockton.
He points to different art murals, filling my brain with information on the artist and concept behind these incredible visuals seen on the side of tall buildings. We stopped at Trail, chatting about scones, cruffins, and coffee. His vibrant red shoes tap against the floor. The unique, owl mosaic art greets our feet while we wait and chat about downtown. The coffee shop now occupies the historic Owl Drug Store building on the corner of California and Main Street. With a couple of warm cups of coffee, we venture off to The Golden Rose Barbershop to get a fresh cut. (Well, Matt gets a haircut anyway!)
A tiny detour.
On our walk down Main Street, across from the Chase building, we wandered into a building undergoing renovation. The dimly lit area stretches far back with random pillars and areas of paint beaming across the walls in vibrant orange, yellow, and purple colors. A business used to be here. "I heard it was called Disco Azteca," the construction worker explained as we walk across the space. The building had been purchased by an investor with plans to begin work throughout the year.
Every location has a story that Matt keyed in on. His energetic smile is contagious as the worker happily shares information about the project. "It was really great talking with you two investors," said the construction worker. With a puzzled look on our faces, we both look at each other, sip coffee, and casually head for the door. Matt laughs as we exit the space. "Don't you love little detours like that?" he exclaimed.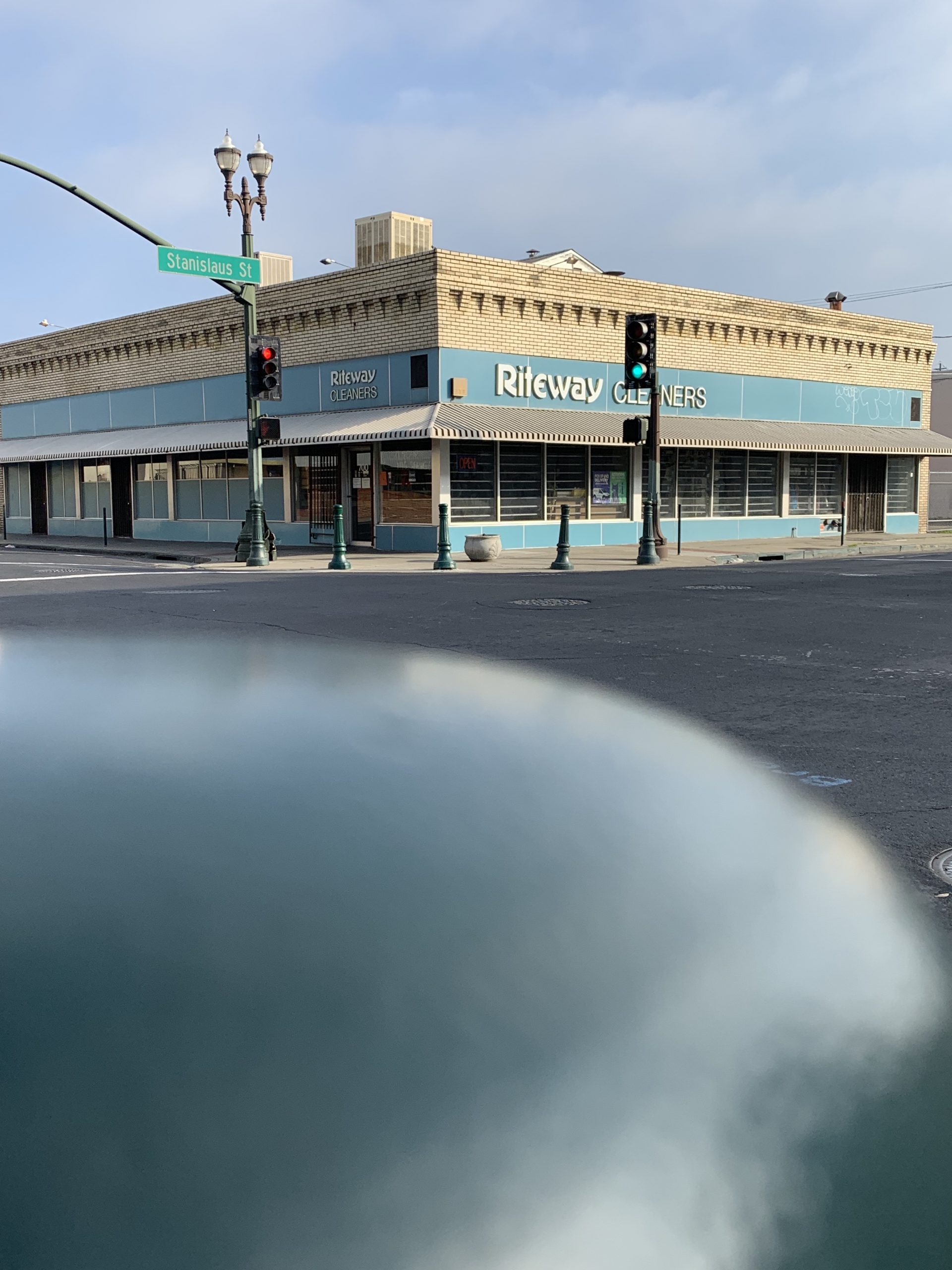 Coats and Cuts.
I compliment Matt on his wonderful, pine colored coat. I drop a pop culture dialogue reference from Frank Miller's Sin City. As the character Marv would say, "That's one fine lookin' coat you are wearin' there." Matt smiles, telling me the story behind the coat. His Uniqo tote bag, with a DSA teal beanie inside, hangs over his right shoulder as we enter the barbershop. The vintage shop, complete with several wide mirrors stretching across the walls, capture angles of human faces as they swivel in leather barber chairs. The giant scissor art chases a rose on the display windows lined with bulbs emitting a dimly lit glow into the shop. There is over 100 years of barbering history here. Something old, something new.
The previous customer steps off the chair and spent time chatting with us momentarily about video games before the snipping of blades was heard near the barber's chair. Matt never missed a beat. His jovial expressions are seen from the mirrors as he talks to Stephen Herder, owner of Golden Rose Barbershop. Between cuts, my intern films the experience on a quiet day in downtown Stockton.
We lucked out with the weather, which can be quite windy as we walk down San Joaquin Street. The Golden Rose Barbershop has two locations, one downtown and another space on Miracle Mile (The latter space used to be Cal-Pine Barbershop on Miracle Mile).
Once Matt finished in the chair, he sprung up to check his hair in the mirror before we ventured off to Shop DryCleaners. Cue the teal beanie reappearing from the Uniqo bag.
Shop Local.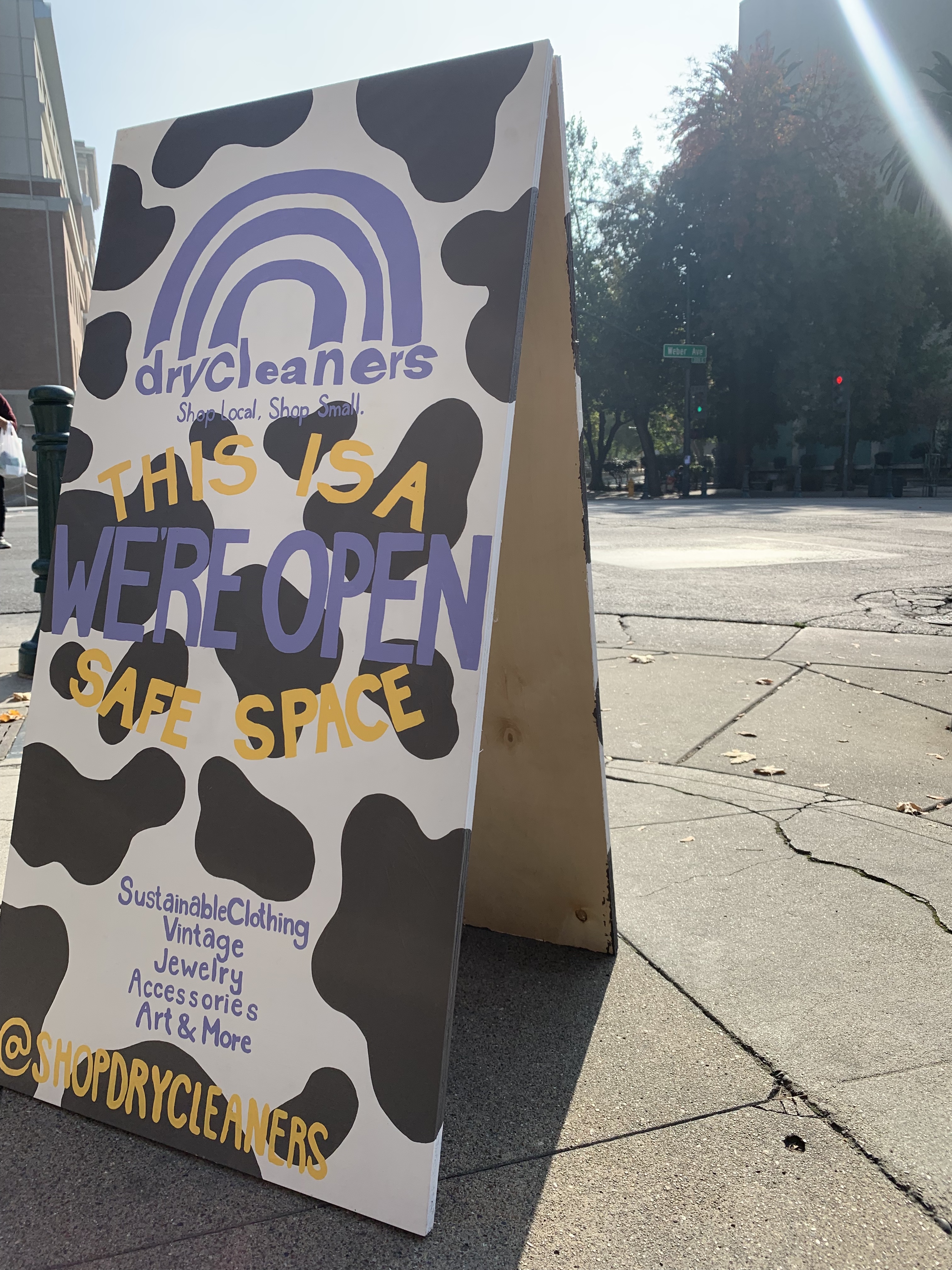 Just one block from the barbershop, the DryCleaners sign is propped on the corner to greet the public. DryCleaners is a vendor popup selling sustainable clothing, plants, jewelry, and vintage items (Also a mini fridge with specialty drinks from Cuco Etc.) Matt is particularly proud of this because of the collaborative efforts between Huddle x Launch Pad, Cast Iron Trading Company, and DryCleaners. Located on the first floor of the historic Belding Building, DryCleaners popped up next door at Cast Iron before moving over into a bigger space.
"This is really exciting! We are bringing some new vibes to the block," he says.
The first floor is filled with a variety of products and items from vendors across California. With monthly scheduled events, and local musicians stopping by to perform at Cast Iron, the positive energy on the block is a welcome vibe for downtown.
He explained the collaboration with Oliver Opus, co-owner of DryCleaners, is bringing life near his area of downtown. Matt has always been an encouraging individual, inspiring Oliver and many others to continue their entrepreneurial venture regardless of the setbacks. "Sometimes it is easy to give up. I want them to succeed… I want to assist them anyway I can," he says.
I hope you catch a glimpse of that when you watch the new episode of the vlog.
What's Next.
Regarding the future of the vlog, I am happy to announce that Matt will come back for another episode to highlight the night life downtown. We had fun exploring some of the businesses he frequents in downtown Stockton. I hope everyone will enjoy the episode when it drops in March 2022. If you like our video, be sure to share it with others to see the amazing places downtown.
Sometimes it is easy to give up. I want them to succeed… I want to assist them anyway I can.

Matt Amen
Businesses
Watch previous episodes on our YouTube channel!
Subscribe and catch all new episodes from Downtown Stockton Alliance.