By Courtney Wood
As more people pursue diets that increase the inclusion of plant-based foods or reduce the consumption of meat products (for health benefits, animal rights reasons, religious reasons, environmental reasons, or simply a matter of personal preference), the demand for vegetarian and vegan friendly options has risen. Restaurants and food manufacturers have decided to step up to the challenge, and Downtown Stockton restaurants are in on this trend!
Having spent the past 16 years as a vegetarian, and the past 4 years working Downtown, I have decided to share a few of my favorite Downtown vegetarian lunches with you so that all the vegetarians, vegans, flexitarians, and omnivores out there looking for options can discover the veggie-friendly treasures our Downtown restaurants have to offer.
*Please note that when I use the term "vegetarian" in this article, I am using it to mean lacto-ovo vegetarian. Also, I want to stress that if you have dietary restrictions, preferences, or allergies, always communicate them to restaurant staff prior to ordering for your own peace of mind and safety.*
#1 The Downtowner – VEGAN Nachos
The first dish on my list is The Downtowner's Vegan Nachos, which are so delectable that you won't want to share (warn your stay-at-home roomie or partner). The flavors in these nachos will definitely surprise you in the most "can't stop eating them" way. The chips themselves are fried corn tortillas, and they are covered in a cashew-based sauce with a savory sage kick to it. The combination of the sauce with other awesome toppings like avocado smash, black beans, and pickled jalapenos will make you wonder if any nachos from your past life were ever actually good.
Aside from this filling nachos dish, The Downtowner has several other vegetarian and vegan friendly meals and sides to choose from, including the Portabello Sandwich, the Big V Burrito, and more. The Downtowner is a great spot for trying experimental flavors that will liven up your day.
#2 Kabob & Gyro House – Falafel Salad
Next up is Kabob & Gyro House's Falafel salad. Yes, I know, a salad. If you've been a vegetarian for a while or even if you're not vegetarian, anytime someone mentions "we brought a salad," you're likely underwhelmed due to the insane number of sad iceberg lettuce, red cabbage, and carrot shredded "salads" we've all been tortured with for decades.
I am happy to say that this salad is different!
Many times a salad can miss the mark either due to a lack of flavor or lack of a substantial protein source and I am pleased to say that this salad suffers from neither problem. Romaine lettuce, deliciously flavorful olives, a tangy dressing, and a touch of feta (ask them to hold the feta if you are vegan) are topped with crispy, hearty falafel scoops. For those of you who are unfamiliar with falafel, it usually contains chickpeas, herbs, and wheat flour (check with staff if you are avoiding gluten) all mashed together in a dough that is then fried to golden perfection. If you want to add to your heavenly experience, order a side of hummus and add a dollop on top.
If this dish sounds appealing, but you want to try falafel a different way, they also offer a Falafel Burger, Falafel Wrap and Falafel Plate! If you are vegan be sure to ask staff about ingredients before ordering (some of the sauces may contain dairy or eggs).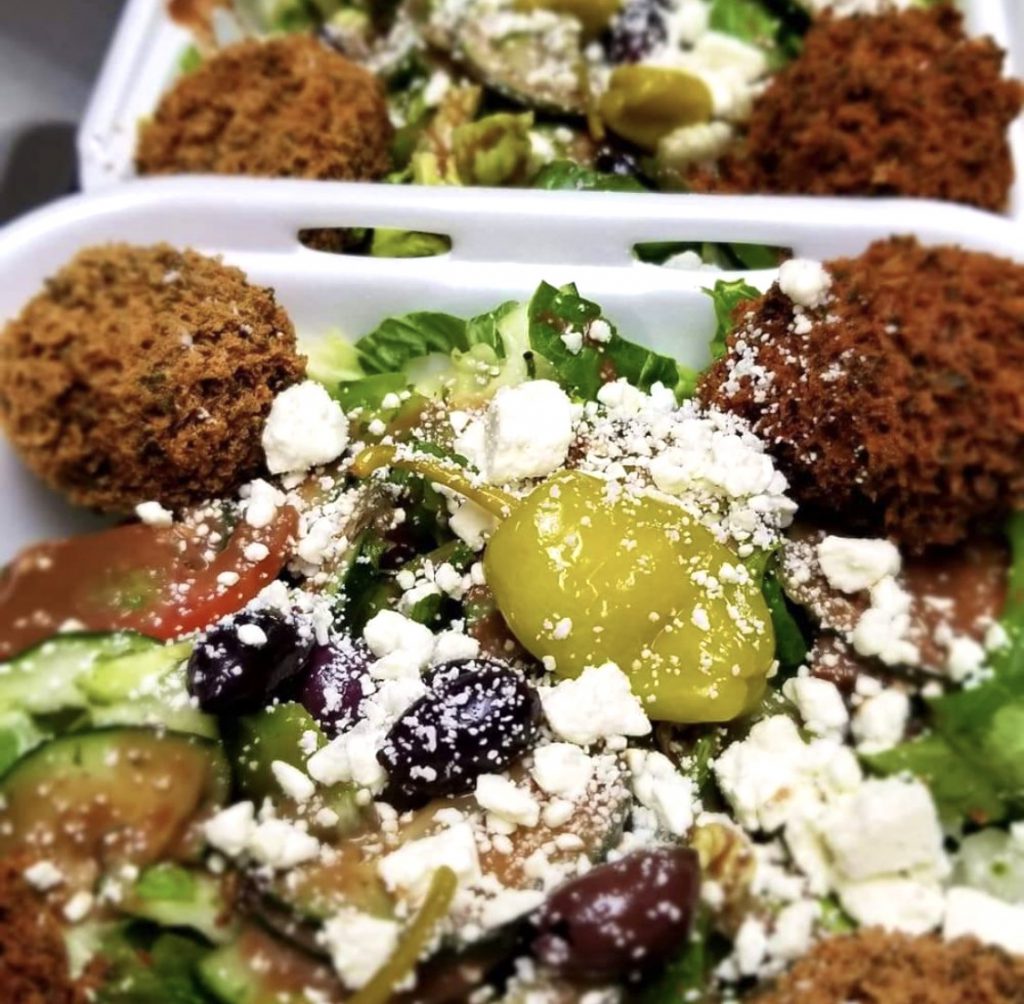 #3 Moomoo's Burger Barn – "No Moo" Burger
Are you surprised that I'm including a hamburger place?
Here's why – Moo Moo's is one of those awesome burger spots which understands that sometimes people who don't eat meat still want something chargrilled and wrapped in a bun. Moomoo's offers a vegetarian patty in place of a regular patty on any of their burger sandwiches – the "No Moo" as it reads on their menu. In addition to the vegetarian patty option, they also have a gluten-free bun (yay!) for those avoiding gluten (double check with staff if you are avoiding egg). This is my go-to place for a veggie burger in Downtown. The patty – topped with ketchup, mustard, a bit of onion, and a piece of crispy lettuce – nestled on the gluten free bun and plated with a pickle will make you forget beef is even a thing (we all know it's the toppings and sauce that REALLY make a burger).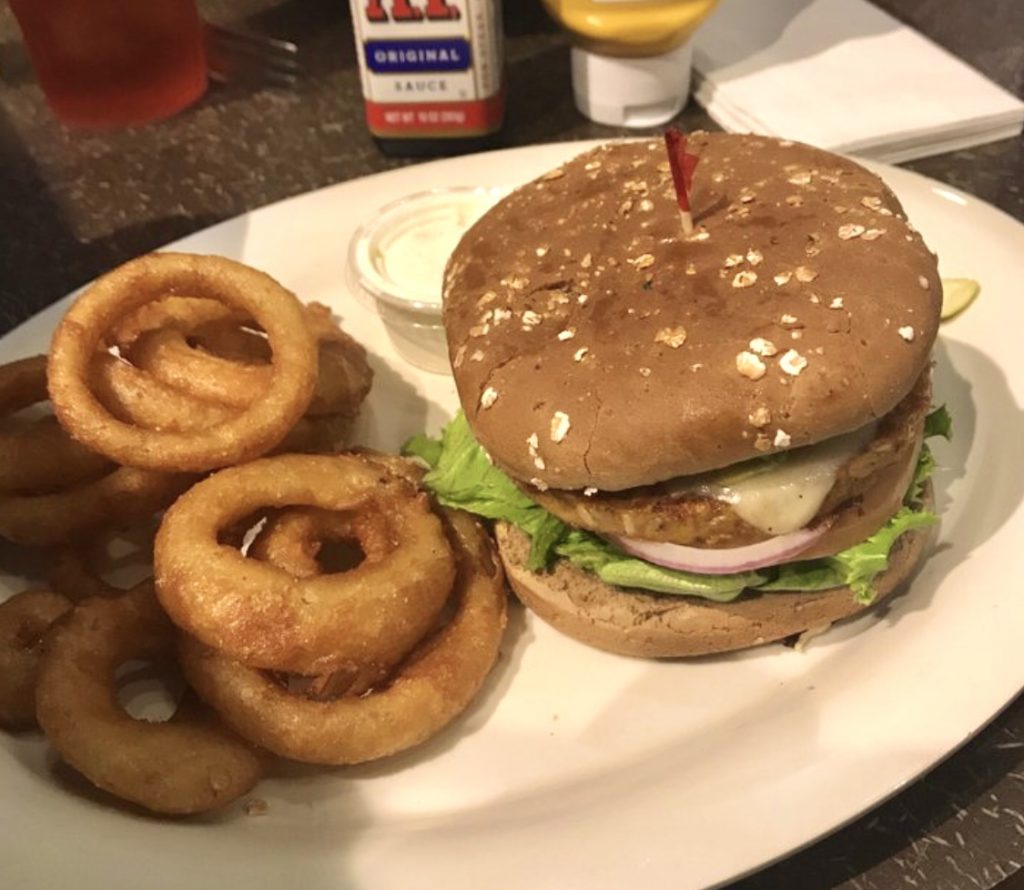 #4 Cast Iron – VEGAN Brussels Sprout Tacos
If you're looking for a late lunch, and are craving street food with a twist, look no further than Cast Iron Trading Co.'s vegan brussels sprouts tacos. Delicious, slightly crispy brussels sprouts are covered in a spicy vegan chipotle crema and wrapped in a corn tortilla. Try these with a cold craft beer or glass of on-tap kombucha and enjoy the restaurant's new outdoor seating!
If brussels sprouts don't excite you, Cast Iron also serves a Beyond Meat patty burger with a tasty pesto sauce.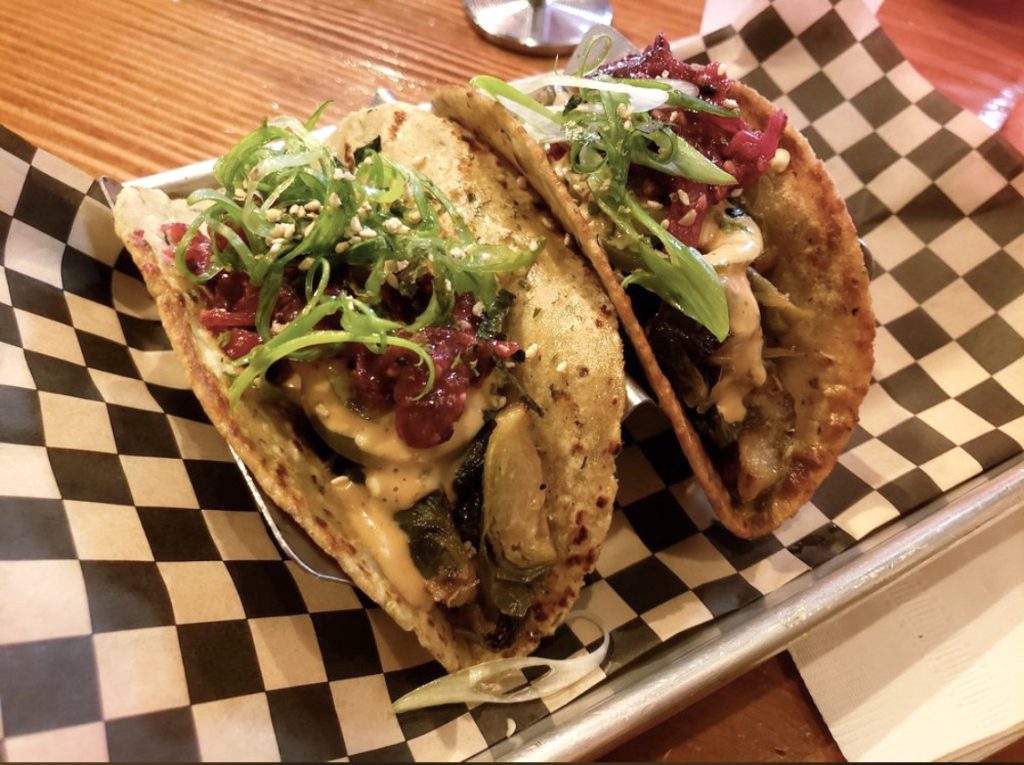 #5 Misaki Sushi & Bar – Vegetemp Roll
Misaki's may be popular for their fish, eel, sea urchin, and crab-based based fare, but they also have savory vegetarian options, like the tasty Vegetemp Roll. This roll features lightly battered and crisply fried asparagus or carrot tempura pieces at its center, and arrives with those familiar sushi bar sidekicks of pickled ginger and wasabi. If you really want to amp up the yum factor, ask to add avocado and cream cheese (if you're not vegan, of course).
More options can be found on their menu in the "Vegetarian Delights" section, but some notable ones include the Avokyu roll, the full order of Vegetable Tempura, Vegetable Udon, and the Chuka Wakame salad (made entirely of marinated seaweed – listed in the "Appetizers" section). Check with your waiter if you are gluten-free or vegan to see which options will fit your unique needs.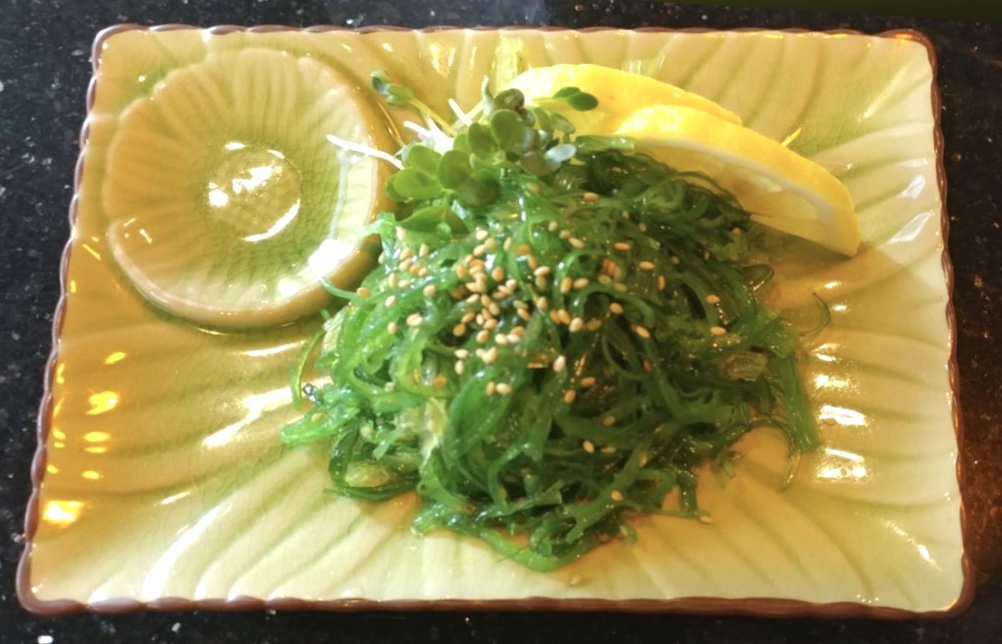 #6 Thai Thai Restaurant – Yellow Curry
The red, yellow, pumpkin, and avocado curries from Thai Thai restaurant are the cure for anyone bored of boiled vegetables flavored with salt and pepper. Over the years, I've found that flavor variety can make or break your enthusiasm for your next plant-based meal. Fortunately, Thai food has a lovely mix of sweet, spicy, savory, and salty aspects to tickle all of your tastebuds.
Thai Thai's Yellow curry offers perfectly cooked potatoes and onions in a slightly sweet, expertly seasoned sauce. I suggest adding basil to complement the curry's flavor and tofu if you want to up the protein content. When placing your order, staff will ask you to note how spicy you want your dish – medium, hot or Thai hot – so there are options to suit everyone's heat tolerance!
Aside from Thai Thai's amazing curries, another vegetarian friendly option is the Pad Thai dish (order without egg if you're vegan).
Here are a few honorable mentions:
Papa Urb's Grill – for a quick snack, try the veggie lumpia (check with staff if you are avoiding egg)
Casa Flores – for a build-your-own kind of lunch, order a side of beans (ask for no cheese if you are vegan), with salsa, guacamole, lettuce, tomato, and a few warm corn tortillas
Subway – for a vegetarian, protein-filled sandwich, just "sub" the veggie patty for meat on any of their sandwiches or wraps (or add it to a salad if you're trying to eat fewer carbs)
Alfalfa's – if you need a slice of pizza to make your day, Alfalfa's has individual slices of plain cheese as well as vegetarian pizza for you to enjoy while walking around downtown
Now that you know about these veggie-friendly choices, we hope you've been inspired to try something new, (or at least have found a few places where you can bring your vegetarian friends).