"The power of service!" is the slogan proudly displayed at Success Ink, a full service copy and print center in Downtown Stockton. Their unwavering commitment to these words are undeniable, as 2020 marks the 20th year Success Ink has been in operation! To celebrate this remarkable milestone, we sat down with Curtis Boone, owner of Success Ink, to learn more about him and his business.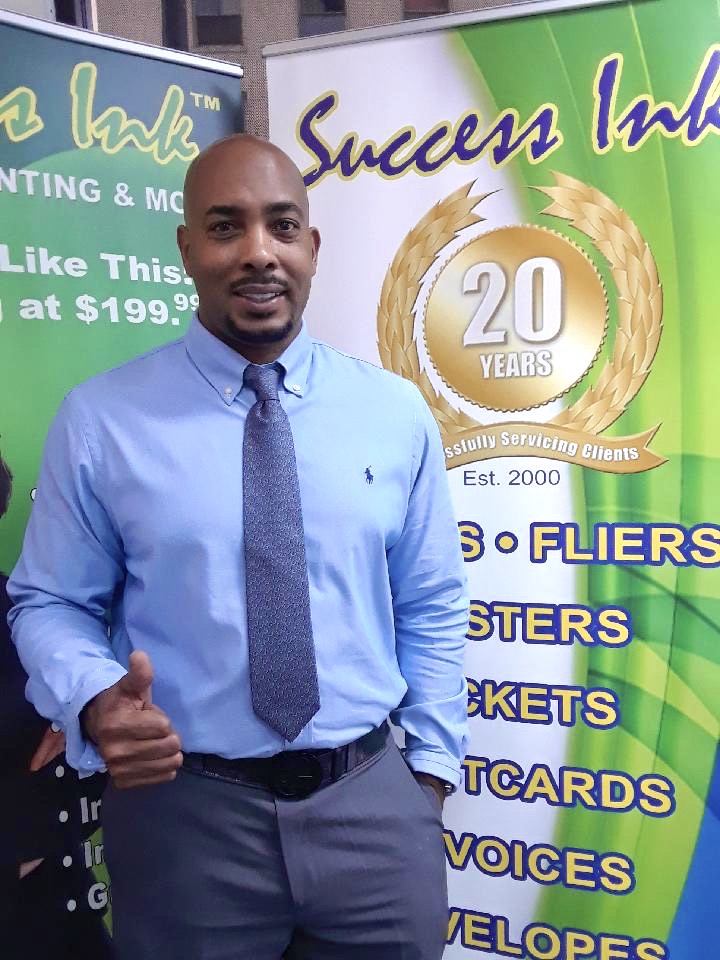 Meet Curtis Boone
Although a longtime resident of Stockton, Curtis is originally from Torrance, a city located in Southern California. In 1996, he moved north to settle into Stockton, where his mother owned Mitchell's BBQ right here in Downtown Stockton. Fun Fact: Mitchell's BBQ was located at 19 N. California Street, in the building The Deliberation Room currently occupies.
Why A Printing Business?
During his time working at Mitchell's BBQ, Curtis learned how to create business cards, flyers, and other promotional material for the restaurant. This is where he developed a passion for graphic design (which he explains used to be referred to as "desktop publishing"). This sparked the realization that he "enjoyed that [graphic design] more than restauranting." He started off enjoying graphic design, but expanded the idea to a print shop once he realized there was a lack of printing services downtown. After the family sold Mitchell's BBQ, Curtis opened Success Ink at 502 E. Weber Ave in February 2000.
When asked why Curtis decided to continue running a business in the downtown area rather than anywhere else, he shares with us a few reasons. First, it was a convenient location! After all, he already knew the area well. In addition, he could run Success Ink for a great price! Compared to his Southern California hometown, running a business was a lot cheaper in Stockton. In Stockton, there is, "room for you to grow, you just need consistency."
Twenty Years of Service
There's another important "20" in 2020- the 20 Year Anniversary of Success Ink! Curtis and the Success Ink team hoped to have a celebration in February, but unfortunately, these plans were put on hold because of the COVID-19 pandemic. Because they're an essential service, Success Ink has been open throughout the entire pandemic and will continue to have their doors open Monday through Friday from 9am to 4pm. Once the pandemic ends, they will revert back to their regular hours.
Success Ink is a full service copy and print center, where you're even able to print directly from your smartphone (talk about convenient)! They also print various promotional items, including but not limited to posters, brochures, business cards, and banners. If you need assistance designing these materials, Success Ink also offers graphic design services! Gone is the need to spend countless hours confused in photoshop trying to piece together the perfect flyer for your business (we know how this feels).
What Do You Like Most About Downtown?
When it comes to what Curtis likes most about downtown, it doesn't take him any time to name his favorite restaurant: Thai Thai Restaurant (which he accompanies with an enthusiastic, "I love Thai food!). Curtis also enjoys the people downtown and commends the work of organizations like the Downtown Stockton Alliance (thanks for the shout out, Curtis!) and Visit Stockton. Curtis also loves to support other local businesses and is "always eager to find new places."

So the next time you're in need of print services, you can expect the best quality and service from Success Ink!

Visit their website for a full description of their services, and follow their Facebook and Instagram to stay updated on special deals and more!