By Courtney Wood
With a brick exterior, quaint wallpaper, antique-style lighting fixtures, and ornate ceilings, the Budd Building is an opportunity for commercial landlords looking to invest in a unique, office space in the historic Downtown Stockton on the 3rd floor at 333 East Channel Street.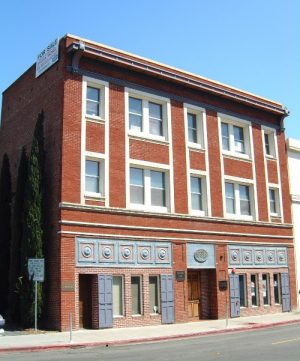 Historical Tidbit
The original Budd Building was the home of California's 19th Governor and Stockton resident, James Budd, born in 1851. He immigrated to California with his family when he was 7 years old, and attended schools in the Stockton area.
Later on, Budd studied law at UC Berkeley, gained admission to the California Bar in 1874, and became a member of the House of Representatives, where he "balanced the budget and cut spending, despite working with a hostile legislature," according to our Resident Historian Ambassador, Manuel Laguna (Click here for info about Manuel's free historical tours).
Budd was elected as governor in 1895, and served only one term before returning to Stockton, where he died in 1908. In the Stockton community, "Budd was instrumental in the dredging of the Stockton Channel, which aided shipping to the Port of Stockton." After Budd's death, his daughter began using the former home as a boarding house. The charming 3-story brick frontage addition was completed in the early 1900s, and has been used as commercial office space for decades.
Investment Opportunity
While its architecture and interior design bring to mind the golden days of Stockton's past, this office building is fully equipped with all expected modern amenities including an elevator. The bottom two condominiums are currently owned and occupied by the law offices of Rafael Carrillo, but the 3rd floor is for sale at a modest price of $275,000 for the entire 3,000 square feet!
Located across from Channel Street Parking garage, a block from the Downtown Transit Center, only a few blocks from the new San Joaquin County Courthouse, and in proximity to the upcoming Medici Apartments, this upper floor office suite is ideal for leasing to a professional services-type tenant, be it a lawyer, accountant, insurance agent, property manager, business consultant, or a bail bond salesman.
For more information about the property check out the DSA's listing and click here to watch a video, or contact the real estate agent, Andrew Hernandez, directly at 209-765-8568.
For other Downtown spaces for lease or sale, visit DSA's Real Estate Directory and follow DSA's #PropertyMondays on Facebook and Twitter.