By Nissi Guiao
"I've always been interested in art all my life since I can remember," says Alexander Suelto, a supremely talented local artist residing in downtown. He drew inspiration early on, "watching Bob Ross and Commander Mark and The Secret City as a kid [and reading] comic books like X-Men and Spawn." Later he "gravitated towards graffiti and listened to a lot of Hip-Hop in high school and took classes that taught [him] graphic design." Art just naturally became part of him as he became eager to learn more about different ways he could mess around with it. He says, "While in community college, I continued to draw and I took more classes to learn how to digitally alter my work. I took my chances and enrolled into the Academy of Art University in SF majoring in Illustration with a focus on product licensing and children's books. Graduated in 2015 and I was super stoked to check something huge off my life goals list."
Working on a Larger Scale
Eventually, Suelto found himself expanding his work on a larger scale—creating massive murals. They're fun and they bring life and color on a few of our own walls downtown. He tells us, "I got into painting murals from learning how to paint graffiti really. The idea of Z. scaling a sketch from a black book to wall is a fun challenge and [also fun] attracting a larger audience seeing your work."
Suelto's got drive. He doesn't wait for people to come to him, rather he creates works of art and places himself in environments where connections with the right people inadvertently happen. "Painting murals," he says, "helped connect me to people and more commission work. I've painted everything from kids bedrooms, galleries, corporate offices, local businesses, live mural demonstrations at universities—I've even fully painted on an SUV. It's all been a fun challenge but definitely not an easy one."
Keeping Creativity Alive
One of the cool and most inspiring things about Suelto is that he works so hard to keep his creativity alive. He seems to always be creating something everyday whether it be through murals, through paintings or now even through tattoos with his own designs. And once you see his work, you can tell that he's incredibly passionate about what he does. His innovative thinking and out-of-the-box designs will for sure catch your eye. You'll likely want to know what's the story that sparked the ideas in his mind. Luckily, we had a chance to interview him about a few of his pieces (some straight from the walls of downtown) so you can catch more of his artistic vibe.
"By Any Means"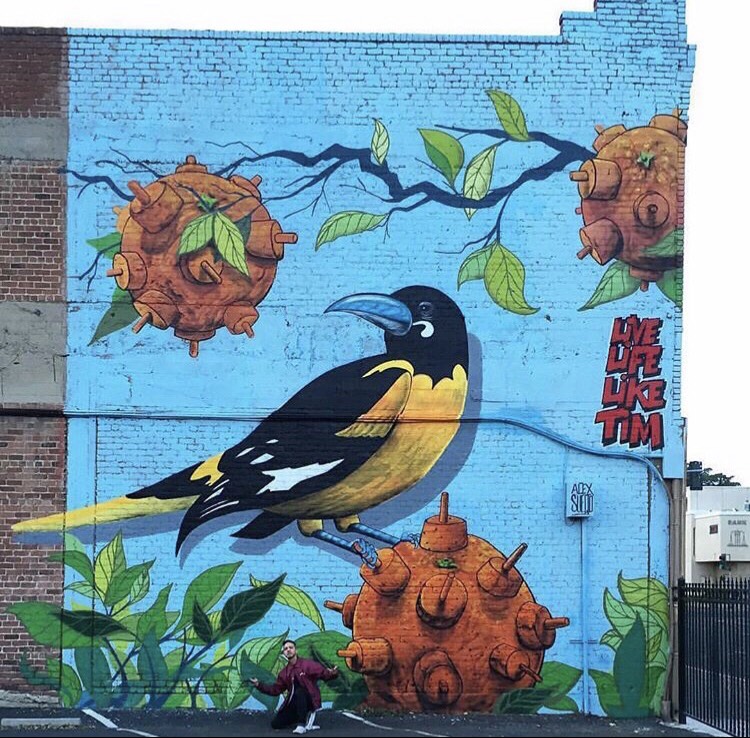 To start it all off is a very special piece dedicated to a close friend of his who has since passed. He remembers conversations where they "bounced ideas around about the need for large scale murals downtown to brighten up walls and our community" and we 100% agree.
"This was painted around 2015 during a mural festival called Momentum. It was inspired by late friend Tim Egkan. The oriole bird surrounded by mine oranges is defecting the daily environmental obstacles one would have to face in order to survive. The mural was recently buffed but I was lucky enough to take a picture with my daughter and see it one last time."
"Mine Over Matter"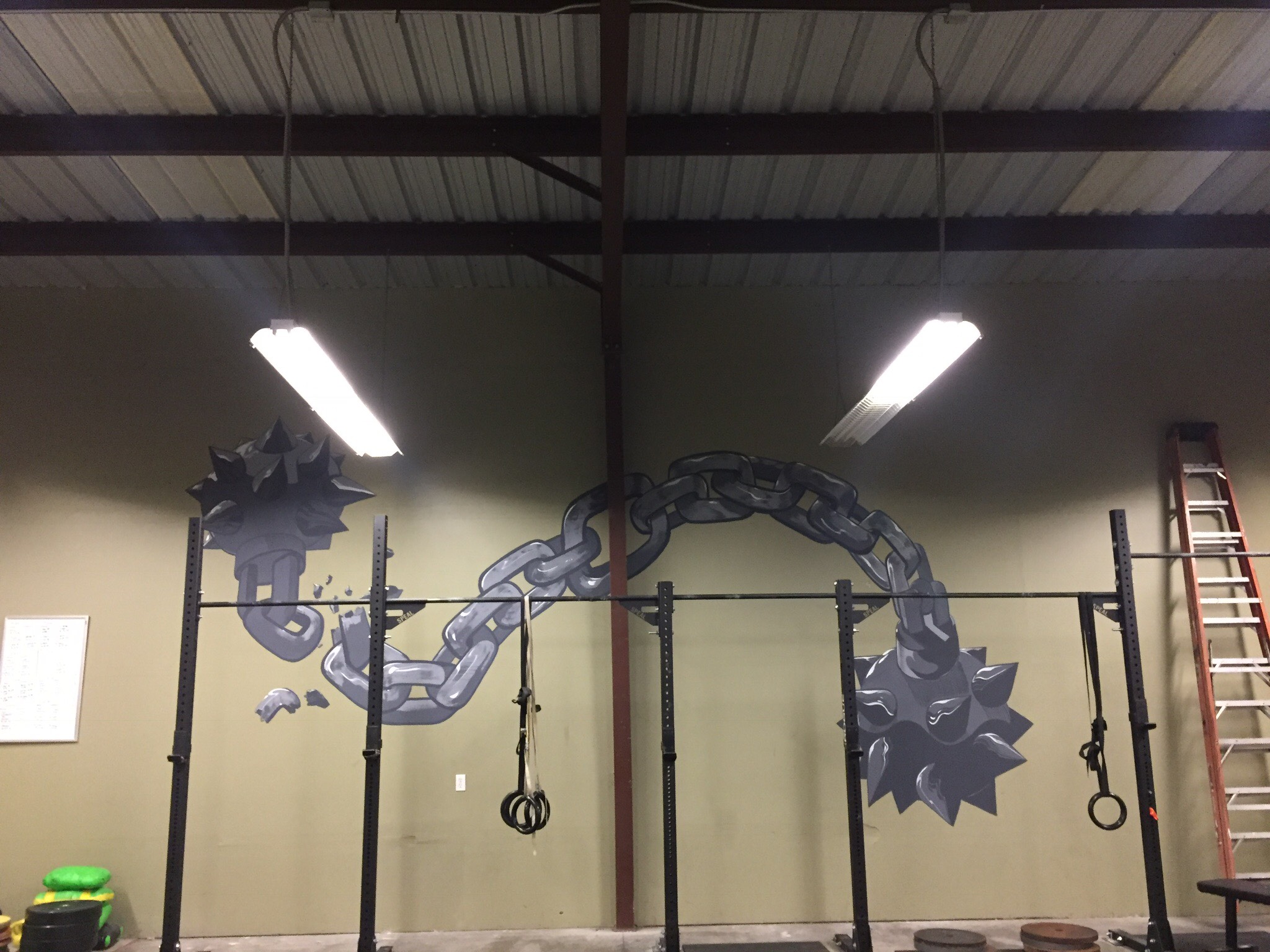 "I painted a few years ago for Max's Athletics. I wanted to create something in the lines of weight lifting. The mines are in motion with the concept of weight distribution, one is falling down from the sudden snap of the chain link as it is set free. Once I figured it out I smashed this out in 2 days with a really tall ladder."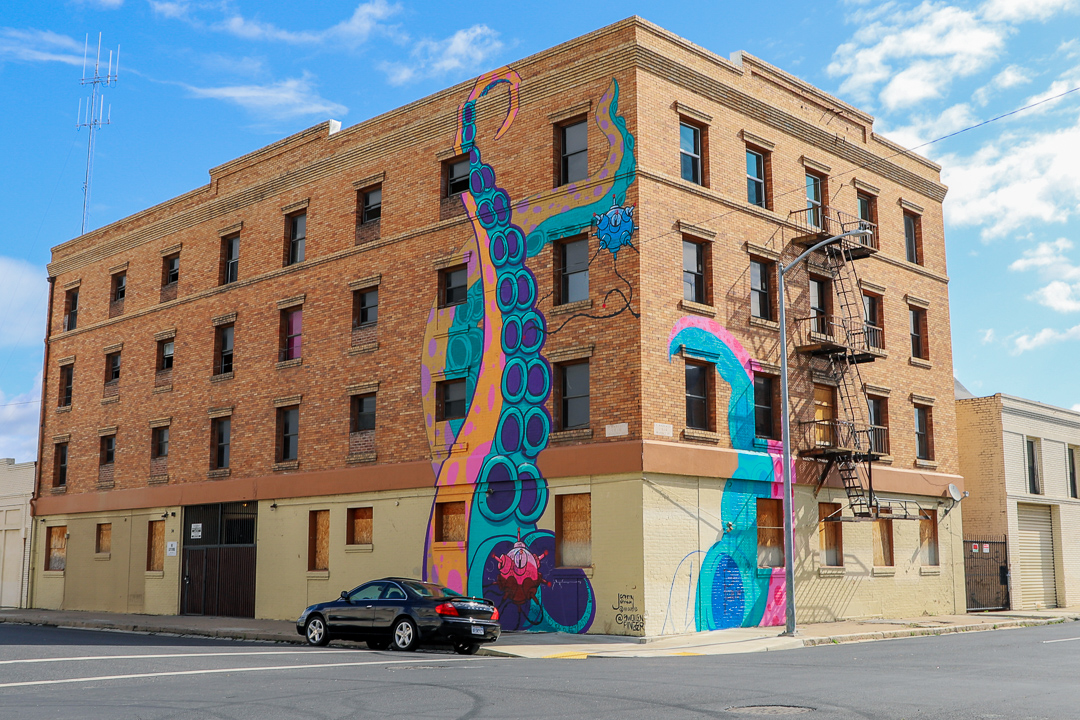 Some other murals by Alex Suelto (and friends) in #DowntownStockton
---
The following are what Suelto refers to as "some of my favorite maybe not-so-favorite-but-I-can't-stop-looking-at-these pieces."
"What Dreams Are Made Of"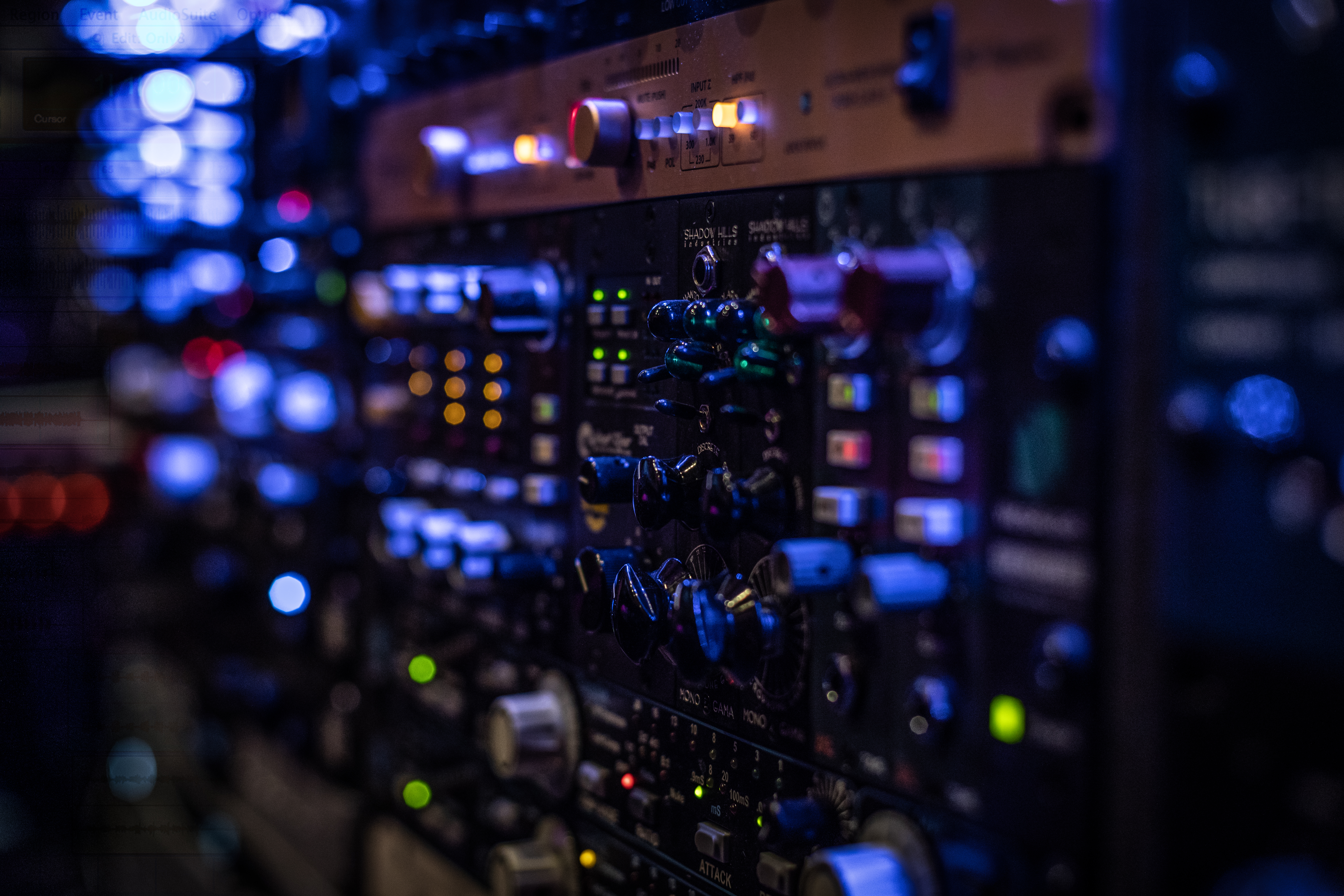 "I started working on this painting when I was living in San Francisco while in school. The concept of this painting is inspired by the everyday grind. From Stockton all the way to the Mission in SF where I was currently living. I would see the Paletero man walking up and down the streets, singing and greeting everyone. It was their daily hustle that inspired me to paint this."
"Ninja Nicky and The Missing Blankies"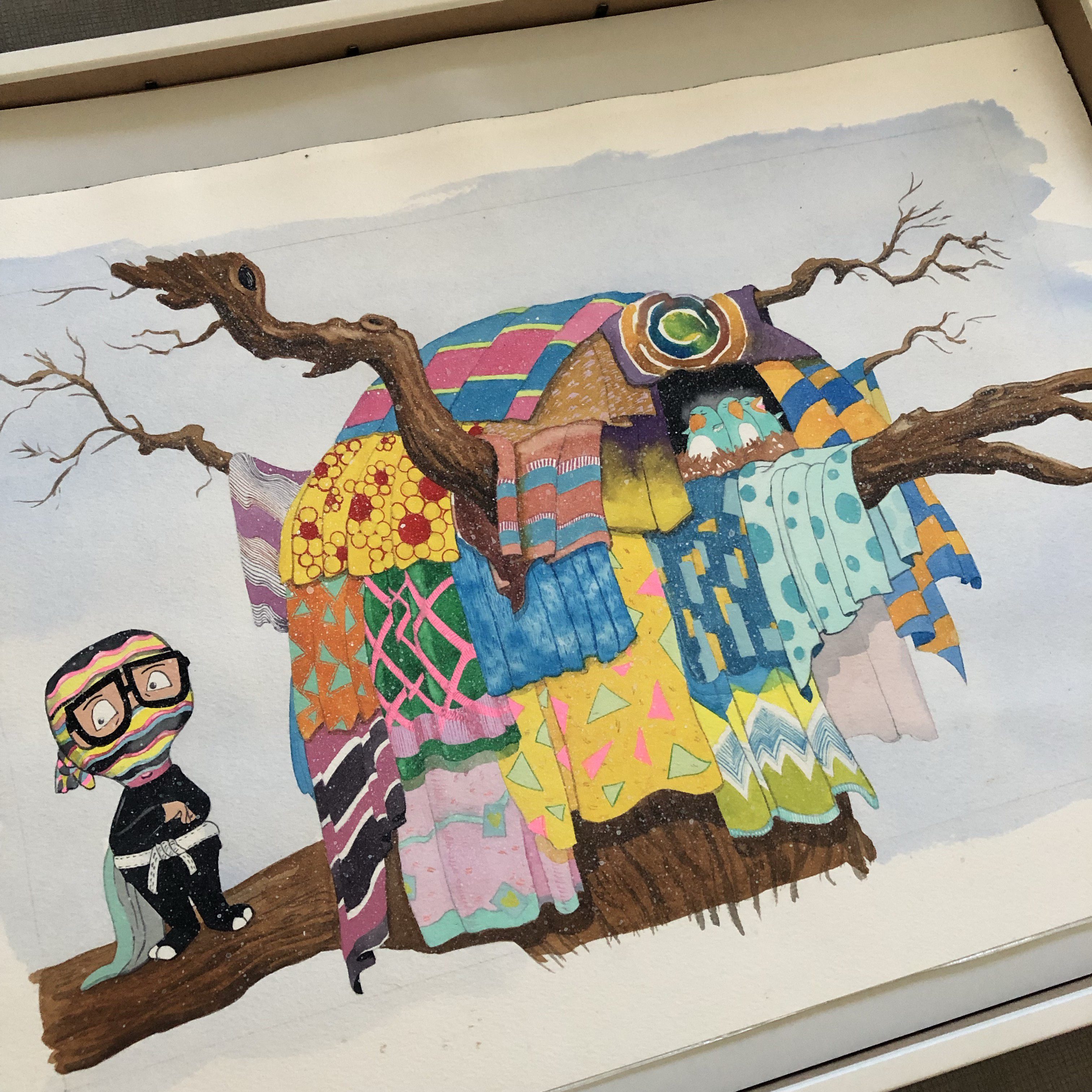 "This is an original watercolor full spread page for a children's book story I wrote. It's a fun story about a small town and the children's favorite blankets have gone missing. I really like the process behind writing a story and visually bringing it to life. I have archived this project for the time being but would like to finish all the pages and self publish it at some point."
---
Q&A: Fast Three with Suelto
What is Downtown's Spirit Animal?
A bat. I live in Downtown Stockton and in the early mornings I can see and hear bats flying around.
If you could describe downtown in just one word, what would it be?
History.
What is your favorite downtown eatery?
Papa Urbs, no doubt.
---
We have mad respect for every one of the local artists and we're grateful and proud Alexander Suelto is one of our own. With creativity through the roof, his passion for art and desire to keep it alive downtown is nothing short of inspiring. He has a handful of other murals along California St., American St. and Weber that we'd love for you to check out! While the sun's still shining, grab some friends (and good coffee or a drink from one of our local spots), take a walking tour to see the rest of his local, public work in person and get inspired…
"Art is too important not to share." —Romero Britto
Follow him on IG @swollenfinger to stay see more of his art.