By Jessica Nguyen
Have you ever dreamed of owning a business? Maybe you love to bake and want to share your delicious confections with the world, or maybe you're ready to take those unrivaled barber skills out of your garage and into your very own brick and mortar shop. Whether you're an aspiring business owner or you've already entered the entrepreneurial world, we've got great news — Main Street Launch, a new addition to the Downtown Stockton community, may be able to offer some valuable assistance to help you reach your goals! I recently talked with Richard Morris, passionate and knowledgeable manager of the new Main Street Launch Stockton Branch, to learn more about this uplifting organization with an admirable mission: to empower entrepreneurs.
What is Main Street Launch?
Originating from Oakland, CA, Main Street Launch is a Community Development Financial Institution (CDFI) that works to create opportunities for successful entrepreneurship. The organization's inception was a direct result of banking institutions failing minority business owners, as many would refuse to provide loans and would participate in redlining. For the past 40 years, Main Street Launch has aimed to combat this by providing entrepreneurs with capital, education, and networking opportunities to assist them in their business endeavors. Need some numbers? In the last ten years, Main Street Launch has funded over 700 loans, totaling $63.6 million. Main Street Launch focuses on aiding disadvantaged groups (such as African Americans, women, veterans, etc.) in building and sustaining small businesses as a way to combat and eliminate the racial wealth gap.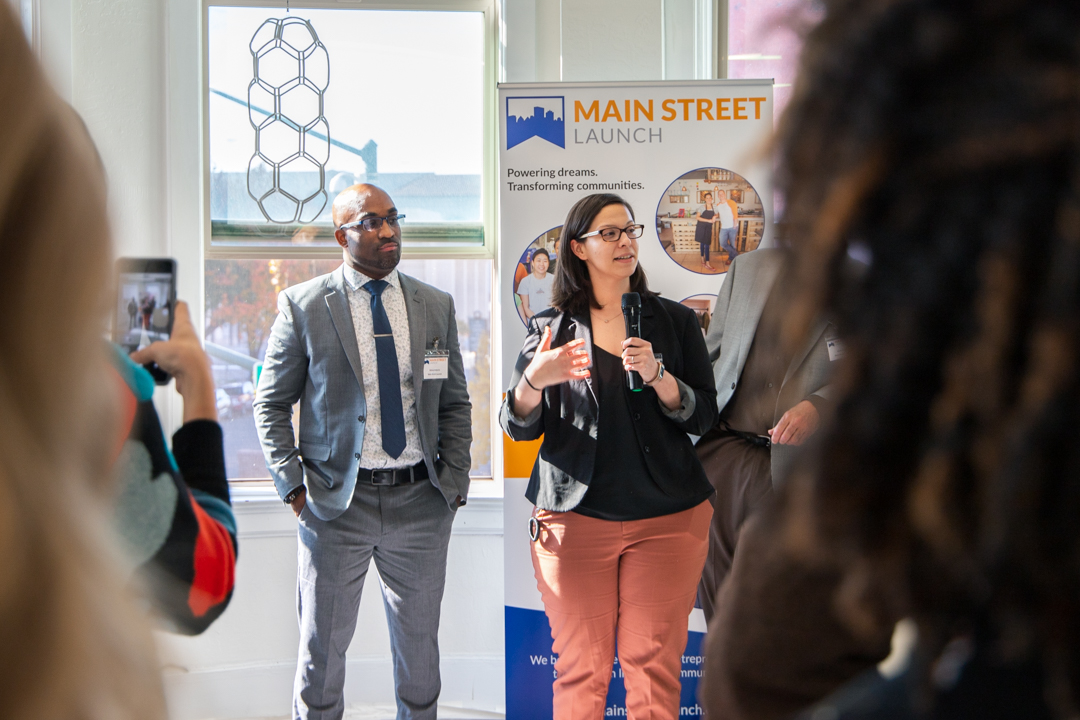 Goals of the Stockton Branch: the Entrepreneur in Residence Program (EIR)
Studies show that in general, African Americans have less wealth than any other racial group in America, as they face specific barriers such as limited access to capital and overall lack of access to small business resources. To reverse this, Main Street Launch has recently established the African American Entrepreneurship Institute with funding from Wells Fargo and the Citi Foundation. They also created the Entrepreneur in Residence Program (EIR), set to launch in Stockton in January of next year. Main Street Launch has recently completed the process of reviewing applications and interviewing current business owners with the intention of selecting four or five local, African-American entrepreneurs to begin this program next month. This will not only help accelerate some of Stockton's African-American owned businesses, but will also give this pilot program the opportunity to prove its success.
The six-month training program will implement a curriculum specifically designed for the first incoming cohort: helping to bolster business acumen, assisting with analyzing and utilizing financial data to make sound financial decisions, teaching how to protect sales with correct insurance, etc. Halfway through the program, business owners will then be paired with business mentors to learn more about other facets of business such as bookkeeping and marketing. In addition, participants will be given a $2000/month stipend during the duration of the program. In the future, Main Street Launch will be looking for more business owners or aspiring business owners to participate in the program. If you've missed the application period this year, try again in September of 2020!
Providing Aid to All Local Business Owners
Even if you will not be participating in the upcoming EIR, Richard shares that you can stop by the Main Street Launch office for business advice or to discuss anything business-related, even if its a business idea that you've been considering but haven't yet committed to! After all, he shares, "access to capital is open to all business owners in Stockton." You can find the office on the third floor of the Huddle, where, "our doors are always open and we're excited and passionate about what we do!" Originally from Pasadena, CA, Richard has lived in Stockton since 2007 after being introduced to the city for the first time by his wife. He's worked in several positions since moving here, such as manager for the downtown BBVA for two years. In this capacity, he was able to provide financial literacy workshops to members of the community, and since then, he "fell in love with sharing this information to community members." There are a huge number of business owners in the Bay Area touched by the Main Street Launch. Its current goal is to replicate this success here in Stockton.
To learn more about Main Street Launch, visit their website: www.MainStreetLaunch.org