by Ayaana Williams
In the heart of downtown Stockton lies a hidden gem that is a symbol of local fashion, diversity, and creative influence for the adaptable nomads of the Central Valley.
DRYCLEANERS, is an LGBTQ+/POC-owned co-op store that offers local vendors and creators an opportunity to network, showcase, and sell their goods/art.
"The overall goal is to activate downtown and bring everyone together. We have lots of different communities here," said Oliver Opus, co-owner of DRYCLEANERS. "We have the queer community, we have POC, we have the streetwear community, we have crafters and creators and musicians and drag queens, and this is a space where all of those people can co-mingle and experience each other's worlds."
In terms of activating downtown, DRYCLEANERS aims to invoke liveliness and connection to bring excitement and opportunity to such an underappreciated part of the city.
DRYCLEANERS is locally owned by long-time friends Ruschawn Williams and Oliver Opus, who met in Atlanta prior to moving to Stockton.
"I moved here a while ago and I didn't really have a place in Stockton for myself," said Opus. "I didn't have a place to meet people like me or express interest that I have, so I decided to create it myself."
Opus and Williams founded DRYCLEANERS after hosting several pop-up shops at Cast Iron Trading Co. and other local entities, using social media as an advertising ground.
A pop-up is a temporary shared retail space where small businesses can sell goods and services.
"Eric (Lee) next-door at Cast Iron was kind of one of the first people to allow me to venture into this," said Opus. "He gave us the opportunity to do our first pop-up and that was really successful; and then we went on to do a second one here with Launchpad and that was so successful that Launchpad and Cast Iron had this idea to set up shop here, so we did."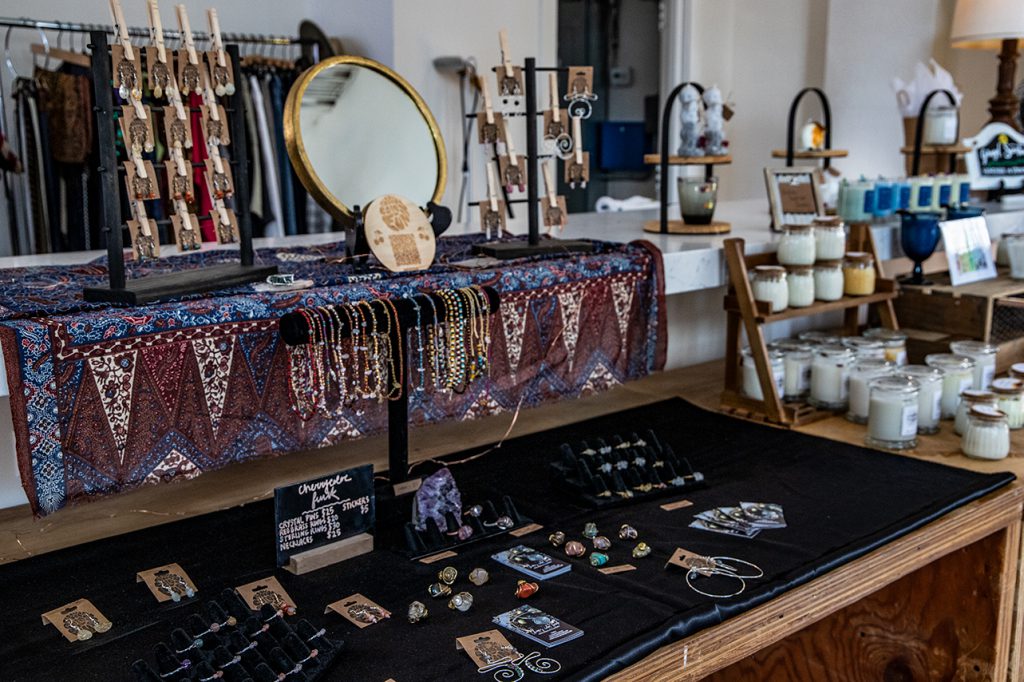 DRYCLEANERS has visitors and vendors travel from all over Northern California.
"Not only does this help us, but this also helps the community," said Opus. "We do have people from San Francisco, Sacramento, and Oakland setting up shop here, but they don't have to come here to sell their products; we have a system where we do that for them."
Vendors pay a booth fee of $5-$15 a day and DRYCLEANERS keeps track of each individual sale with 100% of sales profits going back to the vendor.
Part of their goal is to support and uplift local artists by providing a platform to create passive income and build friendships that strengthen the community.
"We typically have an application in our bio, and we don't turn people away," said Opus. "We wanted to create opportunities for vendors to make money during a pandemic and it's really hard to come across funds."
People can find DRYCLEANERS on Instagram @shopdrycleaners as well as visit the storefront to meet the owners, vendors and local artists on San Joaquin St. in downtown Stockton.