By Ben Sanchez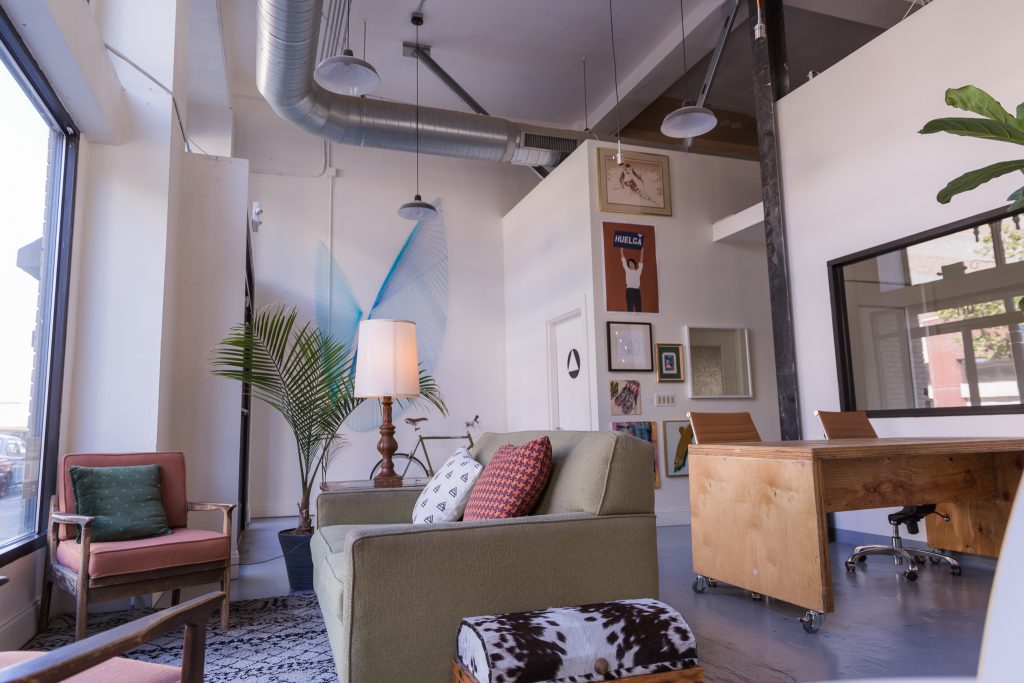 The first floor of the historic Belding building on the corner of N. San Joaquin and Weber Avenue has large display windows for onlookers who will spot art hanging on the wall, and one small room with vinyl records on shelves. In the corner of the small room window is an 'On Air' sign facing the street.
Modern furnishings and plants populate the room to round out the space with a uniquely woven design of the Launch Pad logo placed along the side entrance wall.
Upon my arrival, a woman waited to enter the appropriate passcodes at another entrance to the main floors of Huddle x Launch Pad. I helped her contact Eric Bodary, Facility Operations Director, who maintains the front desk on the second floor.
Eric Bodary, Facility Operations Director.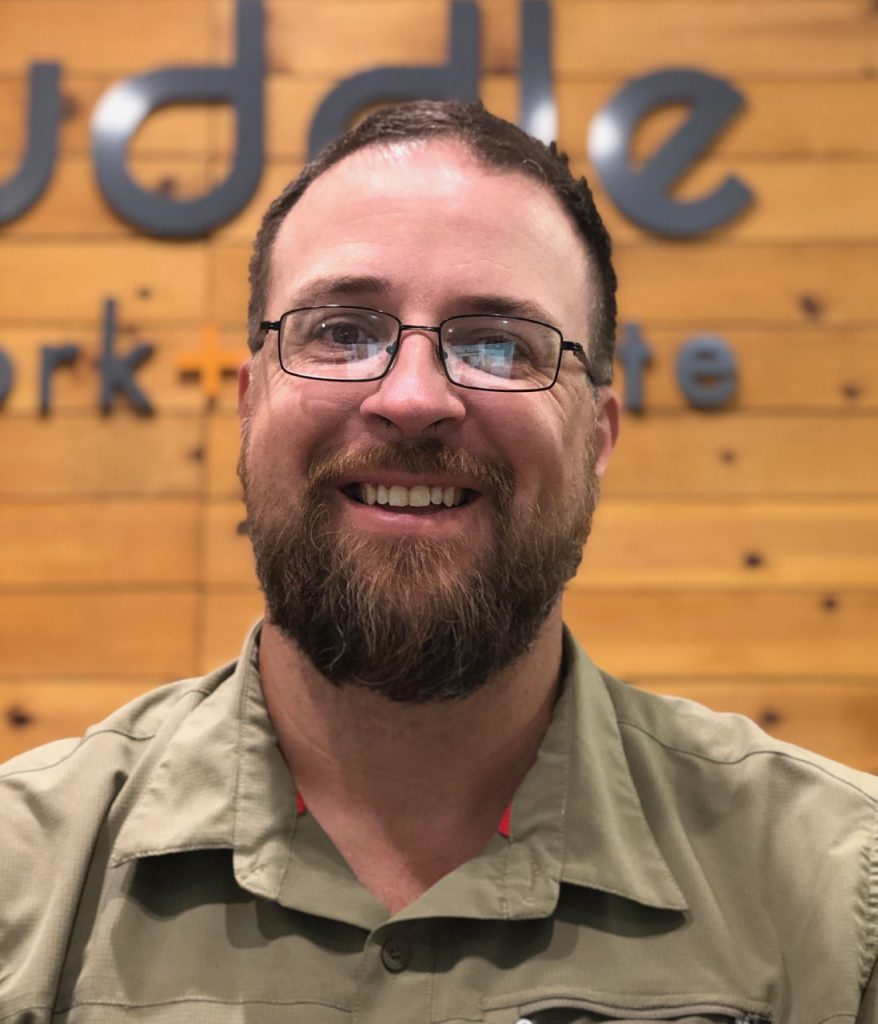 We keyed in our not so secret codes and a signal was transmitted up to Bodary, who greeted us through the intercom. "I was expecting you. Come on up, I'll buzz you through," he says. The door buzzed and we all walked through the lobby waiting for the elevators to carry us up to the main floor.
Elevators ding on arrival and we took a ride up one floor to chat with Bodary about the coworking space in downtown Stockton. Bodary grabs mail for the woman and we say our goodbyes before venturing off on a tour of the second and fourth floors.
When I asked Bodary about Huddle x Launch Pad and how he explains the concept of coworking to people unfamiliar with it, he says, "We are like a rental office on steroids — we offer more than just a rental space."
What is Huddle x Launch Pad? Watch the video here!
What is coworking?
For anyone unfamiliar with the term, coworking is a shared, professional workspace. However, several cowork spaces offer additional services including kitchens, meeting rooms, photo studios, private offices and more. Huddle x Launch Pad provides all of this within the coworking space downtown making it accessible for entrepreneurs in Stockton.
The unique element about coworking is the people working in the space. During my time in coworking spaces across California, my experience with freelancers opened up a collaborative avenue of information and ideas. It creates a community.
There is something special and meaningful behind it that inspires your work. The people may not be familiar with you or the scope of work you do, but in a short period of time, the conversation is filled with high energy. A vibrant atmosphere encourages any freelancer renting a space for the day. It feels rejuvenating to meet others in the field working on similar problems. The unique interconnection between people creates a wave of positivity to discover solutions to those problems. The entrepreneurial spirit courses through the veins at these facilities with a modern feel, but containing an element of nostalgia within the historic framework of each building. This theme is similar to other cowork spaces I've visited from Sacramento, San Francisco, Tracy, and San Jose.
Let's make magic.
While we waited for the Community Manager, Matt Amen to arrive, Bodary shared his insight on being a part of the space where he met Matt in 2016. "I actually started at the original location on the first month they opened," he says. "I signed up as a member, shifted over to helping out until finally being hired on." Bodary is the guy working in the background, where Amen typically handles the front end of the business from tours to speaking engagements. The duo created magic by bringing more people into the space through events and community gatherings.
With the Stockton coworking space gaining national recognition for their work, Launch Pad reached out. The team partnered with Launch Pad over 2 years ago, and their grassroots efforts set the stage for expanding into the first floor of the Belding building. "Launch Pad was created out of New Orleans in a need for small business space after Hurricane Katrina," Bodary says.
Matt Amen, Community Manager.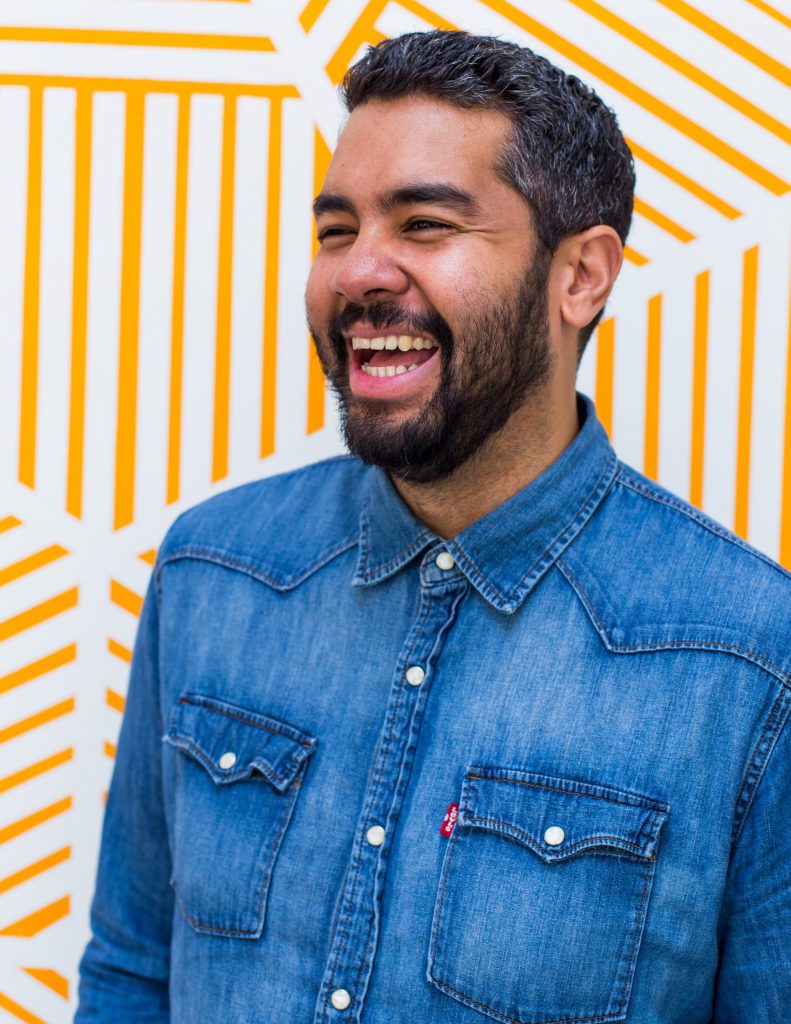 We head back down to the first floor just as Amen rides up on a bicycle. The timing was impeccable. "This is exciting," he says. "I'm excited for what we can do in this place." The small podcast room is readily available for entrepreneurs ready to dive in and create content on the first floor. While the conference room is still being prepared, furniture is placed and ready for entrepreneurs to start their dream.
Amen has been busy in the background working diligently on providing a comfortable space for small business owners and entrepreneurs. "I wanted to help build a space I felt comfortable in and that the community can feel comfortable in," he says. "I got to see this place grow and be a pillar in this community, especially our entrepreneurial community."
Why downtown Stockton?
Downtown has a rich history. There are wonderful buildings and people here.
How can the community support you?
Check out our space. People are looking for something historic and new at the same time.
I wanted to help build a space I felt comfortable in and that the community can feel comfortable in.

Matt Amen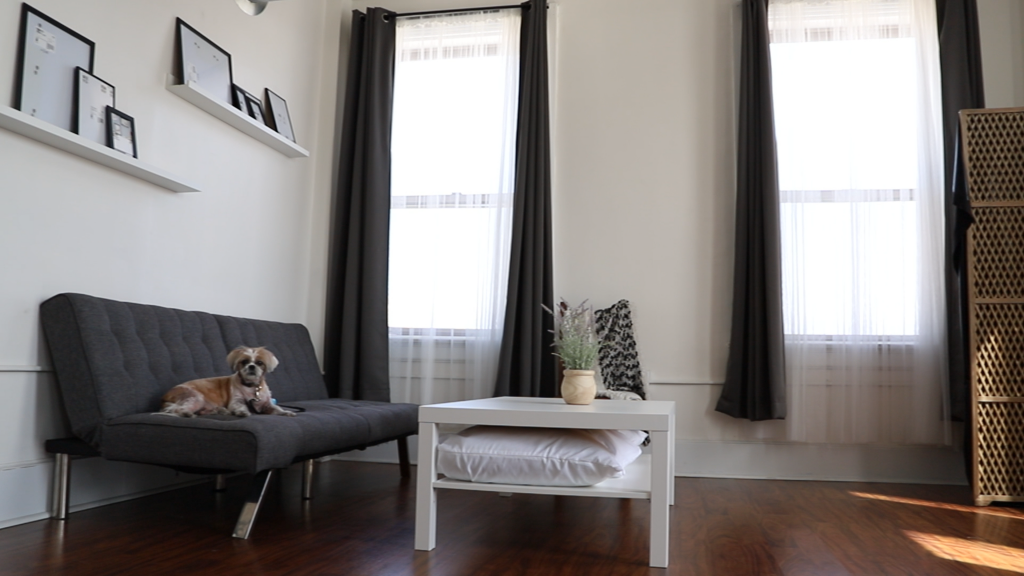 Create.
Did you know Huddle x Launch Pad has a photo studio on the 4th floor?
"We are calling it Studio 419," Amen says. While the studio has only been open a month, the feedback from people who used the space has been positive. With incredible natural lighting and additional equipment for photographers on-site, the studio and first floor expansions are key milestones for Huddle x Launch Pad.
Address: 110 N. San Joaquin St.
Phone: 209.323.4389
Hours: 8 a.m. – 5 p.m.
Monday – Friday