By Andrew Rocha
Supporting Stockton Businesses and Organizations with a Creative Space
Huddle Cowork is a workspace located at the Belding Building, at 110 North San Joaquin Street in Downtown Stockton. Huddle currently provides workspace for around 150 businesses and organizations. Around 60% of those can be considered permanent.
Matthew N. Amen, the executive director of Huddle Cowork, shared that besides providing entrepreneurs with a comfortable work environment, there are also plenty of other perks with a Huddle membership. Including access to Huddle bike share, printing services, fast internet speed, coffee that is provided by local Stockton businesses, a conference room for meetings and other gatherings, a kitchen and cafe area, personal storage and so much more.
Even for people and groups that are not members of Huddle Cowork, they can reserve spaces for events and meetings. The conference room is 400 square feet and can comfortably hold 16 people. The room also includes whiteboards, USB power plugs, a large mounted television, and computer projection adapters. There is also an open room that can be used for events for professional and social gatherings. The room can fit around 60 people and comes with speakers, a mounted projector, furniture, and coffee for all guests.
Permanent Businesses
Patriot Business Lending
Not only does Huddle provide business owners and entrepreneurs a place to work, but also a place to network with others who have similar goals and passions. Damian McCall, the president of Patriot Business Lending, shared that, "The specific thing that drew me to Huddle was the fact that when I went to visit the space, I saw that there were multiple businesses in the space. I liked the idea of being able to network with those each one of the business owners just to establish a relationship with them and know them on an intimate level."
Patriot Business Lending is a commercial lender that helps people with A, B, C, and D credit get financing to start a business. As their motto says, "If the bank says, NO, we say, YES." Patriot Business Lending actually finds 80% of the loans that traditional banks turn down. Their specialty is in funding business owners who may have credit issues such as a low credit score, bankruptcy, tax liens, or short-sales and foreclosures.
For more information on Patriot Business Lending, check out their website, www.PatriotBusinessLending.com
Stockton Impact Corps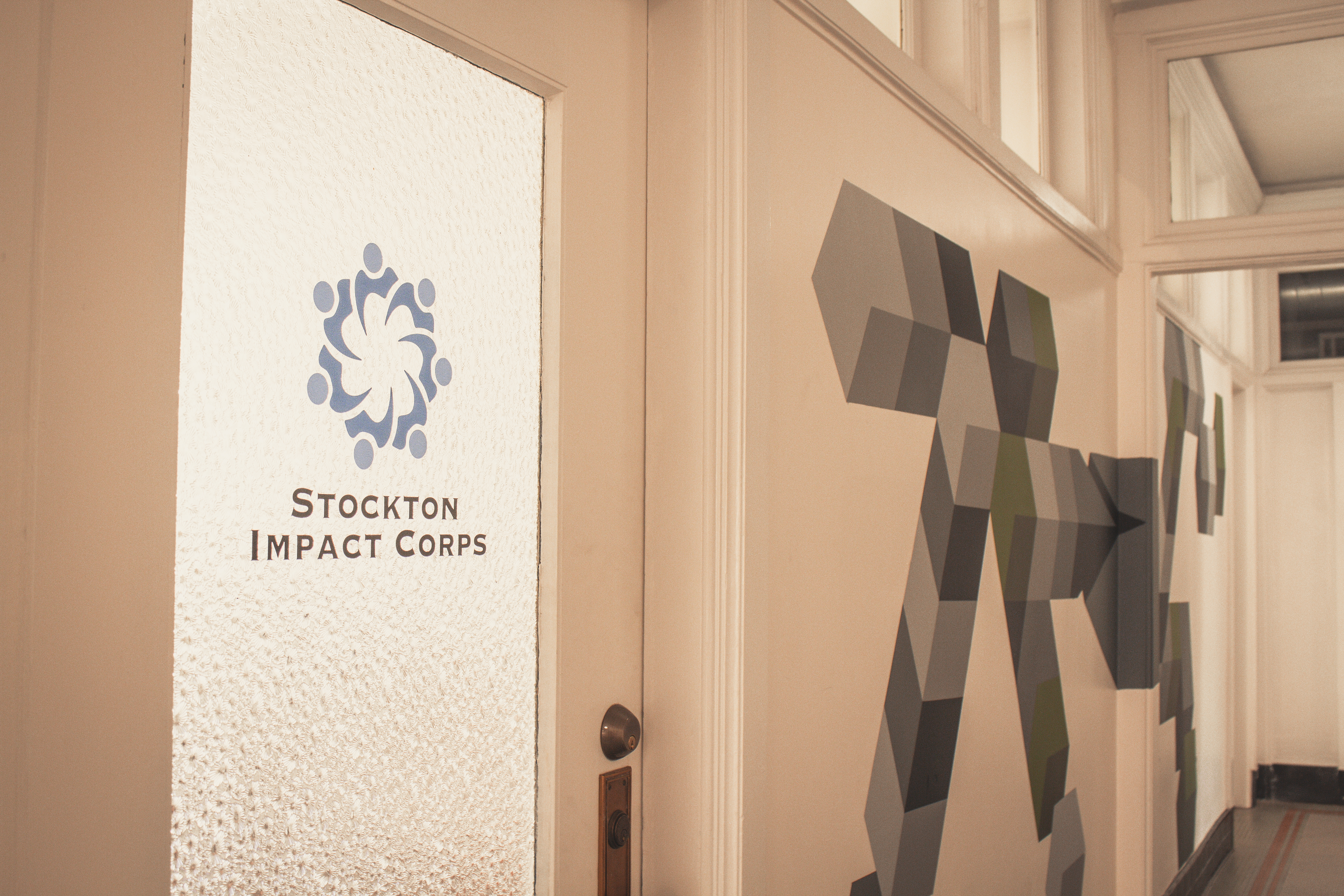 Gene Acevedo, the executive director of the Stockton Impact Corps, feels that being located at the Huddle is a benefit to the Stockton Impact Corps' operations. "I love being in this location for several reasons. It's very centralized. I'm within reach of small businesses in Downtown Stockton. I'm also in the heartland of a place that has huge potential. I love that when I'm chatting with folks, I can just get up and we can take a stroll to see the actual buildings that we're talking about."
The Stockton Impact Corps is an organization that supports the vision of entrepreneurs and small business owners by helping structure their business and learn how to make a business plan. If an individual is in need of funding, Stockton Impact Corps will connect them with resources that can provide loans. Essentially, Stockton Impact Corps will help small businesses in their early stages so that those businesses can develop and grow. At this time, Stockton Impact Corps is supporting 25 businesses.
For more information on the Stockton Impact Corps, check out their website, www.StocktonImpactCorps.com, or follow them on Facebook. 
Natural Do
Valonne Smith, founder and CEO of Natural Do, is another business owner who has been at the Huddle for quite sometime and plans to stay there for awhile. "I became a member there in 2015 because I loved the space and the people that worked there. It was a great place for me to hold meetings and events. The staff are also absolutely amazing. Although I have moved on and have my own storefront, I plan to stay with them."
Natural Do is a membership salon and retail store that offers natural hair care products for people with kinky, curly, and wavy hair. The products are natural and organic-based, and that are designed to nourish, strengthen, and maintain healthy hair growth.
For more information on Natural Do, check out their website, www.natural-do.com, or follow them on Facebook.
Heavy Crown Media
Heavy Crown Media is another business that chose to locate their office at the Huddle. Its founders, Marcos Herrera, Stephen Herrera, and Gabriel Maldonado, are more than happy with their decision. "We just fell in love with the aesthetic. The way it looks. The way it feels. The energy you get when you're doing something creative, you want to be able to have that energy pulled out of you. When you first walk into this building, it's like someone writing lyrics in the rain, it makes you feel a certain way. When you come to a building like this, and everybody is moving and creating and working together. That's what made us pick this connection."
Heavy Crown Media, and the men behind it, specialize in video storytelling, commercials, photography, branding, and graphic design. Not only have they been creatives all their lives, they continue to hone their skills and talents, and whenever they take on a project they want it to not only be good work, but the best work that they can produce.
For more information on Heavy Crown Media, check out their website, HeavyCrownMedia.com, or follow them on Facebook, Twitter, and Instagram.
A Place for Visionaries
Huddle Cowork is more than just a location where people come in to go to work. It is a space where visionaries and business owners pursue their dreams and help others reach their goals. As Downtown Stockton grows and flourishes, Huddle will be a part of that growth in attracting more businesses and artists to an area where they can thrive.
For more information on Huddle, check out their website, Huddlecowork.net