By Manuel Laguna, DSA Resident Historian Ambassador, CTA
Since 2006 I have presented the history of Downtown Stockton through various tours I gave to visitors from senior groups, schools, and even Stockton Sister Cities. We have had groups from throughout California, from the Bay Area to Southern California visitors. In general, they have always seemed to have a positive attitude towards Stockton which they saw as a beautiful city with its many waterways and interesting historic buildings. I have never had a tour where at least one person wouldn't say, "I didn't know that!"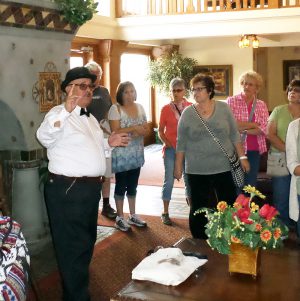 In October of 2016, I partnered with Kelly Howard for the very first Ghost Tour of Downtown Stockton. A total of 65 people joined us to explore the Hotel Stockton, B & M Building, and finally the Bob Hope Theater. The tour was well received by everyone, except one young lady who became so frightened, she had to leave early. We are looking forward to organizing a ghost tour again in 2018. Call me at 209-888-8636 to be added to the downtown tours contact list.
Every October I am joined by dozens of third grade students from the Stockton Collegiate Schools as we visit the Bob Hope Theater and the San Joaquin County Administration Building. Other local schools bring their students to downtown too. At the end of 2017, we had over 200 students from Kohl Open School join me for a series of brief public art tours! We looked at various street murals as well as one of the Music To Our Ears community pianos affectionately called "Jules" as it reminds people of a time machine from a Jules Verne's novel. Our tours ended at the Mexican Heritage Center where the students viewed ofrendas, or altars, made for the Dia De Los Muertos celebration.
The Bob Hope Theater was clearly the most requested place to visit last year. Certainly, one of the most fun tours was with former Stocktonian Karl Scott and his photographers. Karl came here to write an article on his memories growing up in Stockton and going to the movies. He even recreated a promo done in the past at the Bob Hope for a Vincent Price movie! During the movie projection, a skeleton was lowered over the side of the balcony to scare theater goers. Karl said that teenagers would throw popcorn at the plastic skeleton as the audience laughed. As we took pictures during the tour, one of Karl's photographers lowered a skeleton off the balcony.
I also fondly remember the group from Stockton Institute for Continued Learning who came to the DSA office for a talk and tour last year. I dressed in a costume as a fictional Charles Weber employee and after the talk I took over 30 participants on a tour of the B & M Building, Hotel Stockton, and Bob Hope Theater. Later that month, I led "A Walk Through Time" tour of the Stockton Rural Cemetery where I told the stories of the many colorful characters buried there, both heroic and tragic figures of Stockton's past.
I have several new ideas for history events and tours in 2018. I'm happy to notice that there is a growing interest in local history and historic places in our community. If you want to stay in touch for the upcoming tours, contact me at 209-888-8636 or email.