By Nissi Guiao
What good is money in your wallet if you don't know it's there, right? Well, downtown has a particular gem you may not even know about yet and it's hosted monthly at Stockton's very own Bob Hope Theatre. You may enjoy your regular visits to the local Regal cinema (and by all means, keep it up!), but every month Friends of the Fox presents the Classic Movie series you'll want to take advantage of if you're not already. Seriously, it will take your normal movie-going experience up several notches—so much so, we recommend permanently adding this ongoing event to your monthly calendar.
First off, who doesn't love a good classic? Nostalgia makes us all want to go back in time to the good ol' days, but since that's not a legitimate option, Friends of the Fox (FOF) does us a solid by consistently hosting the Classic Movie series. Showing hits like Gone with the Wind, Young Frankenstein and Star Wars, you can pretty much expect to have a good time enjoying the show, especially since they make it a point to go above and beyond a typical screening.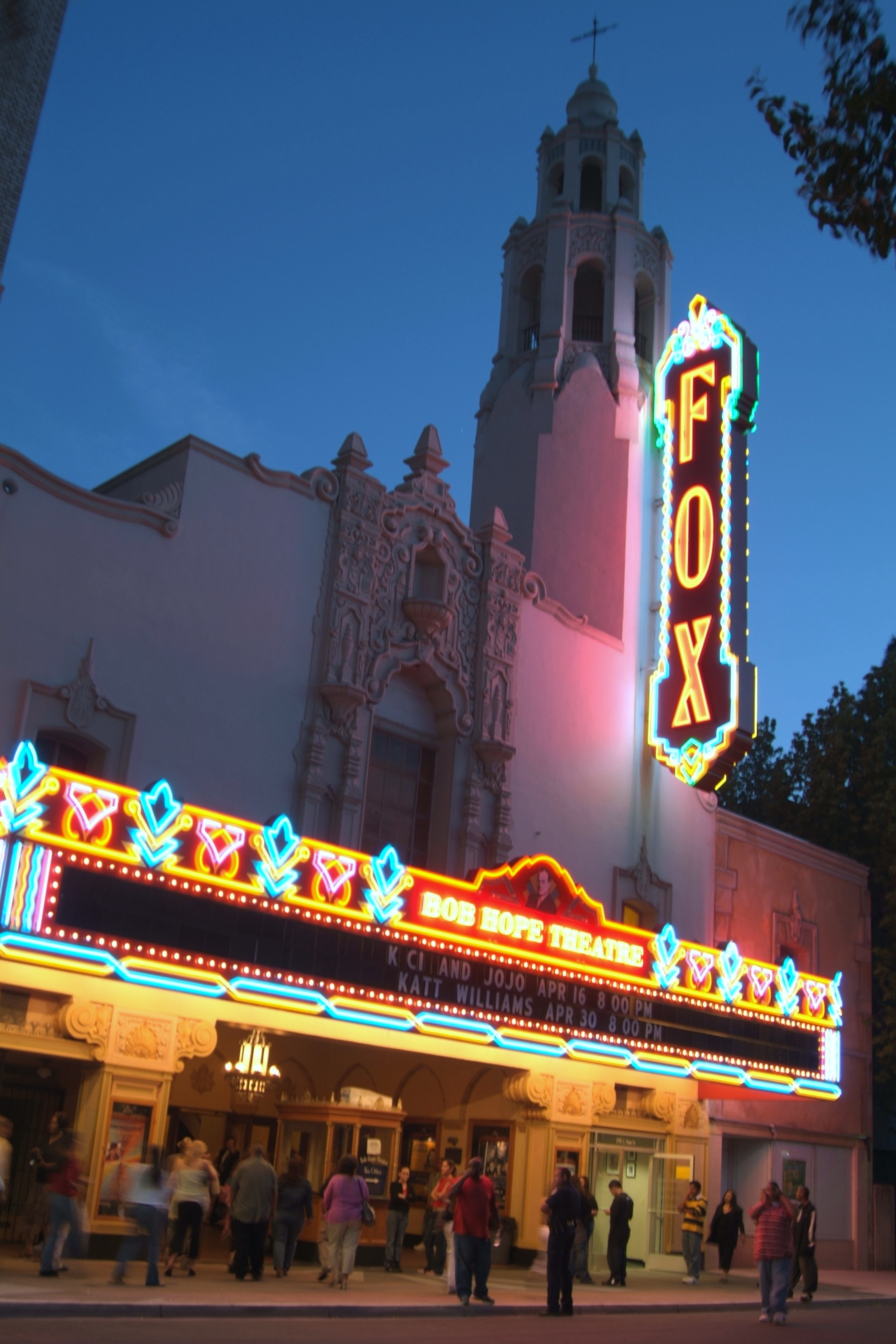 The Full Experience
According to David Scheffer, a member of the FOF movie selection committee, "For the price of admission [details listed at the end of article], attendees are treated to live music in the lobby along with complimentary snacks and drinks (wine, soda, bottled water), a live Theatre Organ experience, and a classic file projected on a giant single theater movie screen with a fully realized sound system all in a beautifully restored movie palace." Live music and complimentary snacks (and wine!?)—that alone should bait anyone, but the fact that it's held in one of downtown's most prized buildings makes it all the more special.
The Bob Hope Theatre wasn't renovated to simply collect dust during off seasons. Scheffer adds, "The goal [of the Classic Movie series] is to provide Stockton with the opportunity to visit the Theatre and experience its use as it was originally intended with an authentic historical movie-going experience. That would include a live Theatre organ concert, classic movie trailers, and a cartoon, along with a master of ceremonies introducing the films just as it would have been when the theatre was first opened. The advantage of the low ticket price allows more people to attend and see the Theatre would to attend a live concert. In the very early years after the renovation, the goal was also to ensure the Theatre would be utilized when it was not regularly being used."
Original Goal
FOF upholds the original intent of the Theatre by creating a safe and fun space for moviegoers to enjoy something different downtown, and they take it seriously. Scheffer explains, "A movie selection committee meets every six months to choose films to be shown. The committee is made up of both FOF Board members as well as patrons that attend the films. A suggestion box is filled regularly with desired films by our attendees at the monthly showing as well as on our Facebook page. These requests, along with past films' attendance figures are used to create a proposed list. This list is presented to the full board with alternative choices and is voted upon formally by the board."
It all sounds too good to be true, but it's a real treat locals and even visitors can experience. On behalf of FOF, Scheffer tells, "We are extremely happy that the current management of the Fox/Bob Hope Theatre has scheduled so many live shows and that it appears to be thriving. We would love for more people to be aware of our classic movie series in hopes that they will attend and enjoy the Theatre in its glory. Many cities have long since demolished their movie palaces and we offer an experience that is a rare commodity for today."
So, here's your cue to say "yes" to a good time. Go ahead 🙂 rally up your friends and fam and get your tickets for the next showing, a Halloween special—Beetlejuice, on October 13th. Spread the word (maybe even become a member) but most importantly, get out of the house and treat yourself to an amazing, one-of-a-kind experience that FOF has to offer. Those comfy, red, velvety seats (and all the complimentary things) will be waiting for you!
For more information, please visit https://foxfriends.org/.
---
Thanks to David Scheffer, here are some fun facts about how the Classic Movie series came to life…
THEATER HISTORY/TIMELINE:
1916: On same site, T&D Photoplay Theater opens (constructed by the Wilhoit Family). It is renamed the California Theater after purchase by Fox West Coast Theaters, Inc. in 1921.
1930: The T&D Photoplay is leveled and the Fox California Theatre opens on October 14 showing "Up the River" starring Spencer Tracy and Humphrey Bogart.
1973: The Fox California closes its doors due to lack of business.
1981: Sporadic live concerts and attractions play the Fox.
2000: The Merlo Family (the owners at the time) donate the Fox to the City and renovation begins with local funds, congressional funds, support from the Spanos family, and the support of the Friends of the Fox Theater.
2003: The Fox California Theater is renamed The Bob Hope Theater after Alex Spanos' good friend.
2004: The renovated Theater opens with a live show by Jerry Seinfeld.
2004: The Friends of the Fox decide to show classic movies (first on an irregular basis) after the renovation to ensure the Theater is being used and the public is aware of this jewel. It begins as a monthly event in May 2006 with "Casablanca" (which is our November 2019 attraction!).
_______________________________________________________________________________
PRICING
Ticket Prices are: $8 for adults and $4 for students. Books of 10 tickets are available for $60, which can be used for any of the shows.