Passionate about plants? Then you're not going to beLEAF this—Downtown Stockton is welcoming FarOut Foliage, a new shop for plant enthusiasts searching for beautiful, rare and unique plants! If you're not a plant person, don't worry—they'll definitely GROW on you. BRANCH out during your downtown excursions and add FarOut Foliage to your list of shops to visit (sorry about the plant puns, we think they're really FERNY.) 🙂
Meet Netzel Huffhines, Plant Extraordinaire
Netzel Huffhines, the enthusiastic and friendly owner of FarOut Foliage, is passionate about sharing her love of plants with others. Her love for greenery was sparked years ago after her husband gifted her a Lucky Bamboo plant—this was the plant that started it all. Since then, she's amassed an impressive personal collection of nearly 300 different plants!
Before moving the shop to Downtown Stockton earlier this year, Netzel managed her own FarOut Foliage Kiosk at the Weberstown Mall. It was here that she realized there were, "so many plant people in Stockton—I can't believe it!" She shared that there was "always a really good vibe around my [her] kiosk," and she was successfully able to build a supportive clientele base during her time there.
Even though Netzel's husband raises his eyebrows from time to time at Netzel sneaking more plants into their home, she lovingly shares that he was the one who encouraged her to start FarOut Foliage. The idea grew on her (no pun intended here) because with the exception of floral shops, "Stockton has little to nothing when it comes to plants." She also acknowledged the current plant craze trend, with millennials making up a large percentage of emerging plant enthusiasts (succulents, anyone?). So, Netzel decided to create, "a place where you can find plants—rare plants."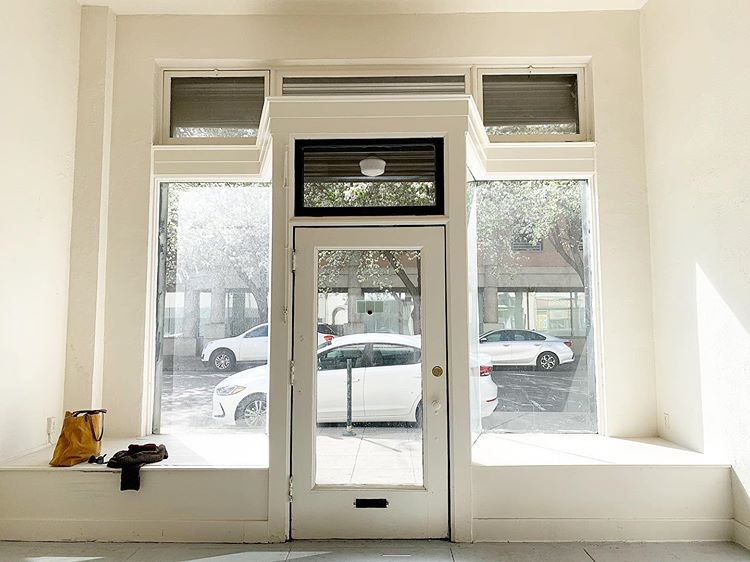 Why Downtown Stockton?
Netzel was aware of efforts to revitalize Downtown Stockton, and thought to herself, "I totally want to be part of this movement!" She decided to bring her vibrant shop downtown and become part of the Downtown Stockton community. Her green shop will add a new and exciting pop of color and plant life to downtown.
Located at 239 Market St., Netzel intended to open FarOut Foliage on April 3rd, but the COVID-19 Pandemic changed these plans. Now that restrictions have started to lift, she's planning on opening up the shop soon, but an official date has yet to be determined! Make sure to follow FarOut Foliage on Instagram (@Farout_Foliage) to stay updated on the date of their grand opening!
What Makes FarOut Foliage unique?
Whether you're a plant pro or a new plant parent, all are welcome at FarOut Foliage! Netzel views every client as a friend and loves to connect with others who adore plants just as much as she does. She's excited to share tips and tricks to successfully growing and maintaining the beautiful green corners in your home (or in your backyard.. or in your front yard). Netzel's plants are so in demand that she's recently been fulfilling numerous orders for Eucalyptus plants. If you're a beginner, she suggests that you start out with a little one first!
How can we support FarOut Foliage during this time?
Until FarOut Foliage officially opens, the best way to support this new business is by following a couple social media accounts! Learn more about unique plant species Netzel shares on Instagram at @FarOut_Foliage, and place plant orders at FaroutFoliageUS on etsy.com.
Whether you want to own your very own cactus, eucalyptus, succulent, or something a little more daring—drop by FarOut Foliage to add or start your green collection—we're ROOTING for you!