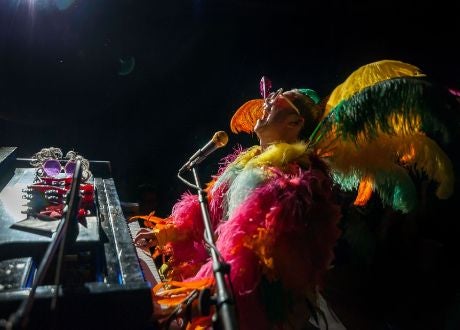 Hand picked by Elton John & David Furnish, it was Rus' own live tribute production 'The Rocket Man Show' which got him noticed.
In the show, Rus recreates the magic & live persona of a young Elton like no other. Storming around the stage with a fun-loving sense of flamboyance; part diva, part soccer player, killer vocalist, fierce piano player,allrock & roller.
Rus' painstaking attention to detail includes wearing gorgeous, colorful & spectacular costumes (many actually worn by Elton) including his iconic boots, glasses & jumpsuits from 1973, as well as a sparkly Swarovski tuxedo from 1984.
It isclearlythe most authentic Elton John tribute show in the world.
The Rocket Man Show is a regular feature across the USA at venues such as House of Blues, Hard Rock Live, Caesar's, Harrah's, Legends In Concert, BB King's, Universal Studios & Walt Disney World. You cannot go wrong with this much experience onstage at your venue.
Rus Anderson has been officiallyhired by Elton John himselfto re-enact the most memorable moments of his career. How'sthatfor peace of mind?
With hundreds & hundreds of shows & satisfied clients, thousands upon thousands of dollars in costumes & a 5-star rating on many of the USA's elite talent rating platforms, Rus is an ASCAP member, Disney verified & fully licensed & insured.
You are OKwith Rus, Elton John thinks so too!
What you see is what you get & that's entertainment.
See you at the show.
To attend indoor events in the State of California, patrons 2 yrs. and older mustprovide proof of full vaccination, or a negative COVID-19 test result within 48 hoursbefore event starts. Ages 18+ must provide valid I.D. with vaccination proof or negative COVID-19 test results. ALL unvaccinated persons must wear a mask and it is recommended vaccinated also mask up. This event and any scheduled event dates are subject to existing State of California, County and City Health Mandates regarding venue capacity and safety protocols for implementation of safety in response to the COVID-19 pandemic. The Stockton Arena reserves the right to cancel or postpone any event in conformance with any health mandate in effect on the date of an event or for operational needs to safely comply with public health orders.
TICKETS$35 – $45
General Public Onsale: 02/07/2022 @ 10: 00 AM
Website
Location
Bob Hope Theatre

242 E. Main Street ... Stockton CA US