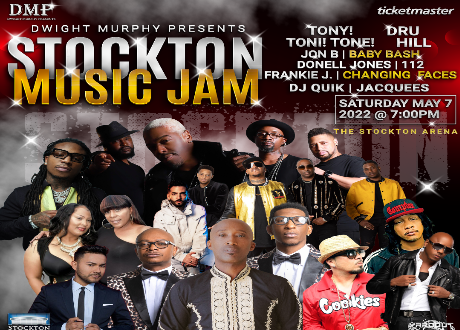 Dwight Murphy Presents Sockton Music Jam, this one-of-a-kind event will showcase over eight musical guests from the golden era in R&B including Headlining performances from the incomparable Tony! Toni! Tone! and Billboard Award winning artists Dru Hill. Also illuminating the stage this May 7 will be legendary classic Rhythm & Blues artists Jon B, Baby Bash, Donell Jones, 112, Frankie J, and Changing Faces.The first ever Stockton Music Jam will take place on Saturday, May 7, 2022 @ 7:00 PM PST exclusively at the Stockton Arena.
On Cinco De Mayo weekend, bring out your lovers, mothers, and others for a concert to remember at the Stockton Arena. This will be the one show of the summer that you do not want to miss!
Please Note:Please Note:To attend indoor events in the State of Californiayou mustprovide proof of full vaccination, or a negative COVID-19 test result within 24 hours before event starts.Ages 18+ must provide valid I.D. with vaccination proof or negative COVID-19 test results.ALL persons must wear a mask. This event and any scheduled event dates are subject to existing State of California, County and City Health Mandates regarding venue capacity and safety protocols for implementation of safety in response to the COVID-19 pandemic. The Stockton Arena reserves the right to cancel or postpone any event in conformance with any health mandate in effect on the date of an event or for operational needs to safely comply with public health orders.
TICKETS$43, $58, $73, $88, $103, $123
Public Onsale: 1/21/2022
Website
Location
Stockton Arena

248 W. Fremont Street California Stockton US