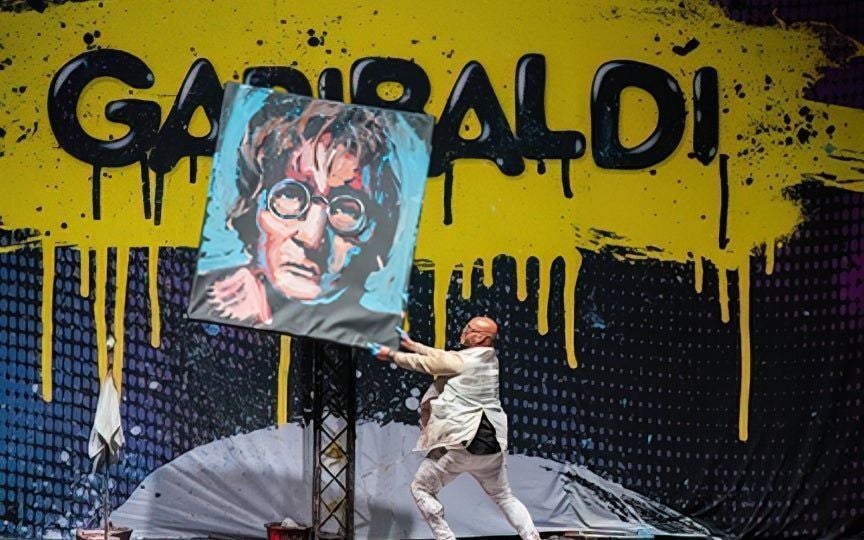 Performance painter David Garibaldi will be in Stockton for a one-night show to benefit the Stockton Animal Protection League (APL), Haggin Museum, and the Stockton Symphony. Guests will have an unforgettable evening, while supporting three of our community's storied nonprofit organizations!
David Garibaldi's painting performance is an experience for your senses. The collision of music and color happens live on stage while splashing paint together to create distinctive large-scale portraits in minutes. During his performances, Garibaldi creates images through his body movement and brushes while communicating via music to an amazed audience. "I create images in an entraining way and my hope is to inspire the audience to use their passion to benefit and inspire others," said Garibaldi. "That is music and color. That is rhythm and hue."
His musical inspirations include U2, Kanye West, Jay Z, Stevie Wonder, Marvin Gay, The Beatles, Lady Gaga and Glitch Mob. The energy of these performances is both mesmerizing and engaging and there is nothing like it in the world. Hundreds of thousands have witnessed Garibaldi paint live by transforming a blank black canvas into pop art icons through his "Rhythm and Hue" shows. Garibaldi has performed for Fortune 500 companies including AT&T, Intel and Disney. He has also been featured at charity events for Playboy, NBA, and celebrities Snoop Dog, Santana, Tommy Lee, Dave Navarro and Blue Man Group.
Inspiration serves Garibaldi in his art and his life. "Living with passion and purpose" drives Garibaldi every day to transcend what he does as an artist into a philanthropist. A high school animation teacher first inspired him to take his passion for graffiti and turn it into a more positive and creative direction. Garibaldi never forgets this encouragement and more importantly the value of someone believing in him. Every performance is an opportunity to give back—either through teaching youth or providing resources to the community.
Ticket Prices

$28, $48, $68, $83, $103
Location
Bob Hope Theatre

242 E. Main Street ... Stockton CA US