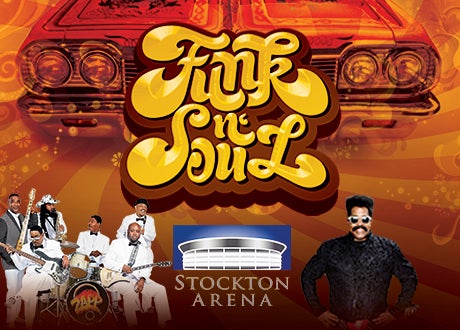 THE LEGENDS OF FUNK NSOUL ARE COMING TO STOCKTON ARENA!
FKOA Presents is proud to bring the greatest bands in funk and soul for a night Stockton will never forget. The show being headlined by the legendary ZAPP, will include, Cameo, Brick, DAZZ BAND, Club NOUVEAU, LAKESIDE, and D TRAIN, featuring DJ Cazel, and hosted by MC Anthony Biscotti.
ZAPP
Zapp unleashes funky, high-energy music with a contagious groove built for dancing, loving and good times. Made up of masterful musicians who have been getting down together since the late 1970s, the group's sizzling chemistry can be attributed to the fact that it has always been a joyful family affair.
CAMEO
Funk and soul favorites Cameo have been bringing the heat to the dance floor since the mid-'70s, and they continue to treat fans to a serious groove-a-thon any time they perform their solid gold hits. Rubbery basslines, electro beats, and feel-good call-and-response vocals are the order of business whenever founding member Larry Blackmon and his talented band take the stage, and their party-worthy live shows never fail to transport fans back to the golden age of funk.
BRICK
BRICK, formed in 1976, is the tremendously talented platinum recording band from Atlanta, Georgia. Managed by Dream Crew Entertainment, LLC.
DAZZ BAND
The Dazz Band was the first group out of Cleveland, Ohio to win a Grammy Award for Best Performance by a R & B Group or Duo for their smash hit "Let It Whip" in 1982. Known for their electrifying R&B/ Funk and soulful ballads, The Dazz Band scored over 20 hits on Billboard's R&B and Pop charts. Hits like "Let It Whip", "You Are My Starship", "Joystick", "Heartbeat", "Party Right Here", "Swoop", "Let It All Blow", "Keep It Live", and others stood the test of time and remain in recurring rotation while millions of fans continue to seek out Dazz Band music online and across the globe.
LAKESIDE
is an Americanfunk ( https://en.wikipedia.org/wiki/Funk )band, best known for their 1980 number one R&B hit, "Fantastic Voyage ( https://en.wikipedia.org/wiki/Fantastic_Voyage_(Lakeside_song) )"
CLUB NOUVEAU
is an AmericanR&B ( https://en.wikipedia.org/wiki/Contemporary_R%26B )group ( https://en.wikipedia.org/wiki/Musical_ensemble )formed by record producer/performer Jay King in 1986 inSacramento ( https://en.wikipedia.org/wiki/Sacramento,_California ),California ( https://en.wikipedia.org/wiki/California )following the breakup of theTimex Social Club ( https://en.wikipedia.org/wiki/Timex_Social_Club ).Club Nouveau's go-go version ofBill Withers ( https://en.wikipedia.org/wiki/Bill_Withers )' song "Lean on Me ( https://en.wikipedia.org/wiki/Lean_on_Me_(song)#Club_Nouveau_version )" won aGrammy award ( https://en.wikipedia.org/wiki/Grammy_award )forBest R&B Song ( https://en.wikipedia.org/wiki/Best_R%26B_Song )in 1987.[3] ( https://en.wikipedia.org/wiki/Club_Nouveau#cite_note-clubnoveaugrammy-3 )
D-TRAIN
was an Americanduo ( https://en.wikipedia.org/wiki/Duet_(music) )that had hits on theBillboardmagazineDance ( https://en.wikipedia.org/wiki/Hot_Dance_Club_Play )andR&B ( https://en.wikipedia.org/wiki/Hot_R%26B/Hip-Hop_Songs )charts during the first half of the 1980s.
TICKETS$33, $53, $103, $153, $253
Website
Location
Stockton Arena

248 W. Fremont Street California Stockton US