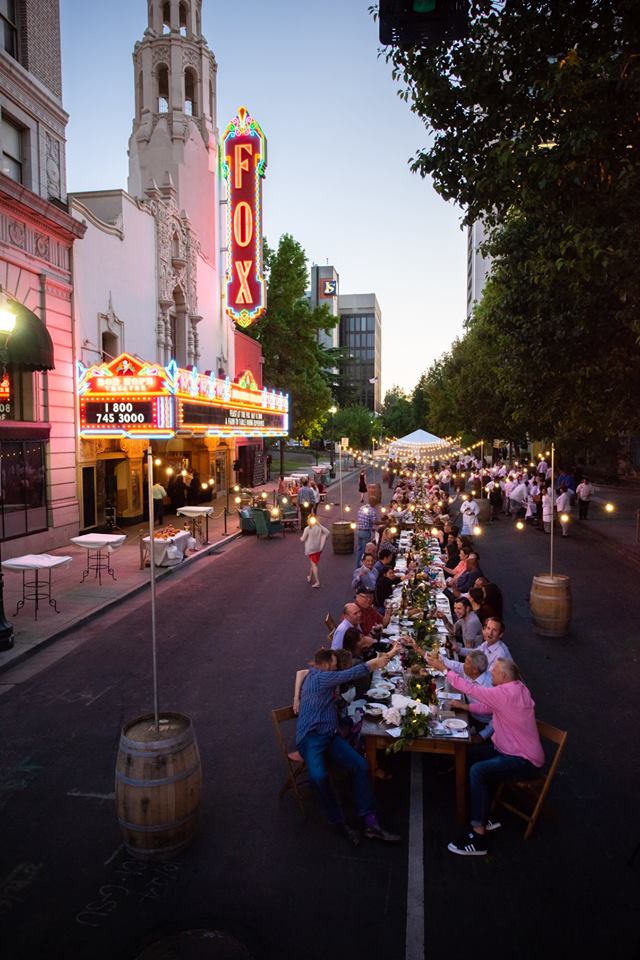 Feast at the Fox: A Farm to Table Dining Experience on Main Street in Downtown Stockton.Benefiting the San Joaquin Delta College Culinary Arts Program.
Join us for a spectacular evening of culinary delight! Visit Stockton's 's highly acclaimed Farm to Table Dinner event takes places on Main Street in front of the historic Bob Hope Theatre.
TICKET INFORMATION:
Mid February 2022- Sponsorships open; Tickets available to previous sponsors and attendees.
For more information about how you can become a sponsor contact Diana Nuño at [email protected] or (209) 851-3096
EarlyMarch 2022-Tickets/tables available for purchase by the general public
EVENT DETAILS:
The Farm to Table Dinner features an extraordinary five-course (individually plated) menu created by local chefs, made exclusively from ingredients harvested from farmer's fields in San Joaquin County or sourced within 30 minutes of Stockton.
Our local chefs lend their expertise for the evening, creating unique dishes that highlight the bounty of San Joaquin County. Local wines are be availablethanks to a special partnership with Lodi region wine growers.
2022 Feast at the Fox Details
$350 per couple, reserved seating. LIMITED TO ONLY 152 SEATS.
Payment can be madeby check bycalling Diana Nuño at 209.851.3096
In the event of inclement weather, this event will be rescheduled.
Schedule:
6:00 pm: Enjoy small bites, craft beer and wine
7:00 pm: Five Course Dinner
Evening will include live entertainment, and a silent auction. Donations happily accepted.
Website
Location
Bob Hope Theatre

242 E. Main Street ... Stockton CA US