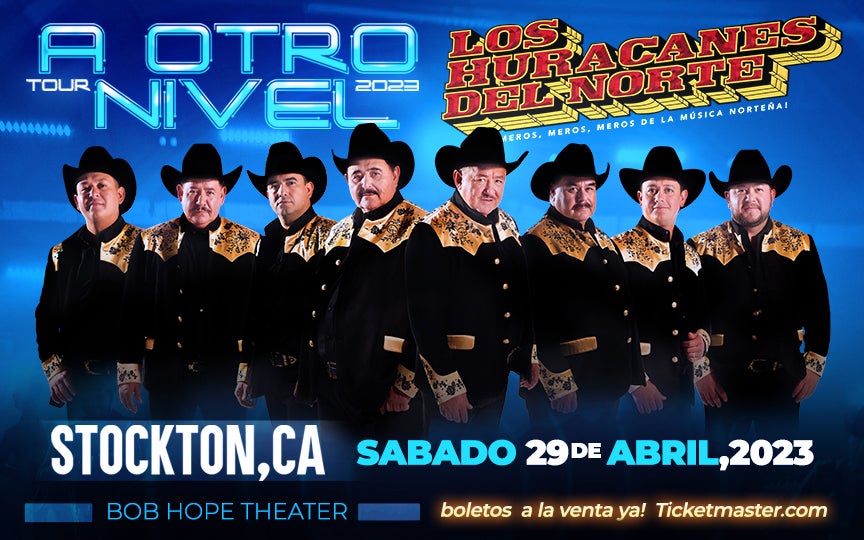 Don't miss Los Hurcanes del Norte at the historic Bob Hope Theatre as the award-winning band celebrates its 50-year anniversary!
Los Huracanes del Norte is widely recognized as one of the most influential norteño groups. The band started in 1969 in the state of Michoacán by three brothers, Heraclio, Jesús and Francisco García. They were later joined by Asunción Rubalcava and called themselves Los Cuatro del Norte. In 1972, a fourth García brother, Guadalupe, joined the band and wrote the band's first hit single "Corrido de Daniel Treviño." However, their big breakthrough came in 1978 with the release of the album "La Musiquera," which became their first gold record.
Throughout the mid-90s, the popularity of regional Mexican music began to expand, and Los Huracanes del Norte found themselves regularly playing for audiences of 10,000 to 30,000 fans. Every one of their original releases from the late 90s to 2006 earned a spot on the Billboard's regional Mexican category's Top Ten or Latin Albums charts.
Ticket Prices

Tickets start at $42.50
Location
Bob Hope Theatre

242 E. Main Street ... Stockton CA US