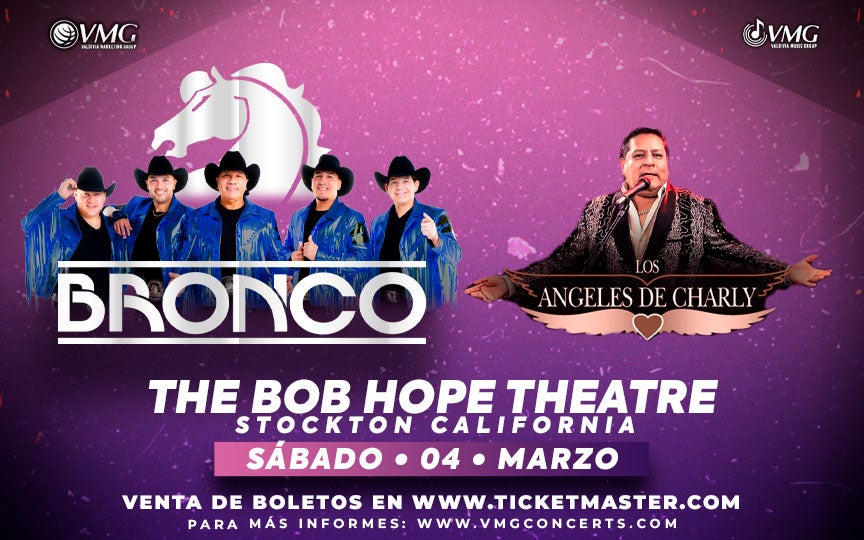 After 35 years of playing and touring the world together, Bronco is one of the most legendary groups in Mexican music history. Hailing from Apodaca, Mexico, they're throwing on their cowboy boots and spectacularly embroidered jumpsuits to hit the road for the Se Soltaron Los Caballos Tour. Mixing traditional norteño sounds with elements of pop and modern instruments, Bronco will have venues packed with mega-fans across the U.S. Don't miss your chance to see the sensational two-time Latin Grammy-nominated band that has a day in Texas and a street in Vegas named after them on the Se Soltaron Los Caballos Tour.
Bronco Live in Concert
Originating in Apodaca, Nuevo León, Mexican grupero band Bronco began drawing crowds with their modern take on regional Mexican music in the 1980s and 1990s. Band members José Guadalupe Esparza, Ramiro Delgado, Javier Villarreal  and José Luis "Choche" Villarreal began blending the traditional norteño sounds of accordion and bajo sexto with pop elements and modern instruments like the keyboard. The group paired their popular sound with eye-catching jumpsuits, and fans couldn't get enough. Bronco released their debut album Te Quiero Cada Día Más in 1980, but it was their 1989 album, A Todo Galope, that gained them international attention. The album's popularity resulted in a tour across the United States, Puerto Rico, Spain, Argentina, Venezuela, Peru, and many other countries. In 1990, Bronco even appeared in the movie Bronco La Película (Bronco: The Movie). They achieved further fame on the small screen in 1993, when the members provided the theme song for and starred in the Televisa soap opera Dos Mujeres, un Camino (Two Women, One Road) with Erik Estrada. In 1997, the group released La Última Huella as a farewell album when group member José Guadalupe Esparza announced the band would break up so he could pursue a solo career. Luckily, the hiatus was only temporary because, in 2003, Bronco finally reunited, but this time under the nickname their fans had given them, El Gigante de America. They intended to use the name Bronco but couldn't in Mexico due to a copyright dispute with their ex-manager. The group's 2004 return album Sin Riendas went straight to No. 1 on both the Latin Albums and Mexican Regional Albums charts. The band was able to reclaim their original name in 2017, and they have been legally playing as Bronco in Mexico since. Bronco has released dozens of albums, sold over 12 million copies and has placed 16 albums in the Top 10 on the Mexican Regional Albums chart. The group has had quite the prolific career outside of music as well, lending their name to a comic strip, cartoon, a line of boots, perfume, and even a clothing line.
Ticket Prices

Tickets start at $58.
Location
Bob Hope Theatre

242 E. Main Street ... Stockton CA US