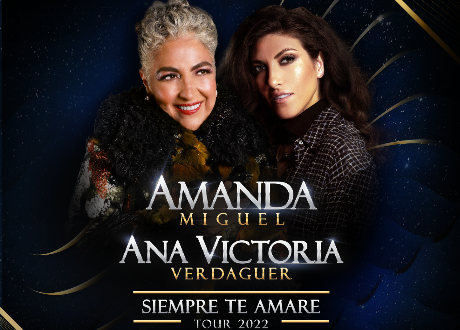 Amanda Miguel & Ana Victoria Verdaguer | SIEMPRE TE AMARE Tour 2022
For their professionalism and for the seriousness with which they have always conducted themselves as artists, Amanda Miguel and Ana Victoria will meet the public by resuming the tour of the United States that had been announced since last year. Diego Verdaguer will not be absent, his work and his spirit are still alive in the voice and soul of the two women he loved most and who today, with the strength that infuses them with how much the singer-songwriter sowed in them, they will honor their memory as he would have liked: singing at the top of their lungs, with the heart and with the blood that unites them, with the essence that impregnated them and is permanent.
"SIEMPRE TE AMARÉ – TOUR 2022" will start on August 5 in Stockton, California at the Bob Hope Theatre. During these concerts mother and daughter will offer the best of their repertoire, as well as a set where they will sing the greatest hits of their beloved husband and father; it will be a retelling of stories, music, nostalgia, longing and, above all, of a perpetual, indelible affection.
TICKETS$38, $58, $78, $98, $123
Tickets on sale 3/25/2022
Website
Location
Bob Hope Theatre

242 E. Main Street ... Stockton CA US