By Nissi Guiao
Our four, local coffee shops downtown are nothing of the ordinary. Each with their own feel, flare and vibe, they all stand out for various reasons. Unique tastes, atmospheres, and flow of people significantly set these locations apart. What they do have in common, however, is a heartfelt mission to serve the community that they're proud to call home.
Once you've visited one spot, you definitely can't say you've seen (or tasted) 'em all. Every place tells a different story, especially with the distinctly different flavor profiles of espresso they offer. There's nothing wrong with having a favorite or a preference…just trust us,  though, as we rave about each and every one of these coffee havens. You're not doing downtown Stockton justice without getting all the local, espresso feels. So please, let your tastebuds take a flavor tour and #treatyourself to these gems we're so lucky to have nestled on our blocks.
EMPRESSO COFFEEHOUSE 222 N. El Dorado St. + 22 N. San Joaquin St.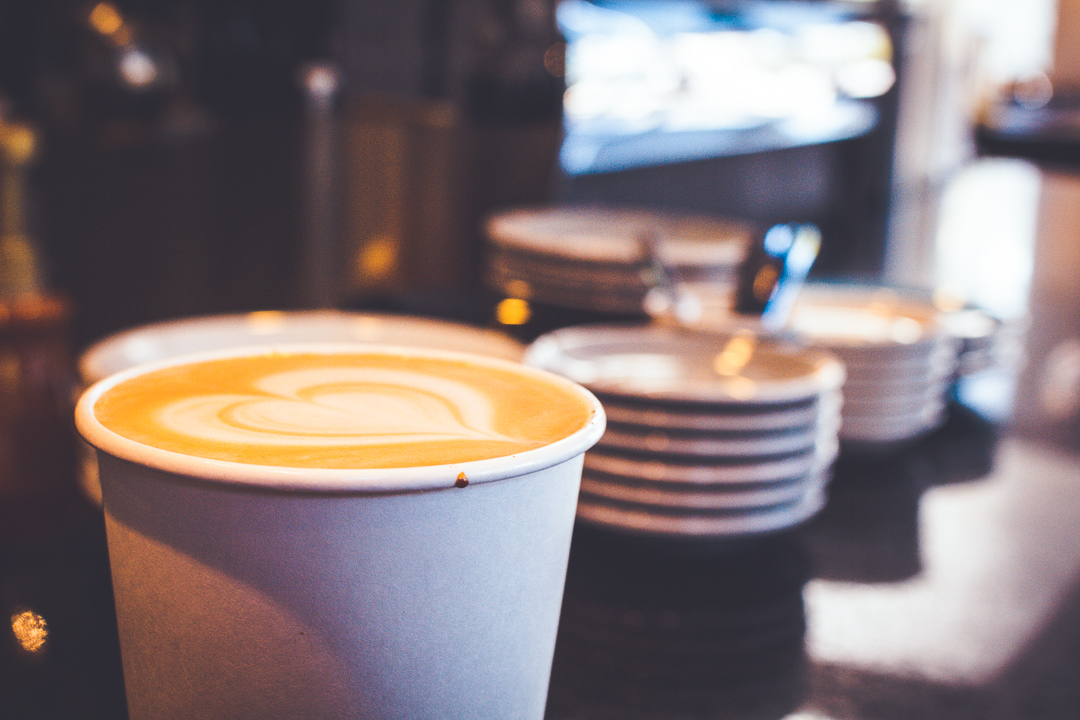 Two locations strong in the area, Empresso Coffeehouse has a very solid clientele. Known for being "the spot," most faithful customers remember the good old days on Miracle Mile and have been committed ever since. This is even true for newer barista, Janice Cervantes, who reminisces about when she first became a fan of the coffee shop. When asked what made her want to start working there, she shares, ". . .I used to go to the one on Miracle Mile before it closed down—that was like 'the spot.'
"Just the vibe" of Empresso has been enough to keep Janice coming back to visit, and now work for, this well-known hotspot. It's only been a few weeks for her behind the counter, but she says "I really enjoy it; I learn a lot about coffee." Like one would expect, she particularly enjoys the perks of drinking coffee "every day at work," with her go-to being a Dirty Chai. She's pretty certain it's not just her personal fave either as she states "It's, like, the most popular drink [we offer]."
Juan Espino, on the other hand, has been serving Empresso customers for a few years now. He's that friendly, familiar face behind the counter; if you frequent any location, you've definitely encountered him. Making sure things run smoothly as a manager, what he enjoys best and "what keeps [him there]" (besides the coffee) is "meeting the people—serving the community." Not only can he serve you latte art – he's got a big heart. He continues to share, "You know, you get to meet great people comin' in and out every day. . .and it's good to see that you can make a difference in their day. . ." What better way to get your delicious espresso, than with intentional and exceptional customer service? Wow…
Their theater location focuses on "serving the people of the plaza" and Juan explains that they "get more of, like, the police force and Stockton PD that comes in towards the morning…afternoon for lunch." But he does say that they also "get a lot of [other] people as well, like moviegoers," while "the county building that [they] have on San Joaquin. . .pretty much takes care of a lot of the county workers and those that are in the area."
Whichever location of Empresso you choose to enjoy, you really won't be disappointed. And if Cold Brew is your thing, throw one back with Juan. He tells us he likes "drinking the Cold Brew." Like most coffee fanatics, he says "I drink the coffee for the caffeine and taste. And our Cold Brew, it's less acidic. It's more of a smoother taste, and it's strong coffee." Whatever your preference is, Empresso is ready to happily serve you.
RED'S 13 S. San Joaquin St.
Earlier this year, we got to know Michael Brooking in another feature post about his tiny but mighty shop, Red's. (If you haven't read it yet, pause real quick and check it out, then make your way back here ;)) Mike's a great guy who sincerely appreciates a great blend of beans. He confidently says, "I love real good espresso. I drink black coffee, and I drink espresso. I'm a hot [coffee drinker]. I have it in the morning. . .plus, everyday [to adjust my machine] I have to pull a few shots. . ." so he always has a steady flow of "black magic."
Along with his healthy relationship with good coffee, Mike is passionate about serving his loyal community. Fun fact: he predominantly serves people working for the government. And he tells us, "When I got this place before. . .it was a hangout for a lot of public defenders—it was more known for that. A lot of the people that were here were public defenders…and other attorneys, district attorneys. Now, there's more than there was. But it's always kind of been a legal hangout, even before I had it. I think [that's] just because of proximity to the courthouse."
Coffee, as we all know, pretty much makes the world go 'round. The love of this liquid gold transcends a lot, including occupation. Though mostly courthouse employees are known to keep this spot running, if you're not government employed, don't hesitate to make face and meet the cool, community-serving man himself. Mike says, "The people who come here—everybody knows each other. It's got that feeling. . .there are some really cool conversations that happen in here."
We need more opportunities to connect, so what better place to spark up great conversations than at Red's with great coffee in your hand. All that said, don't be shy; swing by and try a signature drink off Mike's menu. He keeps it simple, and his Cold Brew is the summer fave. "That machine never stops. I sell the heck out of it," he shares. Lastly, another favorite that people can't get enough of is his take on a Cubano, with "raw sugar, some cinnamon, two shots of espresso and a little steamed half & half." Take his word for it and try one—he says "It's real good. I sell a lot of 'em."
If you have a little extra time on your hands, take your espresso cravings to Terra Coffee. With a fresh rotation of art on the walls of their gallery each month, there's always an extra reason to try a few specialties on their menu (to be revamped very soon, FYI). (Just like I did the other day) It's easy to get lost in the euphoric experience of enjoying a delightful, iced coffee while being mesmerized by creativity everywhere you look. This place is extremely eclectic and interesting. And no worries—you don't have to be an artist to enjoy one of their concoctions, but you can pretty much count on their baristas to be hyped to chat about anything artsy.
Akeen Smith, newbie barista of Terra, couldn't rave more about the arts when discussing all things coffee. It was inspiring to hear how his passion for art bleeds into his time making drinks behind the counter. He's still learning the ropes, but he says "It's fun! I enjoy it, really. I'm really into art, so anything that has an art to it, I'm into it." He's in the training process of pulling shots and with his love for creating things, he's sure to get the hang of the art of pouring in no time. He was specifically enthusiastic when he shared about getting to learn from one of the partners/owners. It's "a privilege in itself," he states, "'cause I just get to learn so much that I didn't even know existed within the coffee world." Clearly invested and thankful for the environment he's now planted in, he humbly shares, "I told them in my interview, 'You guys could probably pay me $9.25/hr. and I wouldn't even care…' That's how great the vibe is here." That statement alone speaks volumes of the positive impact of this vibrant space.
A coffee shop is an authentic breeding ground for community. Akeen explains "It's really fun to. . .meet new people too. Like, I meet so many people here—so many people embrace me. It's so fun. You know, my work is not really work." Speaking heavily to Terra's heartbeat for the community, Akeen elaborates the way they go the extra mile for every person that walks through their doors. He says, "We're genuine, you know. We really care about our customers. We care about your experience. . .we just really want it to be fun. We [take the time to] learn our customers, and learn about their day. [We] literally have customers that come in here and get coffee (that have to get back to work), and they'll…sit there and talk to us—have a full conversation before they [head] back. That's the organic vibe that we bring, you know?"
Terra understands the importance of connection. They make it a point to "just listen to someone's day," Akeen explains, "… half of the people that come in are. . .dealing with business people all day or are dealing with customers who weren't so nice to them. So to come in [there, they] want you to feel welcome, and chill…" He even goes as far as to say "vent if you need to." It's a clear invitation—come as you are to Terra! They've got your back; they've got your art fix, and of course, they've got all your coffee needs covered.
If you're indecisive, wondering what to try next, maybe start with Akeen's favorite—the Dulce de Leche Latte. It also happens to be a customer fave, along with the Blank Canvas (white chocolate, toasted marshmallow, vanilla and espresso) and the Viva Mocha (their take on a Mexican hot chocolate with coffee). (Mmm…I'm not drooling, you're drooling!!) Really, there's no reason to not frequent this place, especially knowing there's "free 30 min parking at F lot" per their bio on Insta. Sooo, get that coffee, see that art.
TRAIL COFFEE ROASTERS 501 E. Main St.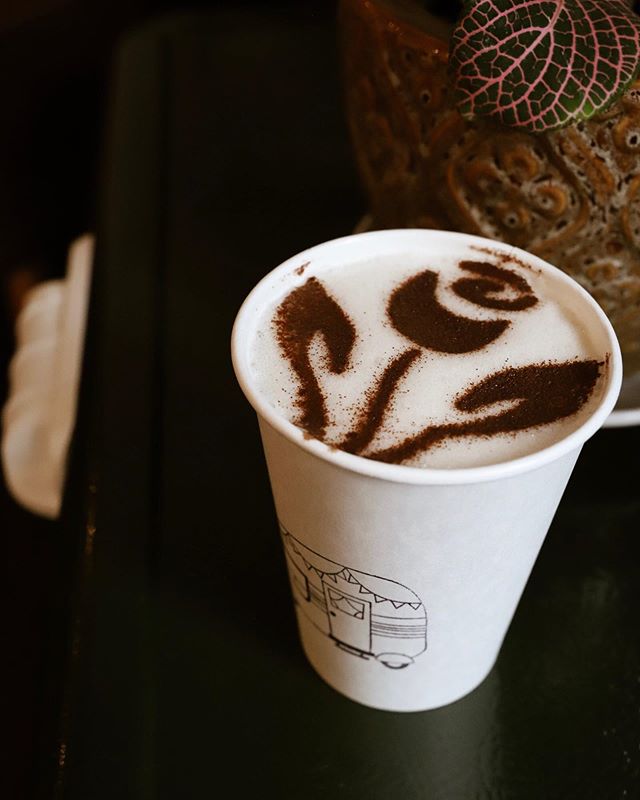 Last but not least is the ever so aesthetically pleasing Trail Coffee Roasters. With one of the best workspaces downtown, they know how to keep you coming back with their addictive creations like the Honey Lavender Latte paired with one of their infamous scones (freshly baked in house every morning, might I add). They stand out in their own, stunning way, but we'll let their espresso speak for itself (especially in their "to die for" affogatos…ugh, so yum). Gosh, if you have yet to visit this iconic spot, you are truly missing out. What drew Gianna Vicari, part owner/café manager, downtown is that, "There are so many different people that are down here on any given day," she says. "And there's a lot of space to do, you know, what we're doing down here with the roasting room and the bakery and this size café. I really don't see [a benefit in] opening up anywhere else in Stockton." She "comes up with all of the recipes," says Zach Bailey, roasting guru/manager. They "make all of [their] own syrups in house" because they are serious about putting their best, espresso foot forward. Gianna says, "Gotta do the coffee justice. That's why. . .I don't feel comfortable adding store-bought sweetener [to our coffee]." Trail puts great effort into blending in organics as much as possible in their recipes. They pretty much make everything there. And Zach jokes, "Obviously, we don't milk our own cows, but" they use organic milk and the tastiest options for the alternatives.
While Zach's caffeinated cup of choice is Cold Brew, he tells us that he "usually defaults to a Cinnamon Caramel Latte" when someone says "Surprise me!" while he's on bar. It's not on the menu, but you can have it—just ask! Gianna, on the other hand, shares with us, "My favorite drink to make and enjoy is the Cortado. It's my go-to." Per Zach, she has one every day. "I love serving it to customers," she states, "'cause I think the presentation is just so cool. And, I love drinking it…"
If you didn't already know this fun fact about Trail, Zach enlightens us by sharing, "Most of our beans are all from our farm; we have our own farm in Nicaragua. That's really special. . .I would highlight [that] as something that's unique about us. We're probably one of [about] five or so places in the country that actually have direct connections to their own farm."
Next time you pop in, if roasting intrigues you, ask Zach about it while you wait for your order. He "love[s] the science of it." Hearing about his experience over the years, you can trust the coffee beans that make up your delicious cup have been in good hands. "Honestly," he says "I kind of 'nerd out' with that a little bit. It's—it's interesting to me. I like stretching roasts different ways and then looking at the profile that we get from our computer program. And then, like, tasting it…"
Whatever brings you in to this location, just make sure you're walking out with a liquid pick-me-up in your hand. We encourage double fisting too, so next time you're there, consider putting a smile on someone else's face by sharing the love (laced espresso). They're doing it right at Trail. We know first-hand and we're super thankful for the flavor of happiness they bring to our community.
We are crazy about every single one of these spots. We're entirely grateful for how they each serve downtown Stockton a unique flavor. Since we can't live without coffee, we definitely can't live without them! We're so fortunate to have such loyal, local shops who are just as concerned with serving our community well as they are with serving quality coffee. Keep downtown thriving—avoid feeling "depresso" by staying hydrated on their addictive espresso 😉 Happy caffeinating! #espressyoself