By Ben Sanchez
On the busy cross street of San Joaquin and Weber, Eric Bodary, Facility Operations Manager for Huddle x Launch Pad, stands at the front of the Belding building expecting packages for clients. As we exchange greetings, Bodary suggests the second floor space for work. "You've got everything you need with a break room, bathroom, and conference room on the same floor," he says. We walk through the lobby and take the elevator up to the main floor of Huddle x Launch Pad.
Conveniently, the mosaic patterned pathway I follow down the hall on the second floor stops at the entrance of the open coworking space. Small painted fingers along the wall point the way to the conference room, lockers, and printers. The large space on the second floor has several tables spread out with chairs, a printer station, and one dark green couch complete with pillows and a coffee table. Geometric painted designs dance across the walls underneath bright dangling light bulbs. This mixture of old and new decor resonate warm feelings that is begging for a rug to "really tie the room together."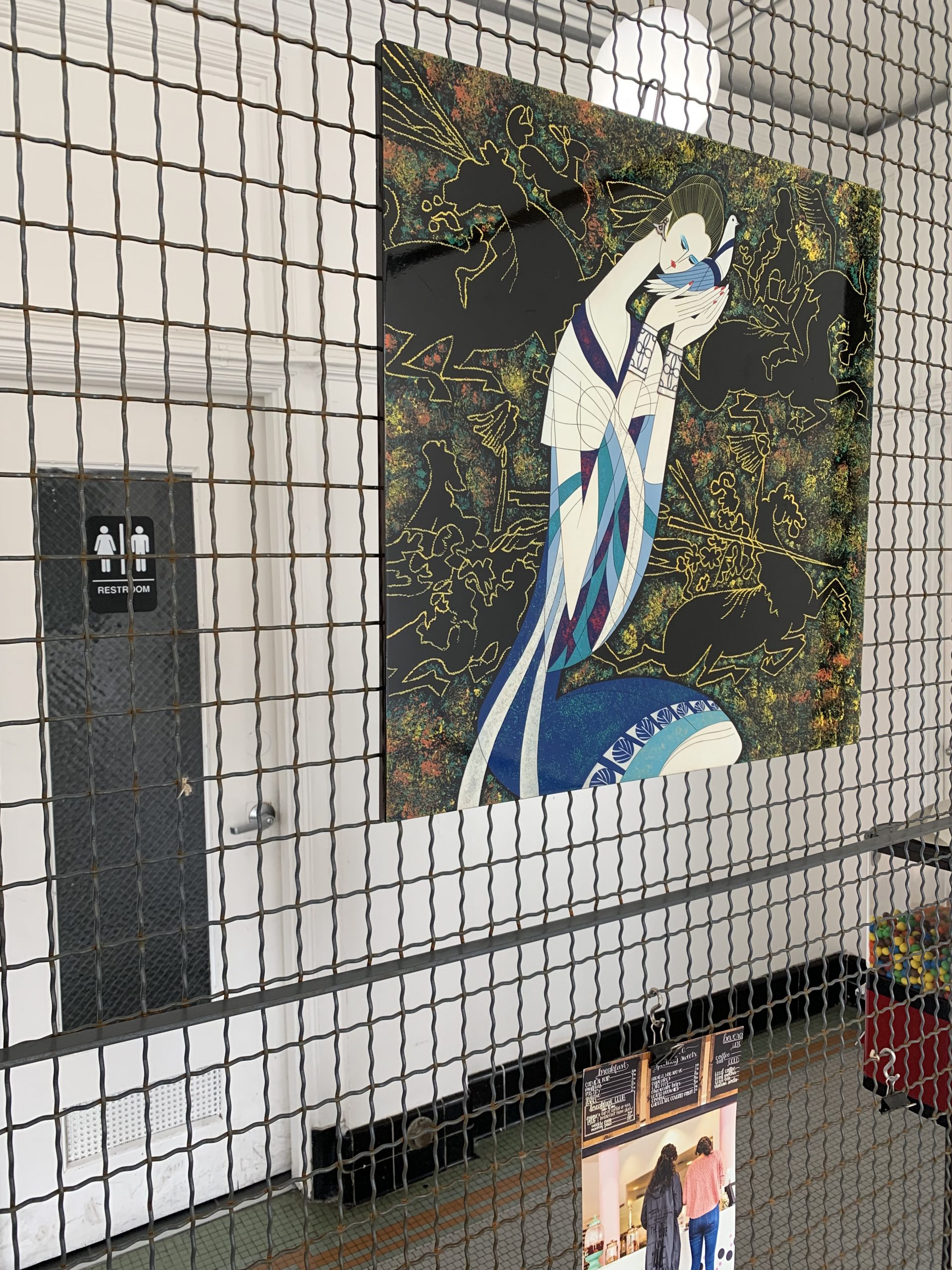 Something Old, Something New.
This month I decided to spend some time working out of a coworking space in downtown Stockton. The Belding Building, built in 1915, is a five-story structure named after Charles Belding, a farmer, businessman, and former mayor of Stockton. Today, the renovated building is quiet on the second floor. I place my backpack on the table and start setting up for work. I find myself at ease when trying to write content, as sunbeams from the window warm my table. Bodary stops by to find out what else I need before I start the day.
The second floor has several windows overlooking downtown Stockton, which only get better as you head to the fourth floor. The photography studio up on the fourth floor offer a room for creatives to capture incredible shots with natural lighting coming from windows along the east and north walls. With a variety of eating spots and coffee shops within walking distance, the location is ideal for running out to grab a quick coffee before heading back to work. Bodary was kind enough to watch my bag as I ventured out to pick up food.
He schedules me into the conference room and within a few minutes, I'm on the calendar for my next Zoom meeting. The large room is more than accommodating for my particular needs. For a team, it is the perfect space to meet with a modern conference table and chairs in the middle of the room. A bright orange bicycle hangs in the corner, as if it wanted to ride up along the wall. White boards have notes scrawled in marker from previous discussions and a large, flatscreen TV can be synced up for digital presentations and Zoom calls. With no one scheduled for the conference room, I had enough time to prepare my set up for a few back to back calls before heading back out to the coworking space.
Flexible.
Each floor offers something unique. I bounced around a few floors to get a feel of what is available. Open space. Private space. Private offices can outfit their space to accommodate their needs. I found lockers in another area for individuals looking to store personal items with their own lock and key. Art and photographs hang on walls on the first floor with a podcast room hiding old vinyl records on shelves and a small neon 'On Air' sign. Before the recording studio was developed, I recorded a podcast on the third floor. That episode yearned for a podcast studio, but now the space has one available for individuals to create content. The first floor amenities offer another layer to the already developed space inside Huddle x Launch Pad. The fourth floor lobby greets visitors with art and plant life before the elevators arrive to escort me to the next floor. Buttons light up with a loud ding signaling my arrival back to the coworking space.
Throughout the day, people walk up and down hallways to private offices. Members have keycard access to the building and work out of offices between the 2nd and 4th floors. Delivery drivers and mail carriers drop off items at the front desk. Huddle x Launch Pad can accommodate clients who are not available for pick up and store packages until they arrive on-site.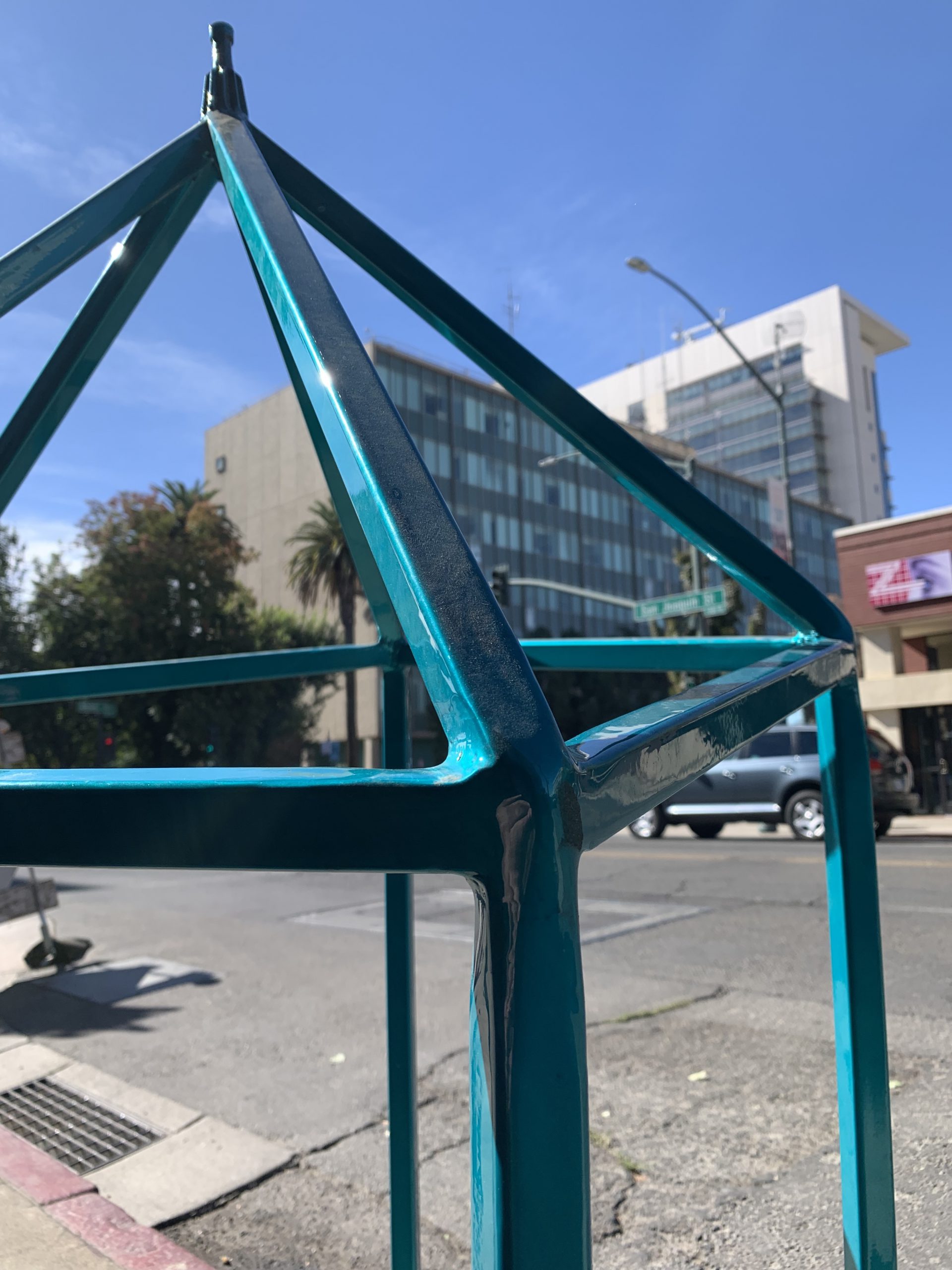 Did you know?
A new bike rack was installed right outside the Belding Building. This artistic bike rack installation could be the first of many in downtown Stockton.
Award Tour with Matt Amen.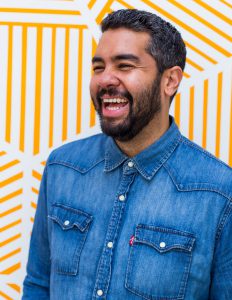 Tours are available to schedule online and most freelancers like to work on the second floor for a day to get acclimated with the space. I've only visited a few floors on my visit to Launch Pad, but continue to return for the amenities offered when I need more flexible space or stability on a Zoom call (Dropped calls happen more than you think). Overall, it was a great experience to be back in a coworking environment. Huddle x Launch Pad is relatively flexible with what floor you prefer and I think once the ground floor renovations are complete, entrepreneurs can look forward to working out of another, large coworking space in downtown Stockton.