By Courtney Wood
Intro
Have you ever wondered who is behind Downtown Stockton's Facebook, Instagram, and Twitter, or maybe who designed the Downtown Visitor's guide you've seen around town?
Look no further than Alex McBride, DSA's Marketing & Communications Director. This week we sat down with Alex to learn more about the role she plays in making Downtown tick.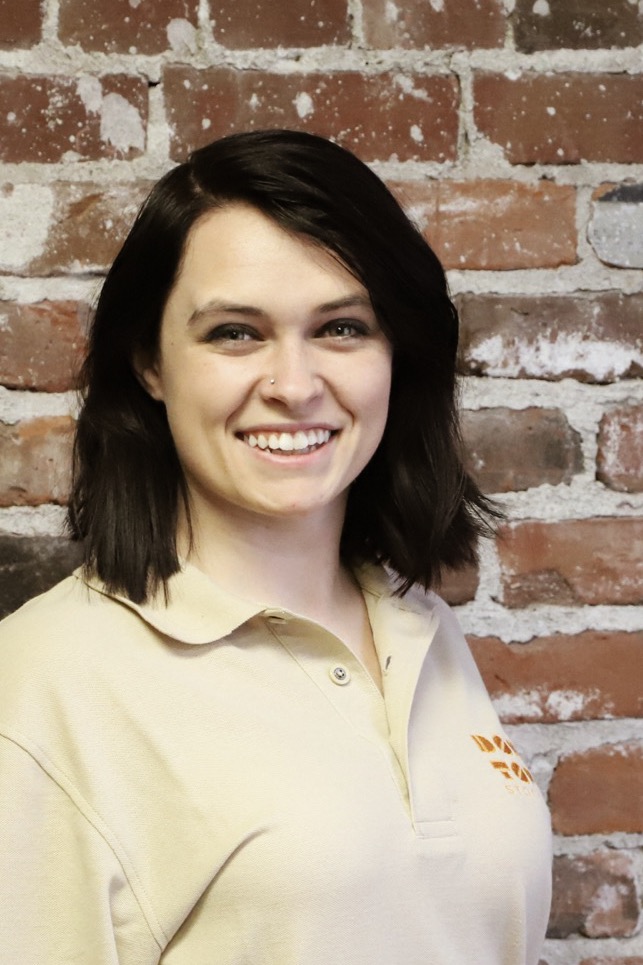 Background
If you ever visit Alex's DSA office, you'll immediately notice Downtown memorabilia peeking out at you from every direction – a Stockton Kings towel nestled on the exposed brick wall, an Amgen Tour 2019 pass dangling from a thumbtack, a Stockton Heat poster mounted on corkboard, a Downtown Stockton beanie perched on the desk corner, a Stockton Ports promotional lunchbox wedged into her bookcase – all clues alluding to her role at the center of Downtown marketing.
For the interview, Alex settles into her desk chair, which is backlit by a window overlooking Di Carli Square and the glittering Downtown waterfront. She has her phone within arm's reach, poised to take advantage of impromptu Downtown photo opportunities and keep tabs on the latest Downtown social media alerts.
A Stockton native, and recipient of a BFA in Graphic Design from the University of the Pacific, Alex began working at the DSA in September of 2018.
She sums up her role as follows: "I oversee all social media scheduling and content, promote businesses and events…[work on] the blog, create marketing campaigns for new events, [and create plans] for new projects."
When asked how she feels about her position, Alex shares, "I really enjoy it because I have a lot of freedom choosing the direction of projects. It's refreshing – it's a lot of work but I appreciate the chance to be creative."
Social Media
With social media at the heart of Downtown's marketing strategy, Alex has developed unique tactics for each platform. "On Facebook, I mainly focus on event promotion," she reveals, while on Twitter, "I take a light-hearted approach, with memes," to keep people engaged in the Downtown conversation. When it comes to Instagram, she shares interesting or beautiful things that may be lesser-known: "For example, in the California Building, if you look up [the ceiling is really pretty] – it's not something you [typically] notice walking around."
When it comes to promoting new businesses on social media, Alex notes, "If it's more of a professional services business, [I'll use] Facebook." She also likes to promote new businesses via Instagram Stories; if the business has their own Instagram handle, she'll share their profile or one of their posts with DSA's many followers.
Graphic Design
While a significant portion of Alex's time is spent juggling DSA's social media accounts, another portion is focused on graphic design, allowing her to make use of her UOP degree and to exercise her creativity.
"When I first started, they[the DSA] had created a new logo, which was great, but there wasn't cohesive branding across all media," she shares thoughtfully, "what I've enjoyed most is just…developing the brand of DSA."
Since arriving, Alex has re-designed the Downtown Visitor's Guide and Annual Report, while also creating new logos and materials for Walk With Weber, Full Moon Riders, various internal documents, and several upcoming campaigns, including National Night Out 2019.
Her number one tip when it comes to graphic design? "Don't use too many fonts," she states firmly, "also, balance is key."
Perspective on Downtown
When asked to describe the condition of Downtown today, Alex shares emphatically, "I love Downtown."
"A lot of times people just see the weeds – there are still flowers here."
She's excited to see the way members of the Downtown community are strengthening and supporting each other. "They're coming together, like the group of businesses on San Joaquin Street," who have been hosting outdoor markets with music. She says this kind of community building is what will help Downtown to thrive.
Additionally, Alex notes that the new wave of live/work spaces coming into Downtown has brought excitement and energy to the area.
Looking Forward
Alex sees a clear vision for the future of Downtown and DSA's role in it.
"In the future, I see more retail, more shops like Freckled Moon and Rainbow." With the expected influx of downtown residents, she believes that retail will become very important for Downtown's economic development.
As for DSA's part, she offers, "We are working to create a walkable, beautiful Downtown – making sure it is a place people want to be, a branded Downtown with life in the core."
Food For Thought
When asked to offer one closing statement to our readers, Alex glances thoughtfully out of her window toward the scenic waterway, and then imparts, "Be open to the positives."
If you're seeking promotion of a Downtown Event or Business, contact [email protected] or visit this link on the DSA website. To learn more about Downtown happenings, be sure to follow DSA on Facebook, Instagram, and Twitter.
Q&A – FAST FIVE WITH ALEX MCBRIDE
What's your go-to Downtown lunch spot?
"Orlando's Deli, but if it's a Tuesday, then Flako's Tacos, 'cause they're $1."
What's your go-to Downtown coffee spot?
"All of them, but due to proximity, Empresso on El Dorado sees my face the most. When I want a dirty chai, though, if it's iced, I'll go to Reds – if it's hot, I'll go to Trail."
What Downtown summer event are you most excited about?
"Movies At the Point. They have Aquaman and Captain Marvel in the line-up – I'm a huge Marvel fan."
What is Downtown's Spirit Animal?
"A Chameleon."
Describe Downtown in one word.
"Unique."