Stockton History
Downtown is the historic heart of Stockton. Founded in 1849 by Captain Charles Weber, Stockton began with a mix of thriving commercial ventures and colorful characters. Industrious citizens altered the natural waterways running through the city to alleviate flooding, coordinated interstate water and rail with local transportation systems, and optimized Stockton's strategic geographic location at the crossroads of California.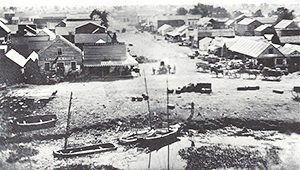 Stockton in the early to mid 1800s.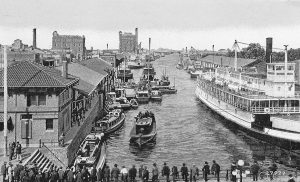 The Stockton Harbor in the late 1800s. Sperry Flower Mill buildings are visible left in the background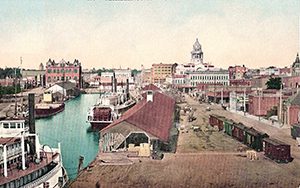 Weber Avenue looking east. The dome of the courthouse built in 1890 is visible to the right.
Download a brochure, to learn more about our free, guided tours of historic Downtown Stockton (PDF)
To take a self-guided tour of art and history in Downtown Stockton, download a brochure and map (PDF)
To take a self-guided tour of Maintenance Hole Covers in Downtown Stockton, download a brochure with map (PDF)
Additional Resources:
San Joaquin County Historical Society & Museum
City of Stockton – History
Visit Stockton – Stockton History
University of The Pacific Archives
Bank of Stockton Archives
Haggin Museum
Stockton Fire Department Historic Society
Filipino American National Historical Society
Little Manila Foundation
Chinese Benevolent Association of Stockton
Port of Stockton History
Save Downtown Stockton Foundation
A List of Stockton's Landmarks – Wikipedia