Business Resources and Incentives
California's 13th largest city and home to regional rail, water, and street transportation, Downtown Stockton is located in a Property Based Improvement District. Explore incentives available to business and property investors to help make downtown attractive to new entrepreneurs and a destination for visitors and residents.Click on the topics below for more information
Downtown Stockton Enterprise Loan Fund
The Downtown Stockton Enterprise Loan Fund (DSELF) was established to assist current and prospective downtown business owners with the cost of maintaining their current business or starting a new business. The DSELF offers loans from $5,000 – $50,000 and may be used for most reasonable business purposes including: Tenant Improvements and Expansion, Operating Capital, Creation of Housing or Mixed-Use Environments, Inventory, Product Development, Marketing and Signage, or Start-up Costs.
Download the DSELF Application. For more information, call Downtown Stockton Alliance at 209-464-5246.
City of Stockton Business Assistance Programs
The City of Stockton offers various financial assistance programs for businesses located in Stockton.
Commercial Facade Improvement Forgivable Loan Program
Small Business Micro Loan Program
Downtown Financial Incentive Program
Emergency Grant Program
Fee Deferral Program
For detailed information on these programs, contact the City of Stockton Economic Development Department at 209-937-8530, or visit their website.
Street Banner Program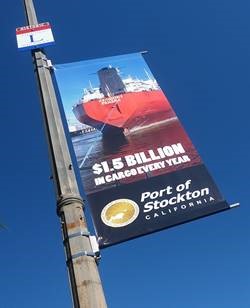 Advertisement on street pole banners is offered by the Downtown Stockton Alliance through the franchise with the City of Stockton. Street banners effectively supplement a product or service awareness campaign which usually includes more traditional media. It also shows a sense of community and provides residents and guests with a warm, welcoming feeling. Pole banners provide a memorable impression and give a sense of uniformity and branding to visitors and community members. Call DSA with questions at 209-464-5246 or email.
BANNER SIZES
Standard – for larger banners, 6.5 foot (30 in x 84 in)
Antique – for smaller 3 foot tall banners (30 in x 36 in)
BANNER DESIGN
Banner design must follow general guidelines set forth in the City Franchise Agreement.
Corporate sponsorship logos must not exceed 20% of the design.
We strongly suggest leasing the poles in groups of at least 3-5 to create a saturation of your message in one location.
DSA will assist at no additional cost with banner design and print. Print and installation take approximately 5 weeks from the time print-ready art is submitted.
BANNER LEASE
Annual lease is $335 per pole per year (12 months from the date of installation).
A month-to-month lease is $300 per pole for the first month, $35 per each month after.
Pricing includes: design assistance, printing, hardware, installation, city fees, and replacement in case a banner is damaged.
Advantage Stockton
AdvantageStockton.com is a powerful web-based economic development tool intended to facilitate potential businesses looking to locate in Stockton. Its features include: Geographic Information System (GIS) software; Immediate access to in-depth information including dynamic real estate, demographic, and industry analysis; and a database of available properties with images.
For more information contact the City of Stockton Economic Development Department at (209) 937-8530.
Helpful Links