Postcards From Stockton Mural Program
Downtown Stockton Alliance DSA is implementing an outdoor art program which installs large scale murals on blank walls in Downtown Stockton. The murals are designed as vintage postcards from Stockton with themes focusing on local diversity and history as well as seasonal holidays.
Current Postcards from Stockton murals:
Musical Legacy of Dave Brubeck by Anthony Padilla (north wall of Kress Building)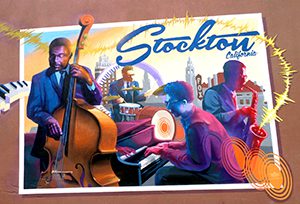 The Heart of the Valley by Yvette Tipton (parking lot behind the Courthouse Plaza)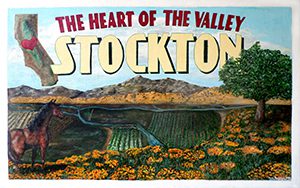 A new RFP will be announced to public in 2017. Selected artists will be awarded stipends.