Postcards From Stockton Mural Program
Downtown Stockton Alliance DSA is implementing an outdoor art program which installs large scale murals on blank walls in Downtown Stockton. The murals are designed as vintage postcards from Stockton with themes focusing on local diversity and history as well as seasonal holidays.
Current Postcards from Stockton murals:
Musical Legacy of Dave Brubeck by Anthony Padilla (north wall of Kress Building)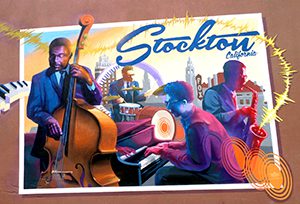 The Heart of the Valley by Yvette Tipton (parking lot behind the Courthouse Plaza)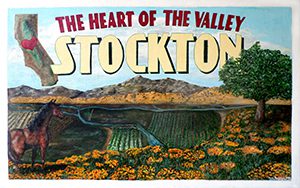 OVERVIEW OF THE PROGRAM
The long-term purpose of the Postcards From Stockton program is to create a cultural mural trail through the streets of Downtown Stockton. By using images highlighting in an artful way the rich regional history, ethnic and cultural diversity, DSA is hoping to generate a continued public interest, create a welcoming and engaging environment, and support public arts. This legacy mural program will be enjoyed by locals and visitors for years to come.
Creative, postcard-inspired murals on prominent building walls scattered throughout the Downtown will support the idea of a walkable downtown where each mural will become an opportunity to learn more about each site's history. The visitors will also be able to interact with the art by taking photos in front of the murals and sharing them via social media or mail as a creative way to send greetings or celebrate popular holidays.
Muralists are selected in a carefully curated process following a public RFP. Stipends are awarded to the selected artists.