…Those Summer Nights
06.09.2019
By Courtney Wood
Picture this: It's a balmy summer night, and you're searching for the perfect spot to salsa with your sweetie, soak up the local art and music scene, belt out American-Idol quality karaoke, or catch the latest game. Ladies & gents, these downtown spots and events have got you covered. 
LOW-KEY FUN
PORTS BASEBALL – Banner Island Ball Park
If watching live sports is your preferred way to spend a summer evening, then be sure to catch a Ports game this season. They run special promotions at each of their games, like free giveaway items or $1 beers!
To stay in the know, check out their season schedule.
Most Thurs., Fri., Sat., 7:10 – 10:00 PM

Most Sun., 6:10 – 9:00 PM
REGAL CINEMAS STOCKTON CITY CENTRE 16 & IMAX – 222 N. EL Dorado St.,
Would you like to enjoy an IMAX summer blockbuster experience, in a reclining chair, with a glass of wine or beer in hand? If that sounds like your idea of a luxurious way to beat the evening heat, this downtown cinemaplex will make your dreams come true.
For movie schedules, check their website.
SUMMER ART SPLASH – Various Venues
Are you an artist, art critic, or simply an art appreciator? If so, kick off the second Friday night of every summer month with a stop at the Summer Artsplash series. At this event, local artists display their pieces at various venues throughout downtown. It's a free event and a great way to see some up-and-coming talent. Refreshments – including wine – are provided at some of the events.
To learn about the next Artsplash event, contact Joy Neas at [email protected]
June 14th, July 12th, Aug. 9th, Sept. 13th, Oct. 11th
5:00 – 8:00 PM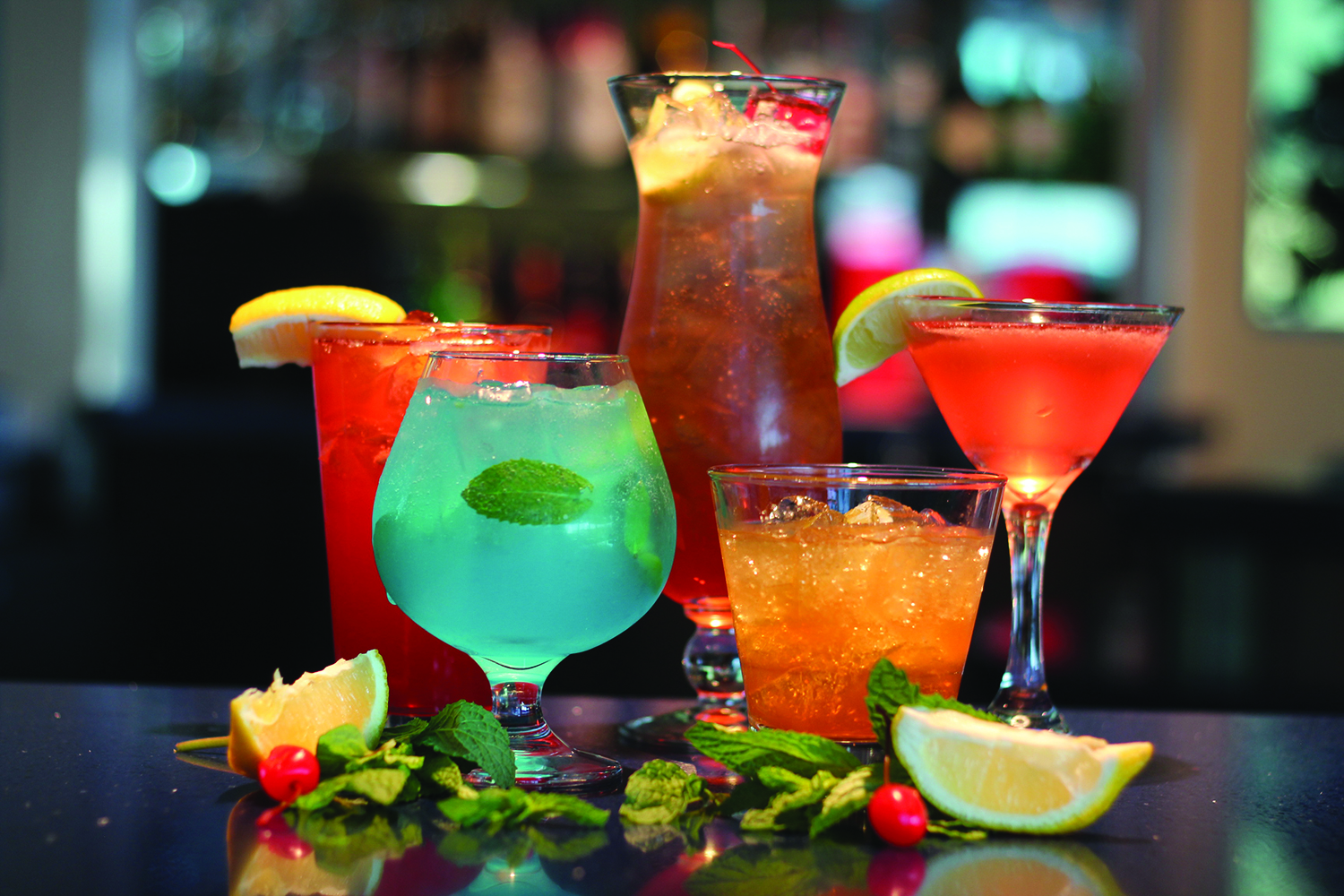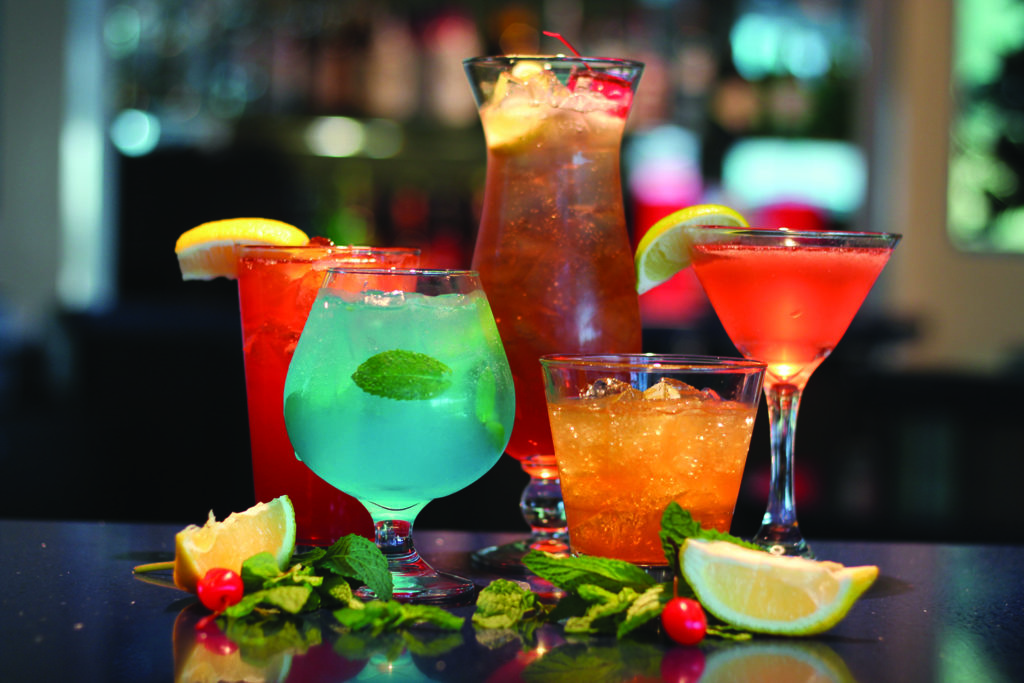 BEER, WINE, & COCKTAILS
CAST IRON TRADING – 114 N. San Joaquin St.
In addition to its innovative food menu, this hip eatery has wine, beers, and kombucha on tap. It's an intimate setting where you can catch local music artists performing on a warm downtown evening.
Check their Facebook page to find out details about the next performance.
Open Tues. – Sun.
Later hours and music usually Thurs. – Sun.
CHANNEL BREWING – 110 N. San Joaquin St.
If craft beers make your heart go pitter-patter, then Channel Brewing is the summer hang-out spot for you. Bring your friends here to play trivia and boardgames during the week, and to dance at concerts on the weekends. This local brewery recently started offering pizza to go with its delicious pints. Join in the fun of their Beer Release events to try the latest the owners have to offer.
To learn about their summer events and concerts, check their Facebook page.
Open Wed. – Sun.
Wed. – Taproom Trivia (topics vary)
Various Sat. & Sun. – Live Music
CHARLIE'S BAR & NIGHTCLUB – 48 S. American St.
This little bar tucked away on American Street features free pool on Wednesdays, starting at 8 PM, and occasional karaoke nights.
DELTA BISTRO & LOUNGE – 110 W. Fremont St.
For those seeking an upscale place to enjoy a cosmopolitan or martini, then the Delta Bistro & Lounge located in the University Waterfront Hotel, is the place to be. The beautiful, classy interior overlooking the lovely hotel courtyard and waterfront create the perfect atmosphere for a date night cocktail, which could be followed by a summer twilight stroll.
EMPRESSO COFFEEHOUSE – 222 N. El Dorado St., #C
Yes, Empresso is a coffeehouse, but did you know that they also serve beer? That's right – this local favorite serves brew, plays great ambient music, and has a TV for sports watching. They also have open mic nights and live music on occasion.
Open Mon. – Sun., later hours Thurs. – Sat.

Thurs. – Open Mic Night, 7:00 PM
MISAKI SUSHI & BAR – 222 N. El Dorado St., #M
Although best-known for its delicious sushi and sashimi, Misaki also features a great bar that is packed on the weekends. If you love to socialize and enjoy the hustle and bustle of a loud atmosphere, this is a great place to watch summer sports and enjoy an edamame snack.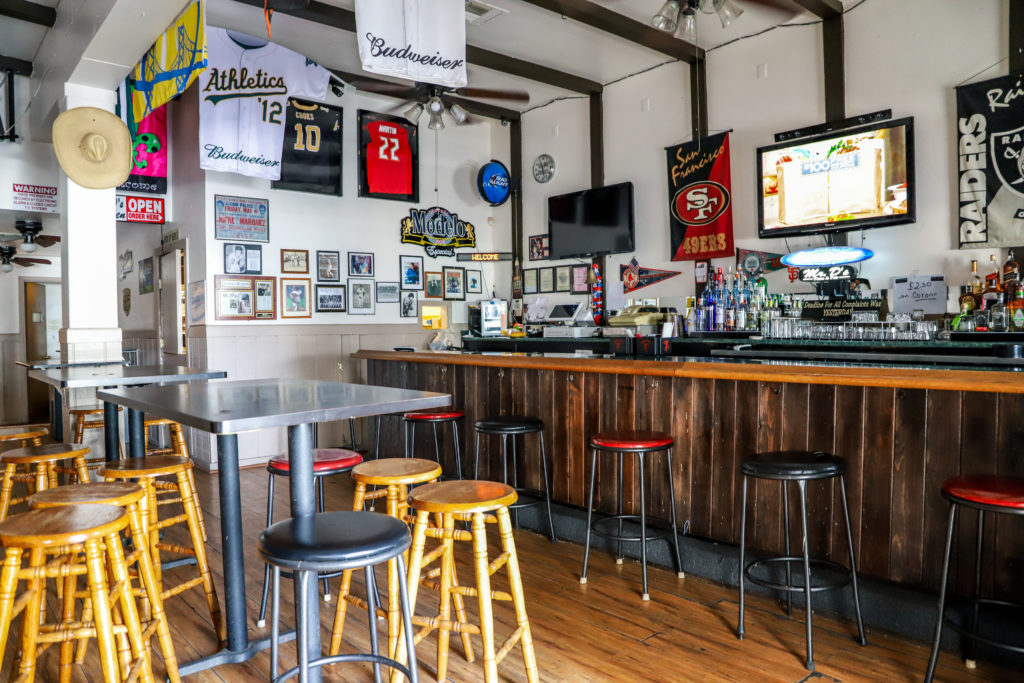 Mr. D's PIZZA & PUB – 122 E. Oak St.
If you have a fondness for off-the-beaten-path finds, then stop into Mr. D's Pizza & Pub for a cold beer and a delicious pizza. This little gem features live music and DJs on the weekend, but also has TVs to satisfy the sports fanatic in you. Memorabilia covers the walls, making this spot feel like a comfy, neighborhood hang-out.
NENA'S MEXICAN RESTAURANT – 445 W. Weber Ave., #120
With tempting micheladas and huge coronaritas, Nena's is a great place to start off a night of fun. With a full bar, delicious tortillas, classic Mexican menu choices, and shaded outdoor seating facing the waterfront, Nena's offers patrons a chance to enjoy the summer night outdoors under the stars. As an added bonus, Mariachi bands will serenade you on the weekends.
Open Mon. – Sun.

Mariachi Fri. & Sun. Evenings
NIGHT OWL LOUNGE – 306 E. Main St., #203
Wine-lovers, there's a new downtown lounge for you to enjoy this summer. The Night Owl Lounge has a wine list accompanied with cheese, charcuterie, sandwiches, and pizza. This cozily decorated spot is ideal for sparking friendly conversation.
DJs and live music appear periodically; check their Facebook page to learn more.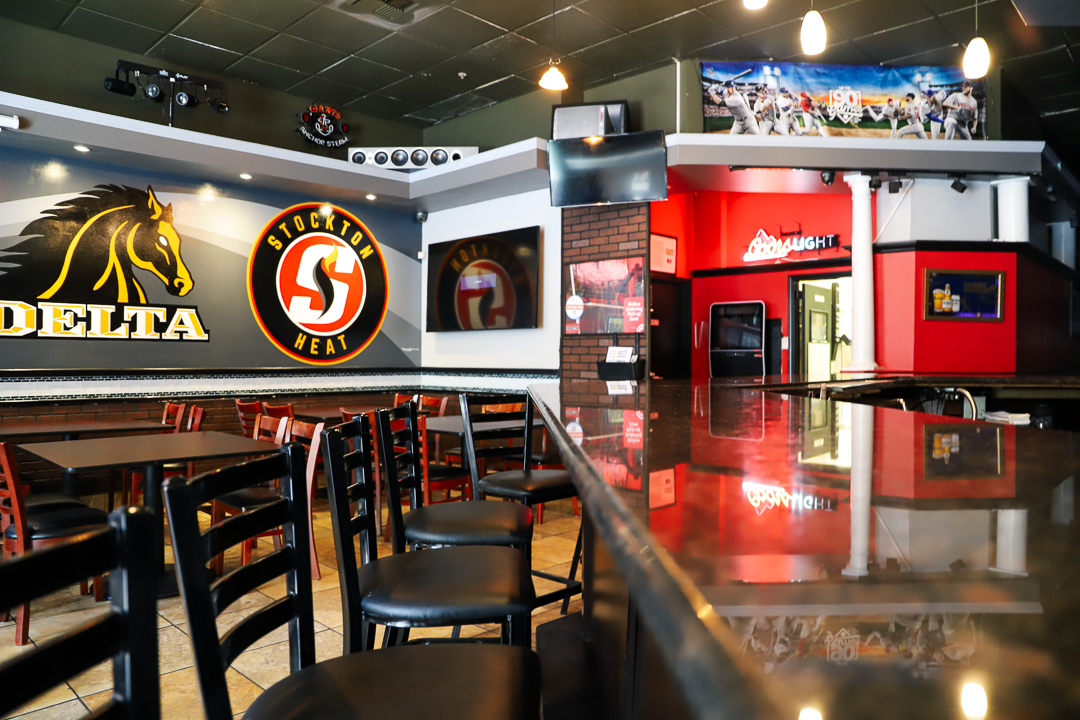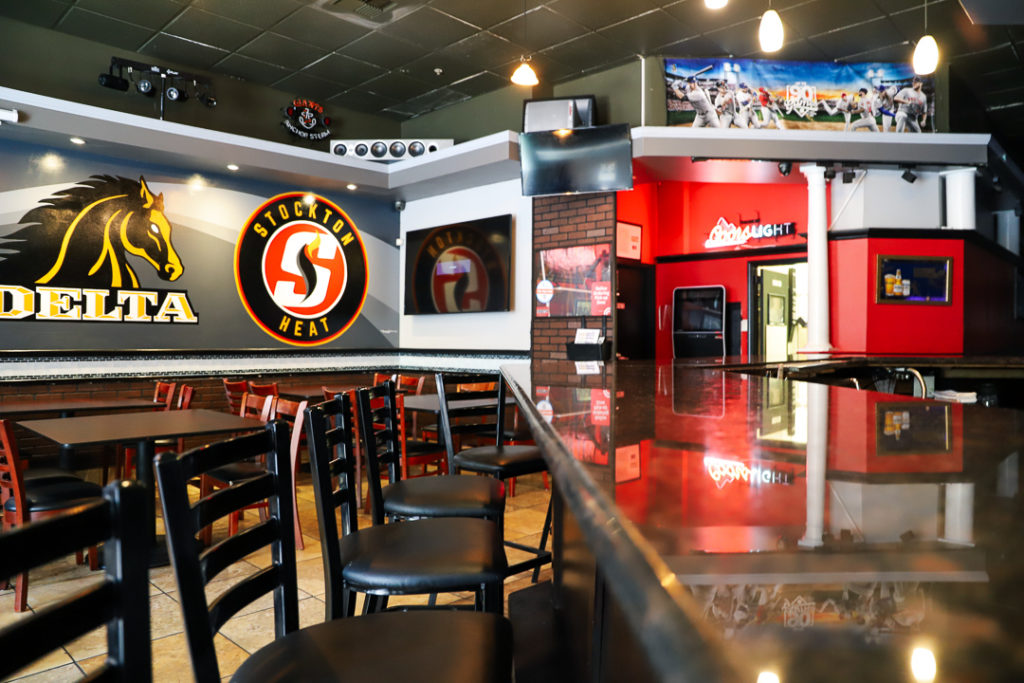 PORT CITY BAR & GRILL – 222 N. El Dorado St., #J
On a hot summer night when you just want to watch the baseball game and sip a frothy cold beer, Port City Bar & Grill is a godsend. Classic bar food mixed with vegetarian and vegan goodies means you'll have plenty of options to snack on while you enjoy this cool oasis.
This newly updated bar has a karaoke night every Thursday, so you can practice for your audition on The Voice, or be a supportive audience member while sipping two-for-one drinks. Port City also hosts small concerts and open mic nights.
Check their Facebook page to find out when the next event is popping up.
Open Mon. – Sun., for operating hours, click here

Thurs. – Karaoke, 6:00 – 8:00 PM
Roro's Soul Food – 20 N. California St.
If Southern comfort food is what you crave when the weather turns hot, this bar & restaurant will serve you chilled beer alongside fried fish, mac & cheese, waffles, and more. The establishment's long, beautiful wooden bar will catch your attention, and the live bands playing blues, funk, and jazz on Friday nights will get you in the mood to celebrate.
Open Tues. – Sun.

Fri. – Live music, 8:00 – 11:00 PM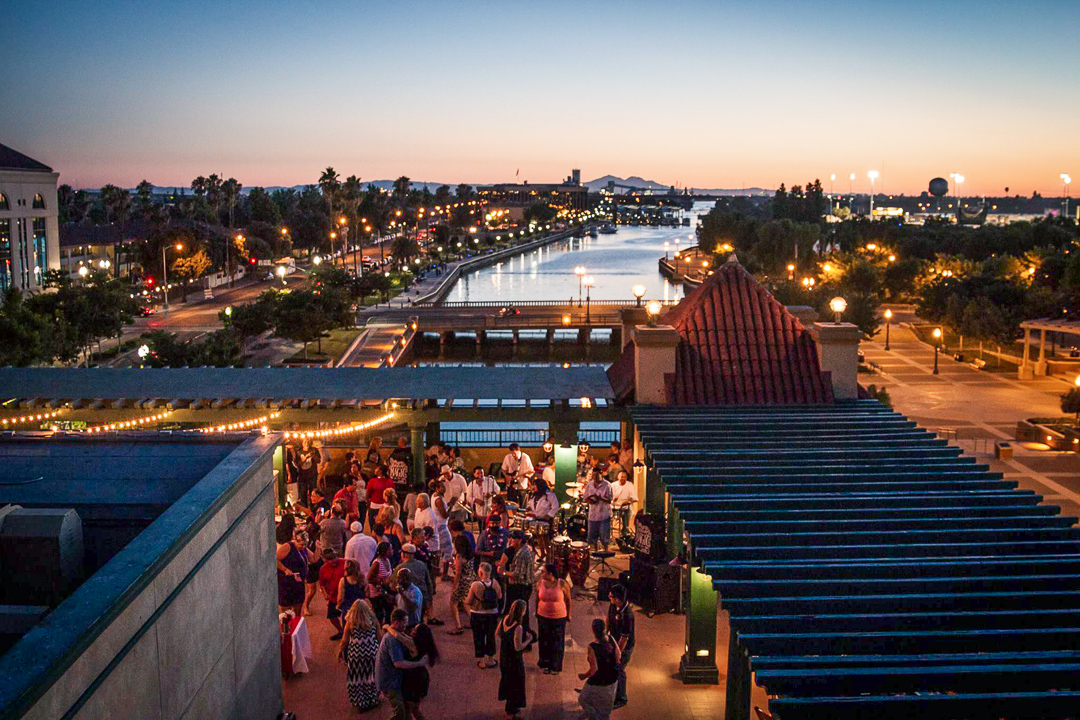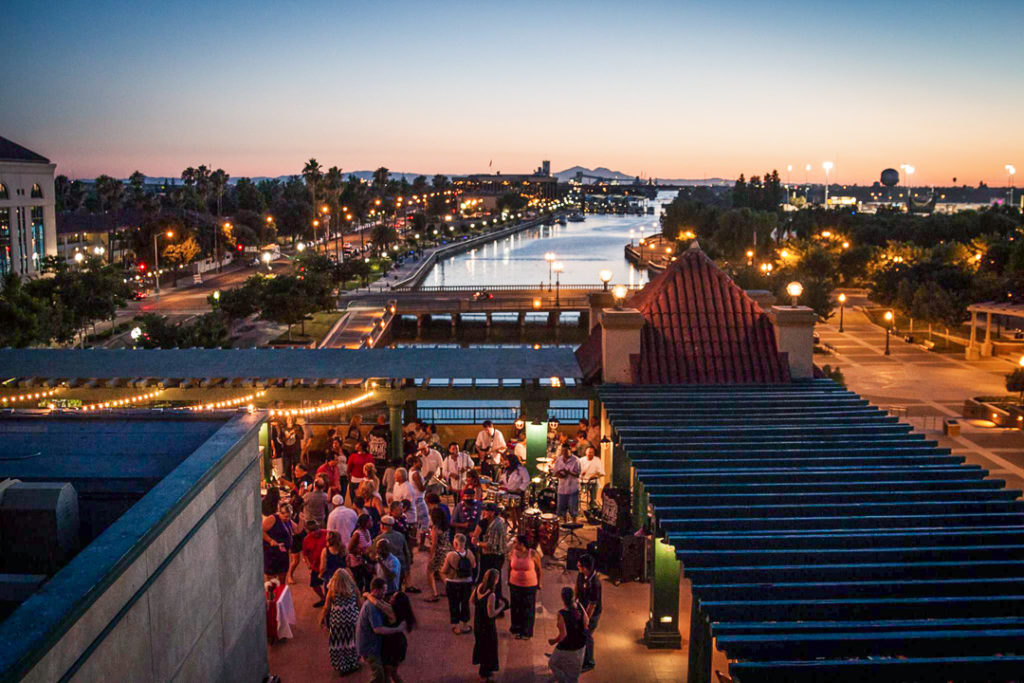 DANCE & PARTY, ALL NIGHT
BELLA VISTA ROOFTOP – 110 N. El Dorado St., Entrance is on Weber Ave.
Enjoy a mojito on the Bella Vista rooftop while you hear tunes from all the Motown legends of yesteryear, the vibrant Latin dance music of today, or beloved Country crooners. Join the dancing crowd, or just watch everyone else having a great time as the sun sets on the sleepy Delta. Buckets and pitchers of beer, in addition to wine and cocktails, are available for purchase. Best of all, there is no cover charge, and these lively dance-filled nights run all summer long on Wednesdays, Thursdays, and Fridays.
Wed. – Country Music

Thurs. – Motown Music

Fri. – Latin Music
5:00 – 10:00 PM
CHITIVA'S SALSA & SPORTS BAR – 445 W. Weber Ave., #122
Have you ever wanted to learn to dance merengue, salsa, or rumba? If so, you'll want to check out this sports bar with a waterfront view. This energetic spot offers dance lessons on Thursdays from 8:30 – 9:30 PM, and then sets you free to test what you've learned from 9:30 – 11:00 PM.
If Salsa isn't your favorite, the music changes to Reggaeton and Hip-Hop from 11:00 PM – 1:00 AM.
There is a modest $10 entry charge, but for that you get to enjoy the view, the thumping music, and the bouncing crowd.
Open Mon. – Sun.
Thurs.
Salsa Lessons 8:30 – 9:30 PM
Latin Dance 9:30 – 11:00 PM
Reggaeton & Hip-Hop 11:00 PM – 1:00 AM
DELIBERATION ROOM – 19 N. California St.
Looking for modern-day revelry in an old-fashioned setting? Look no further than the Deliberation Room to satisfy your craving for a sidecar or manhattan. This speak-easy style bar has exposed brick walls and a beautiful lighted liquor display. They host comedy nights, Latin music nights, live music events, and even drag shows.
Check their Facebook page to keep up with their summertime festivities and to see their hours. No secret password required for entry.
Open Tues. – Sat.

Thurs. – Latin Night, 8:00 – 11:00 PM
Comedy, Music & Drag Show Nights Vary
DESEO NIGHTCLUB – 30 S. El Dorado St.
Do you prefer a club-type atmosphere where you can dance the night away? Then try Deseo Nightclub. With its mood lighting, tequila room, and mix of Top 40, EDM, Latin, and Hip-Hop music, this is one of Downtown's spots to party on Saturday nights.
To keep up with their summer events, follow them on Instagram.
---
There you have it – now get out there and enjoy Downtown's summer nightlife! If this article has got you singing, "tell me more, tell me more," then sign up for the DSA Newsletter to receive a monthly breakdown of fun Downtown events!
Back to Blog